20 Bears and Counting….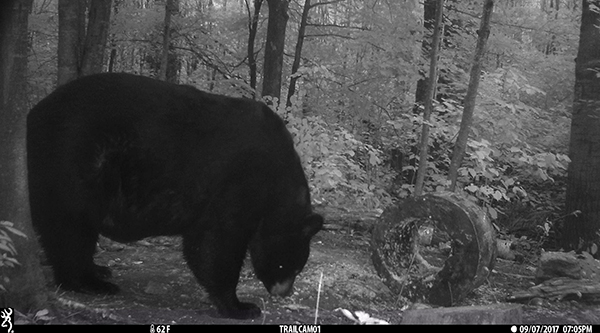 Tank, a monster bear estimated at 600 pounds by experts at Northern Wisconsin Outfitters, eluded hunters for the 5th straight year in 2017, but made plenty of appearances on the bait and camera…when the hunter wasn't there.
OWO writer Mike Foss tells us that Northern Wisconsin Outfitters' 23 hunters are sitting at 20 bears tagged 12 days into the season with 100 percent shot opportunity. That simply means that every hunter in camp could have shot if they decided to. A few did not due to the size of the bear, or simply missed the shot taken. Most of the hunters with tags not yet filled are still on stand whenever they can return to the Washburn/Ashland camp.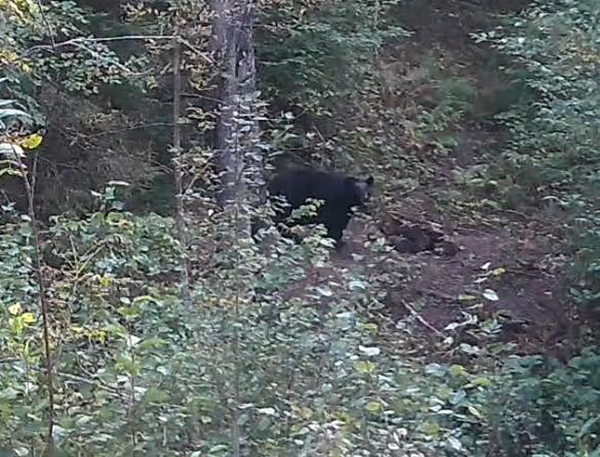 This photo of Bedmaker, who covers the bait with leaves and grass before sleeping on it, was taken by a camera mounted on the hunter's rifle. He missed this shot seconds later.
I sat on stand with my brother Steve Ellis of Wausau for two days, who in addition to starting and maintaining his own two bait stations, took over bait started by Robert Haas, owner of Northern Wisconsin Outfitters. No hunter was going to be on the stand near northern Iron County, so NWO offered it to Steve. After many hours and many days on stand and passing up many small bears, Steve tagged a nice bear with sand running out on his season.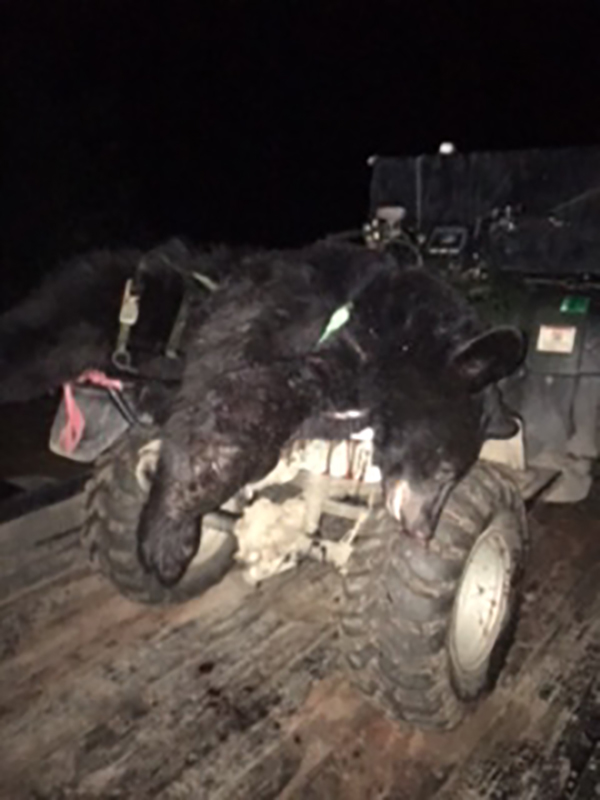 Steve Ellis tagged this bear with a double-lung shot after waiting long days and long hours for the right opportunity.
Read the whole story in either our next print version of On Wisconsin Outdoors or online soon. Read the Foss column too, including the harvest of the largest sow ever taken in an NWO camp, and the uncanny ability of a 600 boar to elude hunters on stand; only to show up on the bait whenever the stand is temporarily abandoned.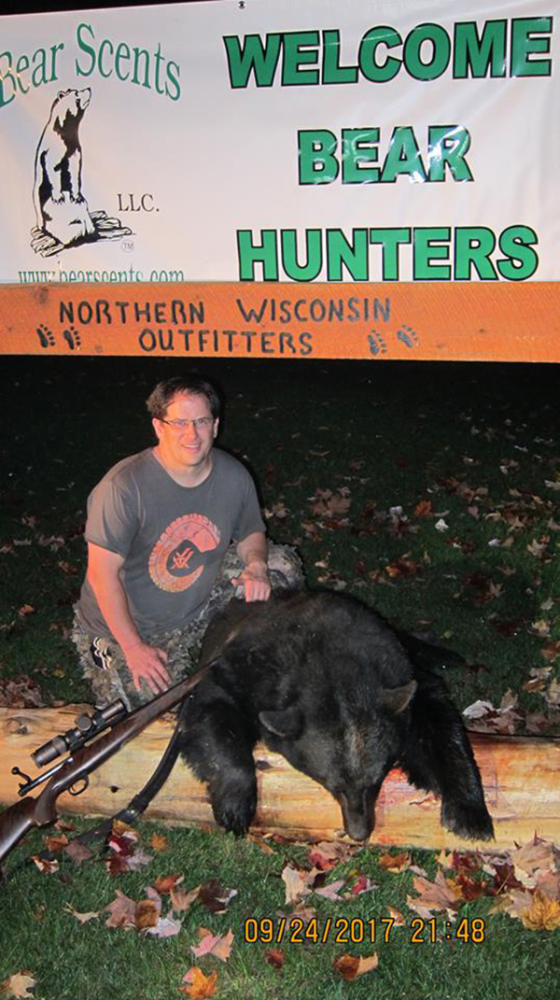 Brad Baryenbruch with his 300 pound sow, likely the largest sow ever taken by NWO hunters.
Our Northern Zone duck opener was good, but it could have been a lot better. John Ellis and I walked in and kayaked our decoys and gear in to a wild rice spot near Boulder Junction as usual but were cut off by several high-school aged hunters who shot 10 times for each shot presented us. We walked out at noon with a total take of three mallards, and a few misses. The two disappointments were the lack of dog work, and not really a lot of meat in the freezer. I love wild duck. That's hunting. But I'm already looking forward to fat northern greenheads, Canadian flocks as thick as tornados, field ambushes, and last but not least, marinated strips of breast placed on a portabella mushroom and wrapped with bacon. Leave that meat slightly pink in the oven on 350.
I've been out in the thick foliage looking for grouse twice in Vilas County and never heard a flush. Local veteran Dick Henske of Manitowish Waters who makes a tenacious grouse team with his English setter, Lucy, is also reporting low bird numbers compared to recent years. Things will certainly be better with the falling leaves and maybe a few trips north and west from our cabin to Price, Ashland, and Iron counties.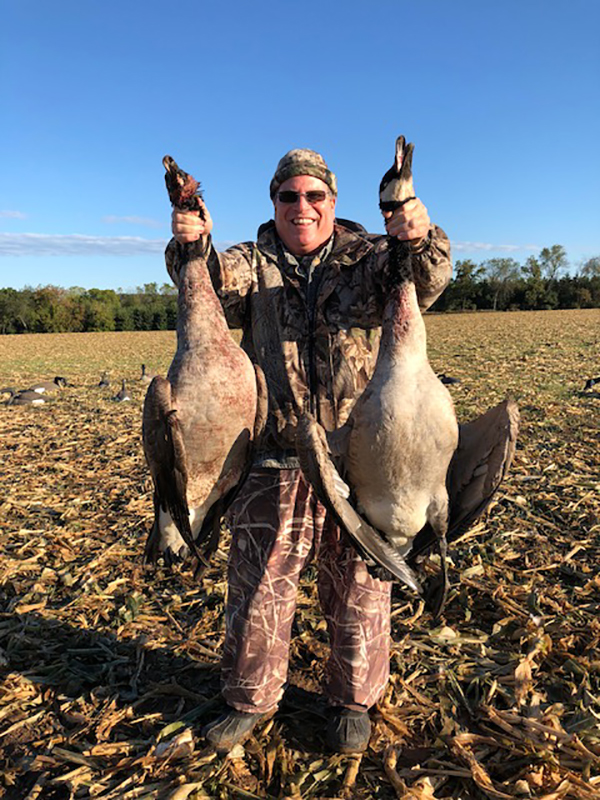 Retired DNR Conservation Warden Cletus Alsteen and American Airlines pilot Roger Mayer teamed up for these two geese near Green Lake.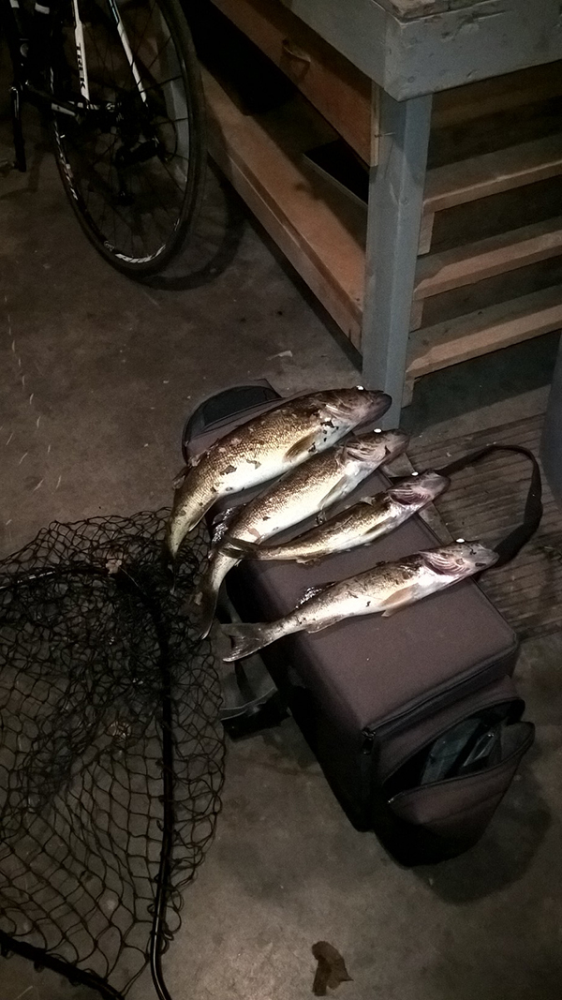 Paul Schulz, Scott Sharp, and Howard Rollof fished for about three hours last week in Vials County to catch about 30 walleyes in 20 to 30 feet of water using large fatheads with pink and white jigs. They kept these four, with the largest measuring in at 23 and 24 inches.
Thanks for connecting with On Wisconsin Outdoors. Shoot straight.
Dick Ellis