Bass and walleye still biting well and Turkey season starting off with a bang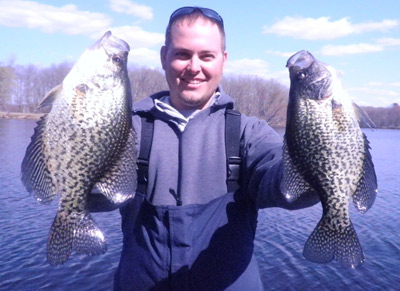 Ben Bain with a couple of nice crappies
For you river rats out there the walleye bite is still going strong. We are seeing a lot of nice fish in that 15 to 19 inch range with a few nice slot fish up to 28 inches being caught. Most of the fish that we been catching have been in shallow water with rocks in anywhere from 3 to 5 feet deep. We are though seeing a few fish starting to move into their summer haunts and we are starting to get some transition area fish in 6 to 10 feet of water. Most of the fish we been catching have been on jig and minnow combinations usually tipped with a minnow but sometimes plastics like the Berkley gulp or the new Impulse baits.
| | |
| --- | --- |
| | |
| Adam Rasmussen with a very nice smallmouth bass | Marcus Malyuk with a couple of nice crappies |
It's been a good spring for smallmouth and largemouth bass action. With the water temperatures moving up in the 50° range I'm seeing a lot of fish in shallow rocks and wood. To target these bass I am throwing lipless cranks and jigs tipped with tubes and plastics. I'm also throwing small Rapala crankbaits in fire Tiger and orange.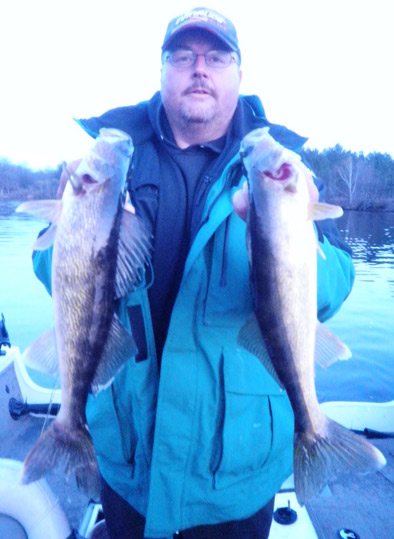 Scott Lewandowski with a couple of good eating sized walleyes
With the water temperatures in the low 50s the crappies haven't quite yet moved into their spawning areas. I am still seeing a lot of fish in 8 to 12 feet of water but that doesn't mean they're not active. I'm catching quite a few fish on 1/16 ounce jigs tipped with small fathead minnows. Most of the time I am setting them on slip bobber rigs set so the baits are suspended several feet off the bottom. Another method is just plain swimming the jigs through the water at different depths without a bobber and covering several different levels of the water column.
| | |
| --- | --- |
| | |
| Hooksetters Guide Phil Schweik with his 24 pound gobbler with a 9 1/2 inch beard | Terry Woldvogel with his 22 1/2 pound gobbler with a 10 1/2 inch beard |
The 2012 spring Turkey season is starting off very well. We are seeing a lot of birds in the fields and they are readily coming to our calls and decoys. Most of the action has been early and late in the day but we are seeing some mid-day activity more so when it is overcast. One of the things that we have noticed as being a magnet for the turkeys this year is freshly plowed fields. We are seeing a lot more activity in fields that have been freshly turned over versus fields that have not yet been plowed. Another device that has been very good to us when it comes to hunting turkeys has been the B-mobile Turkey decoy. We set that decoy out 20 to 30 yards in front of us and facing towards us at a 45 degree angle and then put a hen decoy approximately 5 yards in front of him and when another Turkey sees it...... Oh BOY!!!!!!! He can't resist seeing another Tom Turkey on HIS field with one of HIS hens and he comes directly to it just like he was on a string. So grab your gun or bow, get a B-Mobile decoy and head out to a freshly plowed field- The turkeys are waiting for you!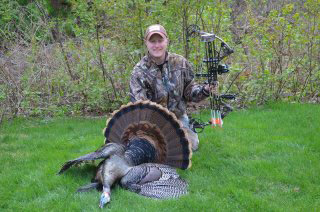 Brian Goetz with his 26 pound gobbler with a 9 1/2 inch beard