THE LONGEST HUNT... Big gobbler falls to writer after eight hour duel
By Dick Ellis
Two hours into a "last chance" spring turkey hunt, the gobbler answered the hen call from a deep wooded hollow in the rolling farm country of Grant County. Maybe, with a lot of patience and a little luck this Tom, already a survivor of the first five of Wisconsin's six split seasons would now be without the companionship of hens and vulnerable. Then again, with declining success rates correlating with each split season as the heavily hunted birds become streetwise to hunter calling and decoys, maybe not.
In the wee hours, I had taken the long ride from Waukesha County to Wisconsin's southwest and zone 11 in driving rain for a final crack at success. Fresh in my mind was the April encounter with a gobbler that had fallen for the enticements of my mouth calls to flirt with a decoy at 30 yards. I had missed the perfect shot.
By luck of the draw I had pulled a second permit and a second opportunity to fill a tag. Thunderstorms gave way to a billion stars just 20 miles east of Fennimore. The agony of a blown opportunity was about to give way to the ecstasy of the most memorable hunt of a lifetime; more challenging and rewarding than any hunt of any kind in an outdoor reporter's life in the field.
Sitting, moving and calling from the field edges with the diaphragm call from first light into the first two hours of a new day brought no response from any gobblers. From deep in the hollow as I beckoned from a long thin wooded finger connecting woodlots and surrounded by rolling fields of greens and browns, Tom finally answered.
Our conversation would continue virtually non-stop throughout the day. When we did occasionally cease our banter, it was only as we jockeyed for position. My 47 year old body was becoming ripped up in thorns, wet and muddy as I was again able to use the excuse of hunting to play in the dirt like a little boy. Would he ultimately gobble 200 times? 300? I do not know, but his verbal enthusiasm was without rival.
At times, I would angrily scream without interruption for 30 seconds for him to come to me, as he simultaneously gobbled non-stop for me to come to him. The conversation was so intense that I guessed it would draw in another bachelor Tom.
Soon, it did. A big gobbler moved in full strut silently across a plowed field to me. Given the opportunity I would tag either bird. When the intruder first gobbled at 60 yards, I had high hopes of my "hollow" gobbler showing himself to the competition.
Instead he moved quickly toward the field, his dominant gobbling intensifying. The intruder tucked and literally ran. My boisterous Tom retreated again to his lair, leaving us in our stalemate and me to wonder if I was hunting a special bird.
When the noon whistle of Fennimore sounded, I had hunted one Tom for five hours. I had not yet seen him. An hour later and one-half mile from his introductory gobble, my eyes finally were fixed on a still white spot at 150 yards in a tall grass field. "That's him," I thought, and watched the head shake and turn red as he gobbled in answer to my now familiar sweet talk. He assumed the full strut position, but remained "hung-up" and in no hurry to jeopardize his own safety for another feather in the harem hat.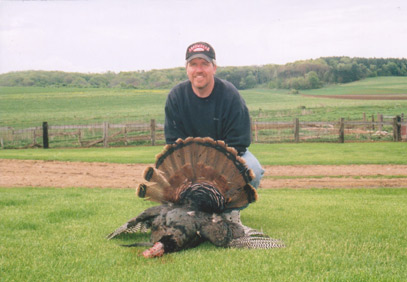 Dick Ellis hunted one very verbal gobbler for eight hours over hill and valley in season six in late May before tagging the big Tom at 10 yards in extremely thick cover. The bird weighed 26 pounds and carried an 11-inch beard.
Still stalemated, he exited the field demanding that this "hen" follow. I countered by moving 200 yards just inside the woodline bordering the field to take a stand where I had watched him strut. I would not call. If I "knew" Tom at all from this chess game, he would panic in the silence and return to the field and my new ambush.
I settled in against a tree, relieved again at completing a move without detection. This new, low visibility lair was no different than the haunt of a big buck that has learned to survive. If Tom did return, I would have just eight yards in the rolling field to locate and kill him. Behind me, the forest where he had disappeared was a thick mass of thorns and undergrowth. I rested my gun toward the field and silently waited.
At 15 minutes, a bit panicked myself I risked a whispered "hello". I had guessed wrong. The gobble was shattering from the vegetation behind me, less than 40 yards. I spun around the tree on elbow and shoulder, came again to the shooter's position and waited. A tense 10 minutes later, I manipulated the mouth call to extend a near non-audible greeting. His return solo told me he was in my lap. Still, I could not find Tom.
The minutes passed. Tom's bobbing red head appeared through a wall of thorns. When the shotgun barrel slowly found that place, the bird had disappeared to another. When the bright red target reappeared in the jungle, it required a seemingly time-eternal swing of four feet to place the bead of the barrel where it had to be for a quick kill. At just 10 yards, a full choke load of number 5 shot found only head and neck.
I was physically exhausted and even mentally tired. Like each of my rare duels with trophy animals, true satisfaction mingled with a bit of remorse as I fastened a tag. For the first time in years a worthy Tom would not be on a roost as the sun slipped in the west. It had been at eight hours from first gobble; the longest hunt. I had a mile walk out under a burning sun with a very large bird on my back.
On the butcher's scale at Bender's Foods in Fennimore, Manger Gill Pierick would weigh the Wisconsin gobbler at 26 pounds. The beard would stretch the tape to 11 inches. Many special hunts in a lifetime are anticipated; the hunter works to know an animal's terrain and habits and then works to tag him. As many, I think, are stumbled into, unexpected, and only wear the label of "special" when the hunter looks back, and remembers.
Planned or accident, patience is the hunter's most valuable possession. I will remember a Fennimore Tom, and the longest hunt, forever.