Beyond Wisconsin's borders: turkey doggin' in Ohio
By JJ Reich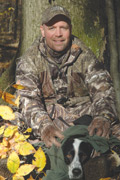 Wild turkey hunting in the fall with dogs was foreign to me. But a good friend of mine, Brett Berry, a member of Zink Calls' Elite Calling Team, is a turkey doggin' addict. Over the past few years, I've been lucky enough to hunt with him and his dogs on several early October weekends in Ohio. Fall turkey doggin' is very different from any other hunting adventure … and it's awesome! Here my account of what it's like.
In fall, any wild turkey is legal: hens and jakes and jennies (females and younger birds). This means a lot more birds are fair game. The young birds have never been hunted, so it's usually easier to find them and call them in.
Because you're after a large group of turkeys, you need the help of a good hunting dog. The dog will hound down an entire flock of birds for you. Then he'll scatter them throughout the woods so that they are separated from each other. Naturally, the turkeys will want to get back into one big group. So after the threat of the dog is gone, the turkeys start calling to each other and move back into a flock. Your job is to sit still and call to them. Soon, you'll draw them near and you'll have a chance at a close shot.
After the dogs break up a flock and you're all set up to hunt, start calling like crazy. Since the goal is to call the broken-up group back to you, the more calling you do, the more eager you will sound, bringing the turkeys in close. All turkey sounds are helpful: clucks, lost yelping, assembly yelping, kee kees, kee kee runs, cutting, and even gobbling.
Action can start as early as 10 to 15 minutes after you start calling. But sometimes it takes longer, so just be patient. Keep your eyes peeled and try not to move much while scanning for movement in the woods. When you see a turkey return, a flash of adrenaline will rush through your veins. The bird will step out in front of you. This is it! Tell yourself to calm down, concentrate on the bird in front of you, steady your aim, take a deep breath, and squeeze the trigger. BOOM! Your first fall turkey will hit the forest floor.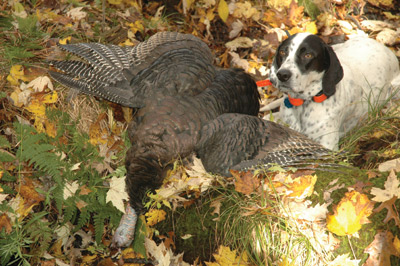 Seek out the opportunity to fall hunt with dogs; you'll truly have an amazing time! And don't forget to thank and reward the dogs. They deserve some praise for all their hard work.