Gary Greene's Memories from an old Hunter......#10
I believe the year to be 1988, I was reading about the relatively new (1982) organization of Pheasants Forever (PF) and I became interested in starting a Wisconsin chapter. Prior to that time, I understand there was only one other chapter in our state. For me, the entire process was extremely simple. I contacted PF and I talked to a gentleman by the name of Rick Young. I was told to find a date, time and place and advertise and he would show up. I did and I placed a listing of that information in the Milwaukee Journal's Outdoor Section. A young outdoor writer, with his own column in several newspapers, interviewed me and wrote a nice article promoting the upcoming meeting. That young outdoor writer became the older Dick Ellis, the owner, editor, and publisher of On Wisconsin Outdoors. Several weeks later, on an extremely cold January evening, nearly a hundred interested conservationists showed up at Clifford's Restaurant in Hales Corners. Within a few hours, the newly created Southeastern Wisconsin Chapter of Pheasants Forever was born.
Today, there are approximately 40 state chapters and 700 national chapters with 145,000 members.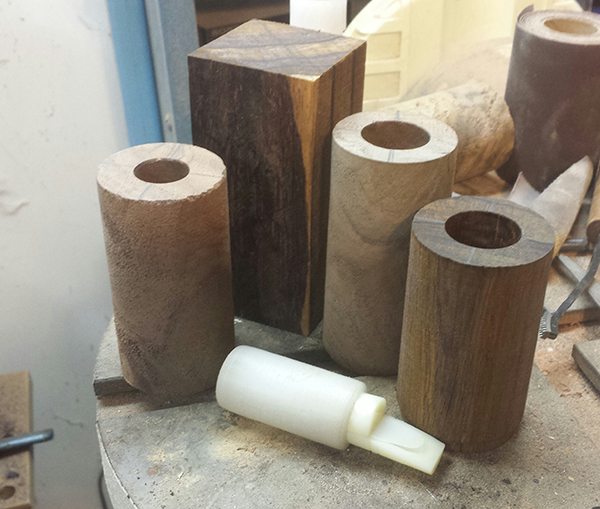 The calls rounded out, drilled and ready for turning.
Off to the left of my desk is my black walnut, Walworth County PF Chapter Sponsor Plague with the dates from 2009 through 2016. I am proud to display that attractive acknowledgement. Since moving to our county, every year, I donate a ten bird pheasant hunt, guided by myself with my Labradors. Included in the package are shot gun shells, my bird cleaning and packaging, the first, post hunt, bar beverages and ribbing from me when you miss a shot. I am proud to state that my donated hunt in the live auction has become a popular item. One year it sold for $675, and the average selling price is around $500.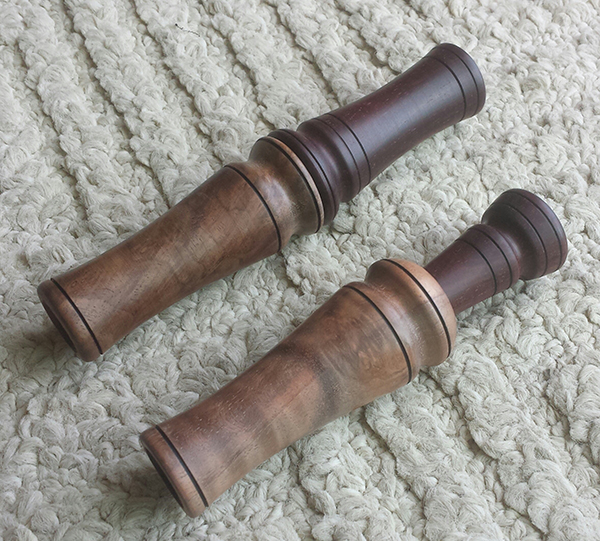 The waterfowl call designs minus the oil and accents.
I really enjoy the Walworth County PF banquets. Most years, I am surrounded by one of my sons, and hunting partners Jim, Brian and Jesse. We enter and immediately make our way over to the Buffalo wings, meatballs, assorted cheeses, and light beers. There we start our harassing of each other, as countless hors d'oeuvres disappear.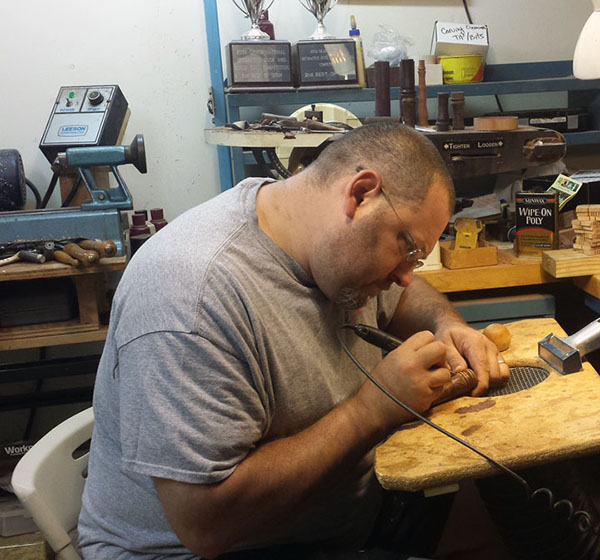 Callmaker Kevin Poeschel in his shop doing the detail work.
One year, I donated an Owen Gromme print that had hung over our couch for years. My son Ty, after a few beverages, got into a live auction, bidding war for that print with money that he didn't possess at the time. He declared that turkey print to be a part of his youth. I finally persuaded him to let it go.
I'm a sucker for unique pheasant related items…….my purchases include a PF neon light pheasant, a carved PF pheasant wood toilet seat and a PF pheasant weather vane. Brian also gets involved in bidding wars and seems to enjoy it as much as I do. A few of his purchases include a Mathew's Drenalin bow, a PF coat rack, and an outdoor, PF steel pheasant.
This year, I made my best purchase. A call maker donated two custom made duck, goose or turkey calls. It was a silent auction item, which meant that I had to write my bids on a paper list. I fought off several other bidders and won the calls. The entire time I was in the bidding competition, I was thinking this would be an excellent keepsake for my son Nate. Nate is very knowledgeable with waterfowl calls, knowing most of the specifics, of which I really know none. I do know that the price of several of his calls could have bought a dozen or two high end decoys.
After the banquet, I contacted the callmaker Kevin Poeschel. I did the early leg work. Nate and Kevin decided which types of calls/sounds he preferred and which type of wood to be used. These matching duck and goose calls while being pieces of art, are to be used as working calls. Since it is a gift for Nate, my only request was, I wanted our initials put into the calls. I enjoy personal touches. For example, Nate and I hunt with our camo Greene's Hunting Lodge caps. Just for the record, we really don't have a lodge!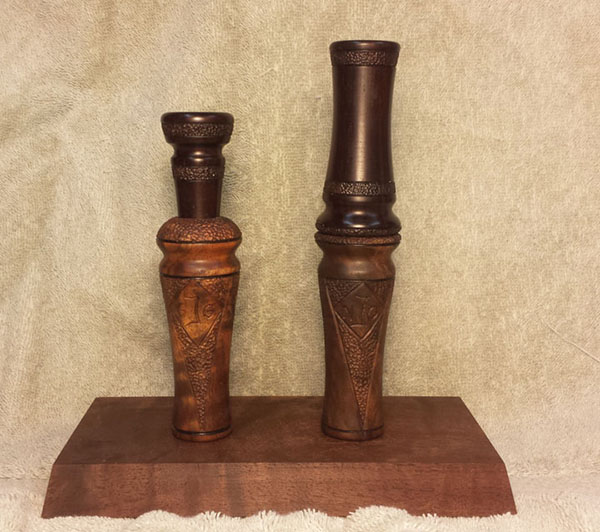 Poeschel's nearly finished calls just needing to be tuned and buffed out.
I've talked with Kevin several times and he is a very conscientious man, who cares deeply about his craft and loves that his calls will be in our family. He mentioned that creating duck calls was a project that "Bonded" him with his father. He was diligent enough to forward pictures of the progress as he created the two calls for us. He was very pleased that his calls will mean more to us than just another call on the lanyard. He also stated that he enjoys making calls for the serious hunter……and we certainly fit that billing.
Kevin is not self-promoting, so I needed to do an online search. I found that Kevin is an award winning callmaker. He has had numerous first and second place finishes, and has won the, "Best of the Show" in the Callmakers and Collectors Association of America competition. Besides seeing and learning the steps of making calls, contrary to spell check, I learned that callmaker is usually spelled as one word.
I emailed my son Nate the pictures that Kevin sent me of the final product. His response was: "Those calls are awesome!" All of Kevin's work, time, materials and skill to detail were donated to Pheasants Forever to raise money for wildlife habitat in the state of Wisconsin. When I thanked him, Kevin's response was simply: "I am just happy I could do this for you." Kevin Poeschel, I thank you again. For our family with outdoor values, I foresee this matched set of custom made calls becoming an heirloom.