Gary Greene's Memories from an Old Hunter........#7
My wife Chris overheard a phone conversation my son Nate and I were having, as we made plans for an upcoming duck hunt. I was using phrases like……need to glass, deke placement, and ducks cupping. These are all normal duck hunting terms. When I got off the phone, she asked: "I know you were talking about hunting, but what are those words?" I went on to interpret our hunting lingo for her. Her response was laughing…...let's say "Heartedly" and not with us, but at us. Since that time, with Chris within earshot of us, Nate and I will use as much duck hunting lingo as we can, and we might make up a few words just to tease(should I say entertain) her.
My wife is a non-hunter, but she supports my passion for the sport. She actually has stated, that she loves that I am capable of such emotion, as is my love for the great outdoors. Never once, has she restricted my hunting endeavors and in return, I hope I have never restricted her interests as well. This is the second marriage for the both of us, and we have found a life that really works beautifully for us.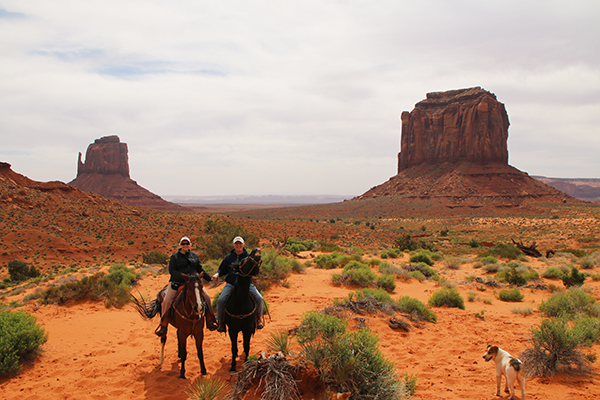 Greene and his wife Chris in Monument Valley, Utah: Home of old John Wayne Movies (2015)
I am a lifelong hunter, but my sons grew up in a home where their mother was against guns. Our first date was pheasant hunting, so I didn't exactly see that rule coming. They were not allowed to have or play with toy guns. In our home, as parents, this topic did cause tension between us. There was a time period, when my sons used many of their toys as their guns. I remember them running around the house, shooting at each other with their Pooh Bears. Nate became a hunter. Ty is a shooter, but not a hunter. Not having toy guns, didn't seem to alter either son's life selections. Both sons own several shotguns and handguns. Nate went on to become a Special Forces Army Ranger with five wartime deployments. Moving forward, Nate is currently in veterinarian school and Ty is a special education teacher.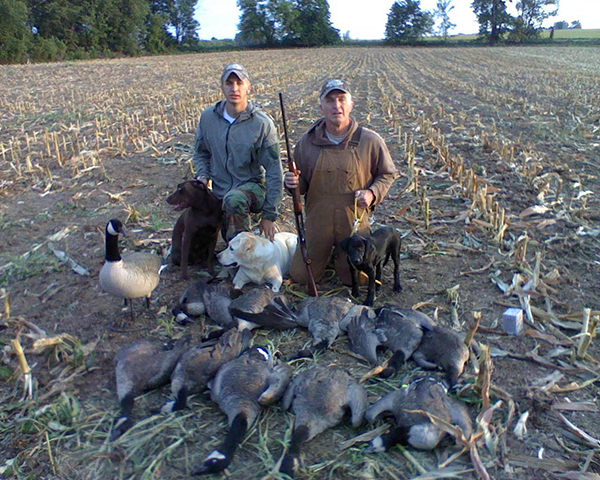 Greene with son Nate and Hershey, Dookie, and four month old Elsie, Horicon Zone (2011)
I haven't read any recent statistics regarding this matter, but I believe I am on pretty solid ground, stating that there are more non-hunters out there, than there are of us hunters. Ok, after making this statement, I became curious, and I did some online research.
There are numerous statistics and surveys out there to research. I did the leg work (finger work) for you, and attempted to list the most significant stats.
1) I found the number of current hunters in the United States is somewhere between 13 million and 20 million, with 91% being male.
2) Most surveys sighted the percent of hunters as being between 5% and 7%, and one survey I found was as high as 10%, while 32 % of the population owns guns.
3) Anti-hunter's numbers seem to compare with hunter's counts at around 10% of the population.
4) 80% of our country does not really care if we hunt or not.
5) One hunting survey went on to divide their 13.7 million hunters into specific categories: 11.6 million big game hunters, 4.5 million upland and small game hunters and 2.6 migratory hunters.
I found many, many, way too many more statistics. I had to include four more stats that I felt were significant.
1) Wisconsin has between 600,000 and 700,000 hunters a year. That would be the eighth largest army in the world.
2) The average hunter, per year, hunts 21 days and spends $2,484 on hunting expenses.
3) 18,100, the number of people who google the word "Huting" monthly, because they misspelled the word. It is the top misspelled word. (Wow, that's not in our favor!)
4) And finally, there are more accidental deaths involving vending machines than there are from guns during hunting. The hunting/gun accident death rate is less than 1%. (This is my favorite statistic)
Before I met my wife Chris, to meet women, I resorted to using Match.Com. Online, I never mentioned hunting. I like to think, I have more to offer than just "Hunter." On two separate occasions, I met a lady for a first meeting at a coffee shop. When the conversation got around to my Labrador Retrievers, both asked me if I hunt. When I responded, each woman, without further comment, got out of their chair, and proceeded to walk out of the coffee shop. One walked out before we picked up the coffee order.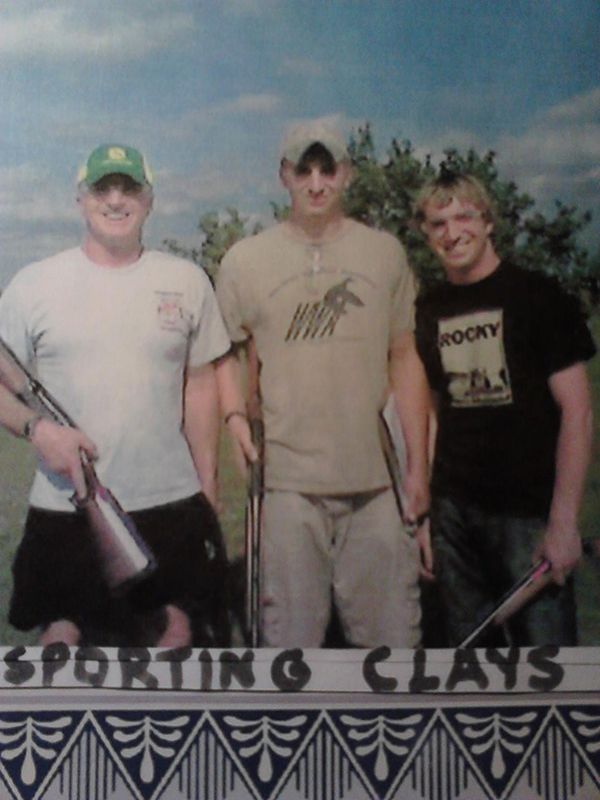 Gary and sons Nate and Ty, sporting clay's course (2008)
However, my wife to be, Chris, at our first meeting, when confronted with me being a "Hunter," did not leave. While we were dating, we met several times a week to snowshoe in Kettle Moraine South and enjoy the beauty of the state park and each other. As I mentioned previously, she is not a hunter, but she did come along on a hunt to take pictures of our labs retrieving pheasants. During that hunt, I realized too late, that I had made a mistake. I did not turn my back toward Chris while I had a retrieved, live, shot pheasant in my hands. I was in the middle of wringing the bird's neck as I looked at Chris, and she was making eye contact with the wounded bird. I could see the discomfort in her eyes. She has not returned to the field, but graciously, after hunts, she has taken numerous pictures of Nate and me with our harvested waterfowl and pheasants.
While we were dating, my chocolate lab, Hershey had a litter. I was only going to keep one pup and Chris persuaded me to keep two pups. When the woman you are dating wants to keep more dogs than you do, you fight to keep her. I did just that. Oh, and I also forgot to mention, Chris is a veterinarian.