Gary Greene's Memories from an Old Hunter....#4
As a young hunter, I had a love affair with squirrels. I did hunt pheasants and some waterfowl, but primarily, I was a squirrel hunter. I became so consumed with this type of hunting because there were abundant squirrels in a nearby woodland. There I could pursue them with my bow or pellet gun without the supervision of a parent. Many a time, I remember coming home with a kink in my neck from tree top searching for the bushy tail or that apparent growth on the tree that didn't belong.
That hunting love affair lasted for about a decade. I knew every tree in those woodlands. Recently, I was talking with David, a lifelong friend, whose parents owned a part of my hunting grounds. I have not been in those woods since the early 1970's, and we were discussing certain clearings and specific trees. I actually teared up a little, thinking of all the time I spent there and all the fun that was had. David mentioned that his dad jokingly would say, "The squirrel population would depend on the amount of times that Greene boy hunted in our woods."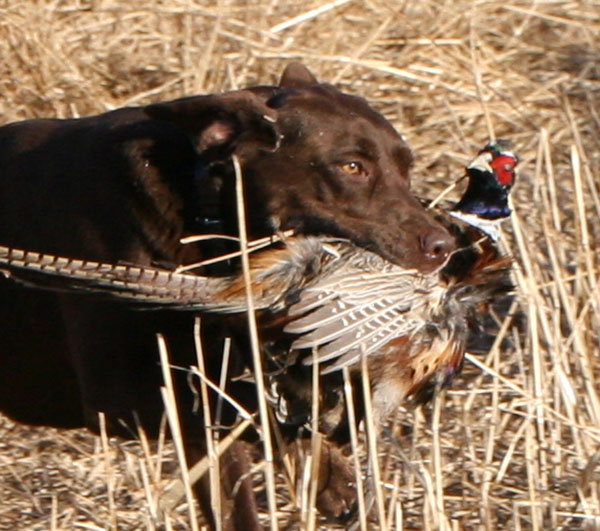 GREENE'S CHOCOLATE LAB HERSHEY ON THE RETRIEVE
I was an enemy of the squirrel, even at one evenings' Milwaukee Brewer game at the old Milwaukee County Stadium. As I was sitting in the lower deck, I heard the crowd yelling even though there was no action on the field. The crowd was reacting to the squirrel sailing through the air from the upper deck. That squirrel went on to land on my left shoulder. I believe, I might have overreacted, and I might have screamed like a little, school girl, as the squirrel crawled down my back and proceeded to run across the playing field. I can still feel those four little feet digging into my shoulder.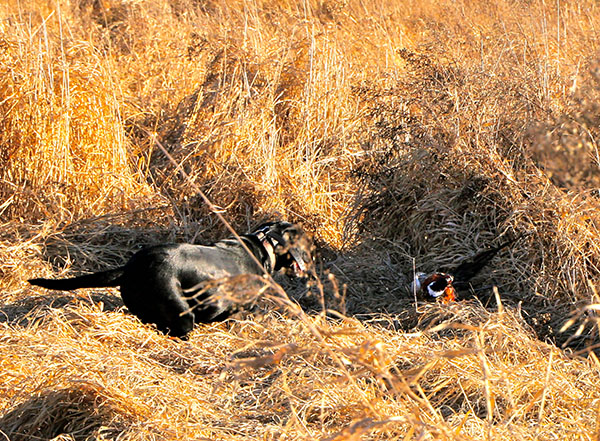 GREENE'S BLACK LAB NYJER CLOSES GAP ON ROOSTER
Then I progressed on to my next love affair. This time, it became the Pheasant. To this day, I never get tired of the "Flush." What is even better is a flush with a cackle. I could watch forever, one of my Labradors working a running rooster, tail circling as the dog does the same. As the intensity picks up, my dog narrows the gap between dog and bird. My dog tightens it's movements, as it knows the bird is just feet or possibly inches away. Then the sight that becomes so anticipated, even though I have probably witnessed it more than ten thousand times. The rooster pheasant takes to the sky with a burst of energy, at a level I know longer possess. My dog might leap to catch that flushing bird, sometimes coming back to earth with a mouthful of tail feathers. No two birds actually ever take the same course. All you can bet on is that the bird, eventually, will be flying in a direction away from you. With the excitement of my first bird, I take aim and fire. I watch as that beautifully colored bird crumbles and my dog beelines to the downed bird. My dog returns to me with bird in mouth, always to me, never to another hunter. The dog has just completed the task that it was born into this world to do. Every retrieve, the dog and owner are as proud as the first. I smile every time. There are not a lot of things in this world that makes you smile every time. Andy, one of my hunting friends, makes the same statement several times every hunt. I can hear him right now as I type this memory. After a bird is shot and retrieved, he yells out, "That's the most fun you can have standing up!"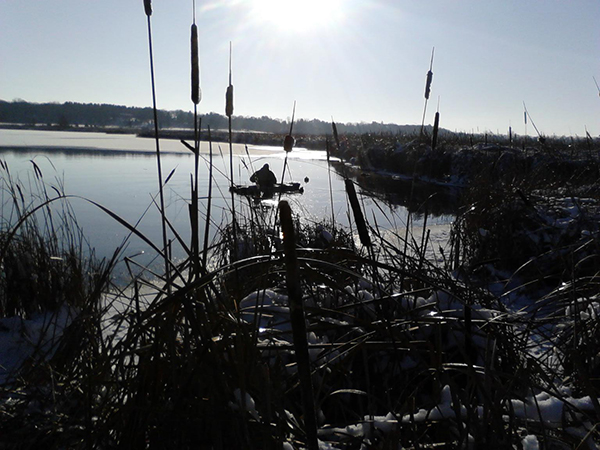 NATE GREENE IN KAYAK, ON A FROSTY MORNING, SETTING UP DECOYS
As I mentioned earlier, I never get tired of the flush. For the last seven years, at local hunting clubs, I have been a professional pheasant hunting guide. This past season, my dogs retrieved over 1300 pheasants. We lost about a dozen birds that were shot and never found. Many of the downed birds were only wing shot and when they hit the ground, they became "Road Runners." I will allow my dogs to sprint after a crippled bird. They may be gone for extended periods of time. While they are gone, most of the guided hunters will comment that, "I thought the bird was dead." and walk over to the spot of the fall and comment, "That bird should be right here!" My least favorite comment is. " Let's move on, your dog won't find the bird."………..Then as we wait, my dog will return from great distances with bird in mouth. I always comment, "The dog knows better than we do." I'm always the proud father of my dogs, and most hunters that I guide don't appreciate that unbelievably skilled dog work. They just take it for granted. There is nothing during a pheasant hunt that I take for granted. I love the whole shooting match!!!
Then I fell in love for the third time. This time it was waterfowl hunting. I used to hunt ducks and geese a little bit, but I never did it the right way. Because of my son Nate's love of the hunt, I have grown to love it too. I do admit my son does all the set up and all the calling, but I supply the money. I have learned that you never have all the duck hunting equipment that you need. There is always a greener headed mallard decoy out there. The love affair is the whole package. Specifically, I have found the scene of ducks circling your decoys, then after the call, cupping into your spread, birds down, and dog on the retrieve………well, there is nothing like it!!!...... It would be perfect, if my pheasant hunting labs would stop that occasional whining in the blind. I was once told that the best way to break my dog of whining is for me to wear ear plugs.