Gary Greene's Memories from an Old Hunter………#22
After too long of a drive, my son Nate and I found our destination and entered our Arkansas waterfowl hunting lodge. In front of the dimly lit fireplace, we encountered two, colorful, guitar playing old guys (my age), that very well could have been folk singers from the 1963-64 Hootenanny TV show. One player stopped his picking, and almost immediately gave me the nickname of G-man. He told me to call him Barbeque, because he owned several of those types of restaurants near Columbus, Georgia. After some persuading, I was directed to the lodge chef whose name I found to be Cornbread, but spelled with a K, which formally, I believe made it a name rather than a food. Finally, I was pointed in the direction of the owner Ms. Sally. After a day down there, I was informed that anyone with age is referred to…….with the prefix of Mr. or Ms. added to their first name. I became Mr. Gary. I was told by our hunting guide Cody, it is a southern way of showing respect for your elders, and I guess I do fit into the elder category. This past year, at a Wisconsin hunting club, I guided a 100 bird quail hunt for three gentlemen from Louisiana. Just a few weeks ago, I received a call from one of those hunters. He just wanted to hear how Mr. Gary was doing.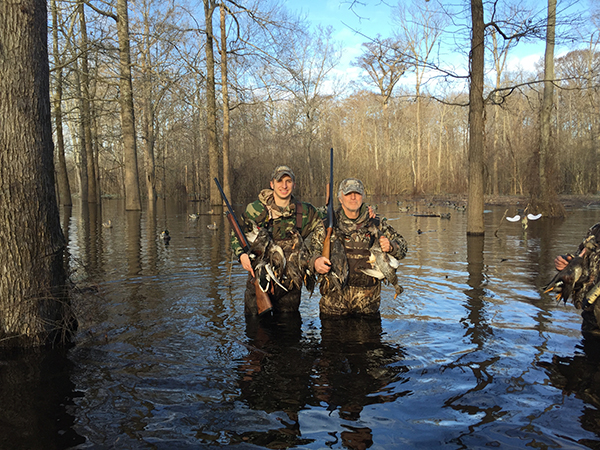 Gary Greene and son Nate in the flooded timbers of Arkansas and their limit of ducks. Gary is holding his birthday Gadwall in his left hand. (2016)
The first two days of hunting down there were marginal at best, I will cover that later. The main highlight of those days was Kornbread's meals. They were as good as anything I have ever eaten. Nate told Kornbread that he was falling in love with him because of his great food presentations. Those nights, when Nate and I called our wives, we never mentioned our hunting exploits, we just gave monologs on Kornbread's food. One night, I was giving Kornbread a compliment about his brownies being the best I have ever had………….his response was: "Betty Crocker!" Then we started to think that getting up at 3:30am and being in the marsh for six hours, possibly created the perfect atmosphere for us to fall in love with most any food placed on a plate in front of us.
The entire state of Arkansas was under water and the flooding Mississippi River was advancing in our direction creating still higher water levels. The weather in the northern states was still quite warm, so a large portion of the migration hadn't made its way down to Arkansas. The first two days, in the greenhead capital of the world, we shot four and five ducks. We sadly referred to our hunts as being located in Wisconsin South.
The third day, we were paired with another father (JR) and son (Matty) team. JR was a police chief from California. We were told we were going to hunt the flooded timber. We took an old row boat that didn't seat five hunters, with an outboard motor that died every ten seconds. In the darkest of dark, I was in the front of the boat as it ricocheted off numerous fallen logs and large, majestic cypress trees. The ride to the hunting sight was magnificent. Alone, I would have paid for that boat ride. With the light on the front of the boat leading the way as we zig-zagged through those alarmingly, shadowed cypress trees with that witches' hair, hanging moss. I could have been riding on the new Swamp Trail Ride at Disney World. It was that impressive. I wish I had recorded it.
Previously, the decoys were bundled up at the hunting location and the guide Cody set out the dekes. The four of us found a tree to hide behind and waited for shooting time. Waders were a necessity as the water level was near our waist and rising. The previous two days, we didn't see many ducks and we basically shot the chances that we had. This day was different. This day made the entire trip. This day was a dream hunt. This day was the best duck hunt day of our lives, and it occurred in the flooded timber. Nate had been dreaming of a great flooded timber hunt since he had started duck hunting and that day all aspects of the hunt came together. We were on the X. We were the X.
Cody played his call louder than I have ever heard one work a call. It rattled the tree limbs, it hurt my ears from twenty yards away, but the Gadwall loved him. Every duck wanted in our dekes. We had never before experienced a real flooded timber hunt as we were in awe of how these birds came straight down, floating on air amongst the cypress. With the five man limit being 30 ducks, we shot 28 Gadwall and one Mallard in less than 30 minutes and since it was my 65th birthday, the other dad suggested that I solo shoot at number thirty as a present from him and his son. With this upcoming shot, my heart rate elevated as I actually became quite nervous. At that time, I compared my apprehensiveness to standing on the free throw line with the chance at a game winner. A lone Gadwall came floating in and despite my nerves, I dropped it in one shot. Cody took our pictures with all the strapped ducks hanging around our shoulders …….father and son, then our hunting foursome, as I singularly, held my birthday Gadwall in my left hand.
Twice, in the afternoons, we also hunted geese. Both days, we shot our limit of Specklebellies. Nate and I had our picture taken with all the geese and a hunter from Kentucky. We didn't particularly cherish the man, but his name was Tyler Green, the same as my older son's, minus the "E" on the end of Greene, and he looked as if he was a regular on Duck Dynasty. I wanted to add a little color to our picture.
The next day, our last Arkansas hunt, we were going to go back to the flooded timbers, but the water levels had risen to well above our waders. Our day four, was like the previous hunts, we saw a few ducks and shot what we could. As we were cleaning up, JR gave me a police swat team T-shirt from his home town and he shared some great stories of doing security work for Hilary Clinton's first presidential campaign. Like many people, some politicians are not as they appear.
Nate and I will always share my birthday hunt as a memory. We still talk about that morning hunt in the flooded timbers of Arkansas. It was also noteworthy to experience that hunt with JR and Matty, with the dads sharing a hug and just maybe a wet eye.