Gary Greene's Memories from an Old Hunter……..#21
Deep in thought, I was attempting to tally the number of times I have guided for pheasant hunters. After those extensive calculations, (not really) I estimated the number of my guided hunts to be in the 400's. I have come up with a few memories that stand out, because …….well, you be the judge.
Since 2009, I have been a sponsor for the Walworth County Chapter of Pheasants Forever. My donation is a hunting club, ten bird pheasant hunt guided by myself and my dogs. I throw in bird cleaning and a first round of beverages. This year's hunt was on October 25th, 2016, and I am happy to report they again harvested more pheasants than were released. This year's winners of my live auction donation were Helen, Brett, Andy and Dale. Usually, they are the highest bidders and over the years have become dear friends. I wish to thank them for the great times we have shared in the field and for their donation to such a worthy cause.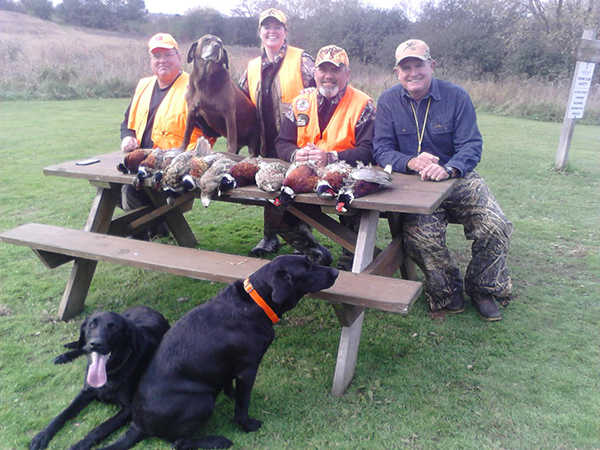 A October 25, 2016 Walworth County Chapter, Pheasant Forever sponsor hunt was purchased and enjoyed by Andy, Helen, Brett and Dale. The sponsor Greene's three generations of dogs are chocolate grandmother Hershey (10), grandson Schmiddy (2) and daughter Elsie (5).
The majority of my hunters are very safety conscience, but then, there are the inexperienced, or the easily excitable, or worse, the inexperienced and easily excitable. Before we enter the fields, I always present my pre-hunt speech/lecture, about gun, hunter and dog safety sighting all the necessary do's and don'ts.
I prefer that all my walking hunters to have their guns pointing in an upward position. I realize some very smart hunters carry their shotguns with the gun barrel pointing down. However, their guns could easily be pointing in the direction of my quartering in front Labradors. I have witnessed "Safe" hunters with their shotguns pointed downward, unknowingly to them, with the end of their barrel pointing at and following my dog as it zig zags. I do not want a loaded gun pointed in the direction of my dogs.
On one hunt, I had two father/sons that had just completed their hunter safety courses. This was to be their first ever pheasant hunt together. After my speech, we take the field and one son immediately is carrying his gun like a suitcase. The boy's arm is extended straight down and his gun is parallel with the earth. I explained that I felt uncomfortable with this position and requested the gun be held in an upright manner. He remarked: "This is the way I like it" and he refused to change. I looked at his father for some help and his dad did not comment. I went on to tell the boy that either you carry your gun as I suggest or your hunt is over. Immediately, he turned and left the field. Again, dad had no comment. Later, we found him in the front seat of the car, happily playing videos games.
Before a hunt, I told the story of how a recent hunter shot at a low flying quail and narrowly missed shooting my jumping lab. In fairly specific details, I described how I handled that hunter. In part, I remember mentioning that he cried. I was hoping to make an impression. Well, as we continued on the hunt, my lab flushes a rooster and it gets up nicely and is about 15-20 feet in the air. None of the four hunters fired a shot. I interjected: "That was a good shot. All four of you could have shot." One hunter replied: "You had us so scared, we were afraid to shoot!"
Over the years, I am not pleased to say I have several instances of hunters shooting at running birds in front of my dogs. I guided a Big Ten assistant football coach and he claimed to be a veteran hunter that didn't seem interested in my pre hunt speech. The first rooster was a runner, and the 6' 5", 350 pound coach shot the bird about five feet off my dog's nose. In South Dakota they call them ground pounders and here I call them ground swatters. Call it what you wish, you should never shoot at a bird on the ground. You take a chance of shooting the running dog. Well again, I raised my voice in displeasure and we had a quick discussion. We continued the hunt, except for me handling my dogs, an occasional shot and rooster cackling, the remaining hours of our hunt were in near silence.
I had a thanksgiving weekend hunt with a father and his three college age sons. While we were resting, talking, and just standing around, one son drops his gun. The stock is down as it hits the ground and the shot fired right past his face. This dad took his gun away without saying a word.
In the field, I had a hunter loading his shotgun and his gun shot into the ground directly between his feet. Walking next to me, another hunter was constantly talking about his great hunting skills. He goes on to add that he is good enough to be a guide, when he drops his gun, and it hits the ground and goes off, narrowly missing the bill of his cap.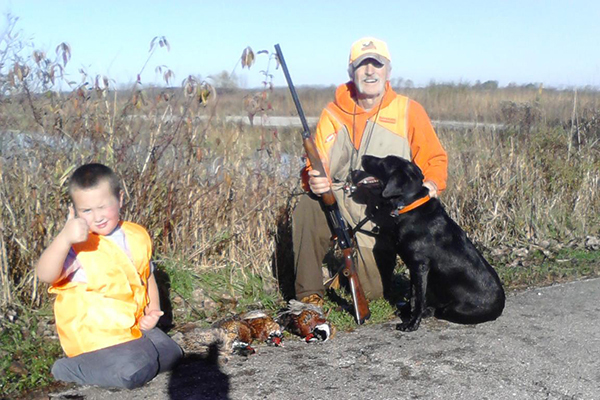 Greene with his dog Elsie is joined by Eric in his dad's shadow, with their two man limit of pheasants on a November 4th, 2016 Bong Rec. Area hunt. The public hunting grounds have been loaded with stocked pheasants by the Wisconsin DNR.
On a father and son hunt, we were talking as we were making our way out to the field. Suddenly, his 30ish year old son drops to his knees and vomits. He's down for some time and there appears to a large quantity of undesired food. Slowly, the three of us reverse direction and make our way back to our vehicles. As the son sits in the front seat of his car, he states that, on the way to this hunt, he probably shouldn't have eaten those five Big Macs and a couple of shakes.
A rather large man paid for my guiding services and a ten bird, pheasant hunt. The temperature was pushing 80 degrees that day, and immediately, as we walked from the truck, he was struggling. He stopped after about fifty yards and said; "I can't do this!" He said he would rather sit at the picnic table, under the shade tree. He went on to add: "Gary, you go on and hunt my birds, here's my gun." After an exchange of some other possible solutions, I hunted his birds with his gun. I came back to the truck with ten, harvested pheasants. He requested that I take his picture, posed with his gun, the ten pheasants I shot, and my labs at his side. I did just that and he gave me a very sizable tip.