Gary Greene's Memories from an Old Hunter ……#6
Growing up in my neighborhood, all of us played sports. All summer long, my best friend John, would come over every morning and wake me up. After watching a rerun episode of "The Andy Griffith Show," we would head out to my gravel driveway and beat each other up in a game of one-on-one basketball. It got particularly ugly when it was game point. We shared great times, but John was not a hunter. When it came to the fall, just two of us, Mike and I took to the woods and fields. Like many families then and now, if your father or grandfather were hunters, then you probably were as well.
As we progress through this story, I will refer to my air rifle as my pellet gun, because that is what we called it. We never used the term air rifle. It was….."Go get your pellet gun and let's go hunting." I see this being similar to the old timers up north shooting their partridge. We all know they are referring to ruffed grouse, but we will not and should not correct them. We always called it a pellet gun and I'm sticking with it!
Mike and I made the progression through the implements of hunting. Like most boys from the 1960's, we went from a toy cap pistol, to a Daisy BB gun. We never used it unsafely like most of the non-hunters at school that shot at each other or damaged property. To us, the BB gun was never the ultimate prize as it was for Ralphie in the movie, The Christmas Story. The Daisy had very little harvesting power. I could only shoot for so long, without success, at Starlings out of our home's milk chute door. When I shot out of the chute, my mom said we should spell it….."The milk shoot."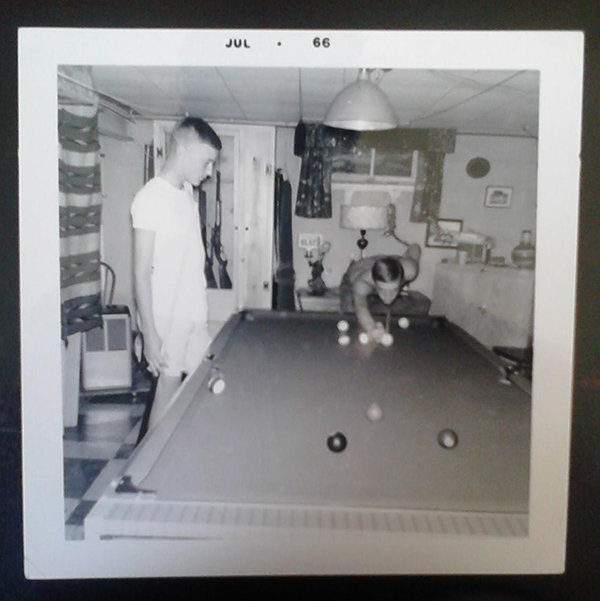 Greene (on right) with his life long friend John, with Greene's father's custom made gun cabinet in background (1966)
One day, the talk at school, featured the Crosman pellet gun. I had to have it. It was a 22 caliber, wooden stock gun with a forearm that broke open to pump. I think I paid $29.95 for that first pellet gun. The pellets were hour glass shaped which made it even more intriguing. After researching on line, the gun I probably had was the Crosman, Model 140. The current model, that most resembles my old pellet gun and lists for over $200, is the Crosman made, Benjamin Model 392.
As Mike and I pumped up our pellet guns with four to eight pumps, we had far more firepower than previously with our bows and slingshots. We were harvesting more animals than ever before. It was a great time in my life, the freedom of young boys out on their own, in the woods, challenging nature, and now succeeding at a higher level.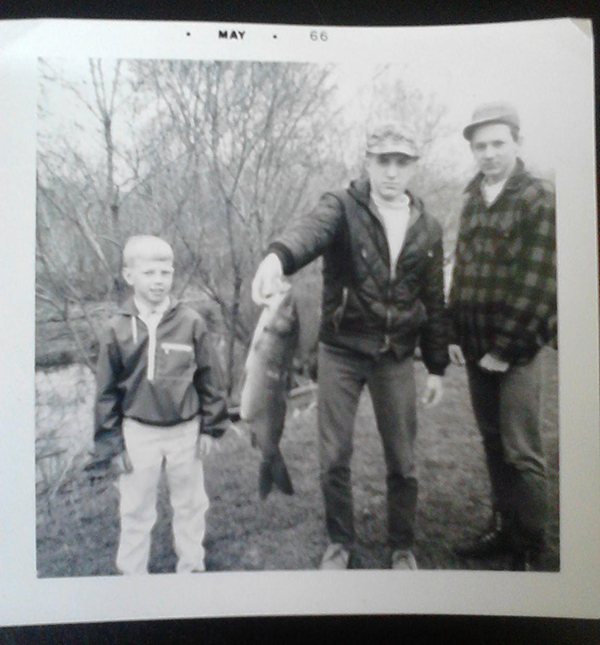 Greene holding carp taken with a bow, with hunting partner Mike and his little brother (1966)
We ate what we shot, that was a rule in our home. For me, I clearly remember that the squirrel was far more difficult to clean than a rabbit or pheasant. I struggled cleaning them, but I enjoyed the process of nailing a few stretched hides to a plywood board. I then scraped off the fat and applied large quantities of salt to "Tan" the hides. My lifelong friend John, the non-hunter, read this memory and commented that he remembered stopping at my house, as I was cleaning squirrels. He said: "I quickly left, soon thereafter." The real trophy was if we shot a fox squirrel. At the time, to me, that was like shooting a bull canvasback or drake pintail. We never saw many of these beautiful animals. If we were fortunate to harvest one, we tanned them and hung them from our bedroom doors. During those early years, I would have each squirrel tail on my door as well. Later, as we shot more, we would save the tails and ship them to Mepps up in Antigo, Wisconsin to be used in fishing lures. I believe we got about five cents a tail, and less if you left the bone in the tail.
The depression started in 1929, the same year my grandparents lost their family owned butcher shop. To support his family, my grandfather (John) had to butcher/clean friend's deer, fish and other game. My grandmother (Elsie) went on to become an accomplished cook, making excellent dishes from donated wild game and the generic product "Spam."
My grandmother called my baseball uniform, "My costume." We never had a lot in common to talk about, but after I cleaned the squirrels, she would prepare them for me. I can still see the squirrels in her electric frying pan. When she lifted the cover, the smells would fill the kitchen and you could see and feel the heat rise from the pan. No squirrel that I ever roasted has come close to matching the palatability of my grandmother's skilled preparation. During that baking time, my grandma and I would share a ginger ale and talk about the early 1900's, the days of her youth.
My wife and I love our five Labrador Retrievers. Our children have grown, and our dogs have become our children. In honor of my grandmother Elsie, we named one of our dogs after her. I love the concept that my grandmother's name lives on in our family.
As I reminisce of those times, I have come to the conclusion, that possibly my grandmother's prepared squirrel wasn't really that perfect, but my time with her was. We shared the hunt and she was not a hunter. It was OUR time together……… just her and I.