Gary Greene's Memories from an Old Hunter …….#3
As a young boy, Horicon Marsh was this magical place far, far away. It was so far, that my dad had to sleep over night the entire weekend. I had never seen it, and I only heard my dad relay his adventures of his hunts. When he drove into the driveway on Sunday night, I would run out to the car to see what waterfowl he had shot. That was my first exposure to the different species, and the different colors, shapes and sizes. In that driveway, I learned the differences between a drake and a hen and why a hen was camouflaged.
We didn't have freeways at that time that lead to Horicon Marsh. It took a while to get there and distances seemed greater than they really were. Several times a season, while wearing his military Jeep cap, my dad would pack up his wood decoys and his old, green, army jacket into his WWII army duffle bag. Our Chesapeake, King would share the trunk with the bag in our Plymouth Fury as they would head up to the marsh. My dad would sleep in the back seat with King Friday and Saturday nights. He would get in a full day of hunting on Saturday and a half day on Sunday before packing up. In preparation for these hunts, my dad had spent months customizing his own duck boat with homemade floating devices, camouflage partitions, and a special lighting system.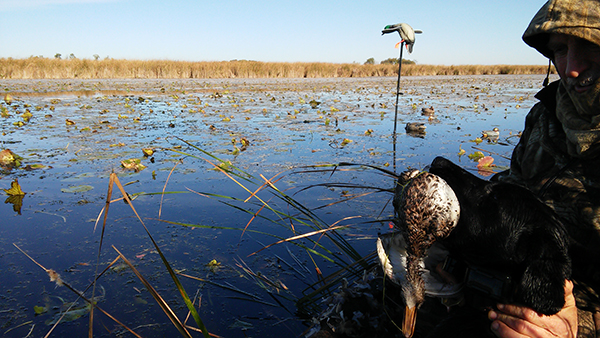 I wish I knew what happened to those wood decoys. Over the years, those decoys lost most of their color and began to turn gray. I can still see them hanging from nails in the back of the garage. Those decoys disappeared sometime during my college years when I had too many other interests.
My dad never hunted Big Muskego Lake and I do not know why. The lake was only two miles away. On some summer evenings, with the wind out of the west, I could hear shooting from the lake's Hunter's Nest and Schulz's gun ranges. With the wind out of the east, I could hear the Hales Corner's Speedway and the car engines roar from such drivers as Fuzzy Fassbender and Miles Melius the Mouse. As a child, I loved those sounds. To most people today, it would be a form of air/sound pollution.
One Sunday night, I had just got out of the bathtub and heard my mom screaming . As I ran into the kitchen, I witnessed a Canada Goose running around the kitchen. My dad thought it was funny, this small boy was impressed and a little scared, and my mom was not particularly happy. My dad explained that he thought the goose was dead and it came to during the ride home. All I know is that it never happened again. I know that transporting a live bird is not legal, but supposedly my father was ignorant of the living status of the goose. As I look back, I am not so sure, it might have been intentional.
My dad's Horicon Marsh hunting package had another integral part. It was the only time I got to sleep in my parent's bed with my mom. That was a big deal. I would fall asleep while looking at the pictures in my action comic books of our US soldiers fighting in the Korea War.
Returning from one Horicon Marsh weekend, in the front seat next to him was an English Springer Spaniel puppy. As the story goes, a hunter, in the marsh, was selling the pup out of the trunk of his car. The purchase price was $2.00 and the dog had papers. That dog (Barney) became my companion for the next twelve years. I recall my mom stating, "Just what we need, another dog!"
My dad's last adventure from Horicon Marsh goes something like this……My dad tackled an adult, whitetail buck as he was running past his blind through the cattail marsh. He said, he jumped out of his blind and grabbed the buck by his horns and wrestled him to the ground, then released him. He said he did it because he could. Now, I'm not so sure that this actually occurred. My dad did stretch the truth at times. The whole story seems too much like the life and times of Paul Bunyan and Babe the Blue Ox, or from the lyrics of the Davey Crockett song, such as:....."Killed him a bear when he was only three."
Years went by, and I never thought much of Horicon Marsh. When our sons were young, we would take a few fall trips to the marsh to view the migrating geese. We hunt geese in the Horicon Zone, but always miles from the marsh. Then Years later, after my son Nate came home from the Iraq and Afghanistan wars, he became engrossed in waterfowl hunting. Two years ago, we thought we would give Horicon Marsh a try. We put my square back canoe propelled by my trolling motor, in the water at Burnett Ditch on the west side of the Horicon Marsh. That day, my son Nate shot three Gadwalls and Schmiddy, my lab puppy, retrieved all three. It was a great day and now sixty years later, our family came back full circle to the magic of Horicon Marsh.