Gary Greene's Memories from an Old Hunter........ #11
I have always had a respect for and a fear of fire. I have stared into a blazing fire and I have caught myself nearing a hypnotic state. At our onetime property up in Phelps, I did enjoy a good marshmallow roasting, stone rimmed campfire and creating s'mores on the beach. Also, my wife and I really do savor a glowing fire in our fireplace insert, especially if I clean the glass so we can actually see it. My free tip of the day: when cleaning that soot covered glass, use a warm, damp rag with fireplace ashes as the abrasive.
I wish to make it perfectly clear that I am not a pyromaniac, but I was really amazed with and entertained by a prescribed burn on our lake. The Nature Conservancy representative (Rep) stopped at our house and told me of their plan to do a prescribed burn on a specific date. Previous years the burn had been planned, but the burning never materialized due to improper weather conditions. To burn requires a steady wind of 3-7 mph, with humidity at 50-70%, and a temperature between 40-60 degrees Fahrenheit.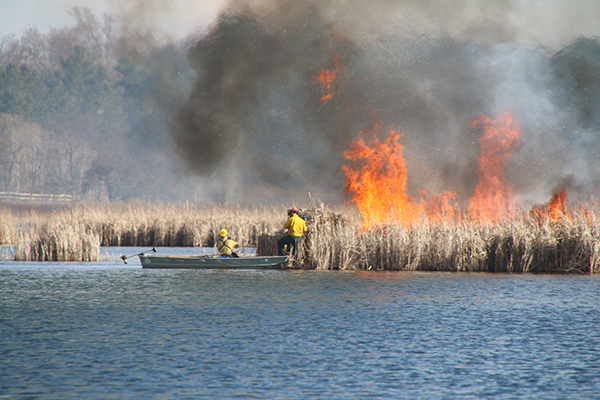 During the prescribed burn, two Nature Conservancy workers start fires near our duck blind.
The rep asked me if I had any concerns regarding the burn. I replied I had two. To get to our lake, through the cattails, I built an elevated wood pier, over an old, decayed boardwalk. The goal of the pier was to be able to make my way down to the lake without getting wet feet, scratched legs and mosquitos up my shorts. Also, my son Nate and I built a duck blind, with my neighbor's permission on his property. I told the rep that we would be real happy if he didn't burn down our pier or our duck blind. He said he would try real hard not to do either of those………….Somehow to me, that didn't seem real convincing, so I decided I was going to watch the procedure.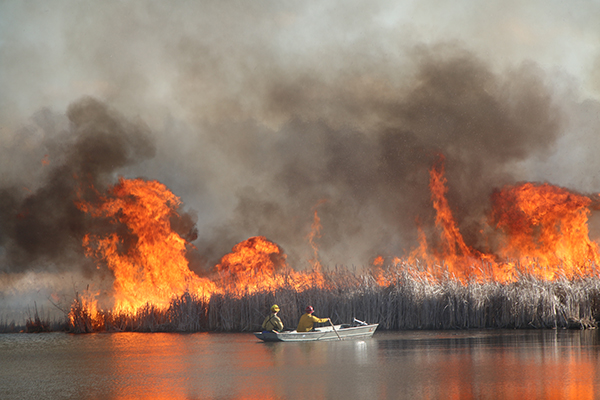 After firing flairs into the cattails, the fire begins to advance.
The time came and the weather conditions evidently were within the parameters, and the burn began. I was sitting at the end of our pier, with my wife's camera and a couple of our dogs. At our blind, two men in what appeared to be fireman's suits were in a row boat with a trolling motor. They had told me that they would start part of the fire there, so it would burn away from the blind rather than to it. It worked just fine and the fires met from several directions away from our blind and our pier. With fires starting in numerous locations, there were workers located at strategic positions throughout the wetland. At the peak of the fire, the flames reached at least fifty feet high and the black smoke rose hundreds of feet above the crackling flames. I could feel the heat and I was over 100 yards away. The two men in the boat continually shot flairs from a flair gun to start little fires in exact locations. The total burn was done to perfection, and our pier and duck blind were never in danger. The two men in the boat came over to our pier and we had a real informative discussion. They informed me, as I just asked questions and listened. They explained how they travel our state directing prescribed (controlled) burns.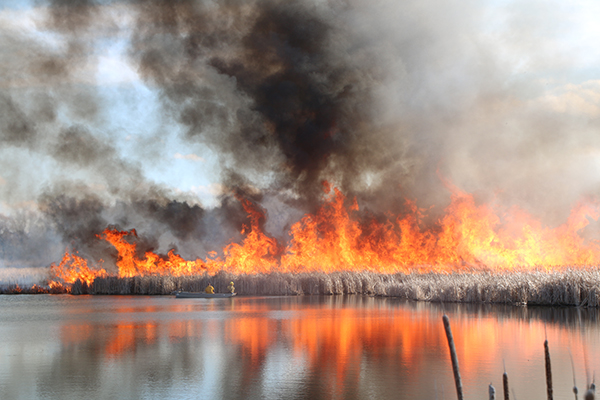 The prescribed burn at it's peak as the conservancy workers appraise their work.
They also added: A prescribed burn is beneficial to waterfowl, upland birds, and all critters, such as beaver and muskrats that live in and near wetlands by removing old vegetation growth and releasing nutrients back into the earth. The burn reduces competition from less desirable species such as cottonwoods, willows and invasive species such as buckthorn. I also learned that our lake shares two types of cattails. The Narrow Leaved Cattail is probably an invasive or a hybrid and the Common Cattail is the native species, but in the long run a burn has little long term effect on either of them.
On behalf of all the wildlife on our lake, I thanked them for a job well done, and one heck of a spectacle. I put it right up there with the Fourth of July fireworks.
Since I was on fire, somewhat literarily, but definitely not literally, let me continue. It was twilight, as I was typing this memory and I looked out my office window. I saw numerous Fireflies lighting up our yard. I hailed my wife Chris to come to my office, and she reluctantly came, but she was rewarded with quite a show. As Chris and I admired the Fireflies, we sensed that our yard must be the perfect habitat. I had read that Firefly numbers are dwindling all over the country due to habitat loss and light pollution, but in our yard and in all directions, there were more blinking lights than we could count. Every time I see Fireflies (Lightning Bugs), immediately my mind goes back to my childhood. I catch myself smiling as I follow several bugs flashing on and off, which they do to attract mates and possibly prey. Probably, the year was 1955, when I used one of my grandmother's old, canning, Ball pickle jars, and I recall the fun I had hunting and catching my first Firefly. It made a big impression on me as I remember that as clearly as any moment from my early childhood.
As I turned off the house lights, I noticed a Firefly on the carpet next to my chair……………it's light was alternating on and off, then briefly steady, then it went on to die out completely. I felt badly, as I witnessed that scenario. As a hunter, I truly believe my respect and appreciation for nature and life has become more deeply ingrained than if I were not a hunter. My fire is definitely not out.