A CHANGE ON THE WINDS...Winnebago breeze carries tremendous walleye bite
By Dick Ellis
Ellis Note. This story took place in late June of 2005. Like all "Dick's Trips", make sure to check current regulations for changes when planning the journey yourself.
Three hours and one 10-inch smallmouth into a planned walleye hunt, John Volkman and I floated on a dead-still Winnebago and debated the options born from poor fishing. A hot walleye bite the night before over the mud flats on Wisconsin's largest inland lake had cooled by morning; the sizzle had fizzled with the exception of two anglers baking nicely under a searing June sun.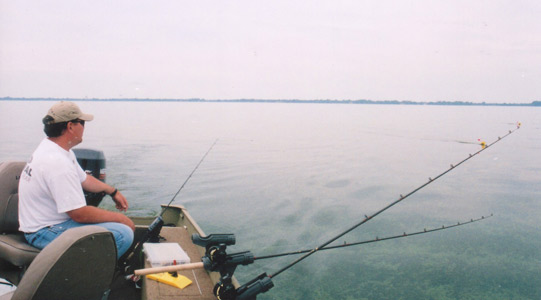 On a dead flat Lake Winnebago, John Volkman waits for a walleye strike over the mud flats that will never come. A rising wind and a method change to casting rapalas in the shallow rocks would soon lead to a non-stop walleye bite with fish between 16 and 19 inches.
Long-lining crank baits on the edge of a seven to 14 foot rock and weed drop-off had produced the lone smallie. Moving to the 15 to 20 foot "depths" and setting four planer boards to work Wally divers and shad raps over the vast mud flats had failed. Often, fingerling white bass, sheep head, trout perch or "grounder" and a variety of other forage minnows over the mud will stimulate feeding activity by predator fish. On this day, not even the normally ravenous white bass would tip a planer and one by one each of the eight boats working deep water around us surrendered the day to Winnebago.
I pulled my own white flag when another move to shallow water near shore using the long-line technique caught another doughnut. "John, let's get out of here," I said. "Pick another lake. We're not doing anything."
The Neenah resident and a lifelong angler on Winnebago, though, was literally feeling a change on the winds. A flat Winnebago was beginning to stir slightly on a rising southerly breeze. Volkman stayed with the lake, but changed the approach.
"Let's give this a little more time," he said. "If the wind keeps picking up, we'll try drifting and casting the shallows with countdown rapalas. Sometimes you have to be patient until you find the walleyes. I'm shocked that we're not on fish already, but it can take a while."
At an overwhelming 137,708 acres, that wasn't surprising. According to Department of Natural Resources (DNR) Senior Fisheries Biologist Kendall Kamke in an interview from Oshkosh June 22, Winnebago is 30 miles long by 10 miles wide and part of an immense system that also includes 27,500 collective acres on the upriver lakes of Butte des Morts, Winneconne and Poygan. Another 125 miles of Wolf River reaches to the Shawano dam and 52 miles of Upper Fox travels to the Princeton dam.
Although each lake has different characteristics, the water is managed as a system. Fishing regulations, for example, for fish species including walleyes, catfish and bass are consistent throughout, and those fish can likely be found utilizing different sections of the system at different times of the year.
"Catfish above Shiocton may travel to Poygan to winter," Kamke said. "Good walleye fishing in June on Lake Winnebago is due to the spawning success 90 miles upriver on the Fox and Wolf Rivers. If you're seeing a bunch of fish 15 to 17 inches they're likely part of the very large year class from 2001 which is a direct result of good spawning conditions and excellent habitat upriver."
Quality spawning habitat, Kamke said, and correlating increases of year classes of walleyes is a direct result of the work of fishing clubs including Walleyes for Tomorrow and Shadows on the Wolf. Over the past 15 years the clubs have worked to improve or restore thousands of acres of habitat on the spawning marshes.
"We don't stock walleyes in the Winnebago system," Kamke said. "It's all self-sustaining, natural reproduction and the clubs have been instrumental in the increase of walleyes we've seen since that habitat work began. We do annual survey work here and the results have been fantastic. All information including tag returns points to no problems. We're under safe harvest levels and there are not just one or two but six or seven year classes contributing during the spring spawning runs."
With the rising winds last week, Volkman and I finally found Winnebago gold in the rock and weedy shallows. After the first 100 yard drift over just two to six feet of water, we had boated three walleyes from 15 to 17 inches pitching countdown rapalas. Another drift brought four more fish to 19 inches. A third drift raised the total number of walleyes caught to ten.
With a rising wind and a change from deep water trolling over the mud flats to casting rapalas over the rocky shallows John Volkman of Neenah and Dick Ellis experienced non-stop walleye action on Lake Winnebago. Like this nice "eater" shown by Volkman, in two hours the anglers caught or lost approximately 30 fish between 16 and 19 inches.
In two hours, we had caught or lost approximately 30 walleyes in the extremely clear and shallow water. Several caught were in the 19 inch class, several bigger fish were lost, and several ended up taking the ride back with us to the dinner table. Each of the fish stung the raps hard and offered a very good fight. And none of it surprised Volkman, who during a lifetime of fishing Winnebago has seen better days than this.
"It's turning on a little later than normal," he said. "Often Winnebago is really rolling by the end of May. The past few years walleye fishing has been unbelievable and the quality is here. You'll see a lot of fish from the same year class at 17 to 20 inches but some fish into the mid-20 inch class. In the last few days every report you hear is a good one. Now that it's going, it should be good through the end of summer."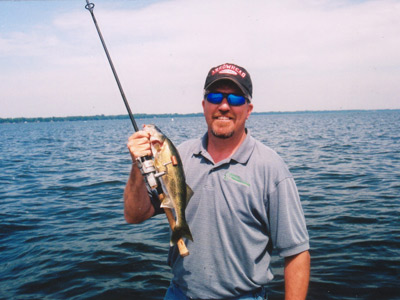 Dick Ellis shows one of approximately 30 walleyes between 16 and 19 inches caught or lost in two hours in the rocky shallows of Lake Winnebago casting rapalas. A rising wind and a change from trolling the deep water mud flats triggered the bite.
The daily limit on the Winnebago system is five walleyes with no minimum size restriction. If a tagged walleye is caught, Kamke asked that anglers call in the information to the DNR Oshkosh office at 1-920-424-3050 or mail the information to the address found on the tag.