Tom Foolery Calling in a Mistake
By Dick Ellis
Two promises were being borne on a dark sky and a sliver of moon high above a slowly-awakening Grant County farmyard early Sunday morning. To the east, a pint of red on the horizon made it a pretty good bet a new day would be in on the 5:26, as scheduled. Maybe less reliable but instinct-certain just the same, a new battle with Tom was spoiling somewhere out there in this curtain of black.
I hugged the woodline and pushed north in the alfalfa with a shotgun slung over one shoulder, and a black bag on the other. As things sometimes go with any Wisconsin hunter, I would have only one day, this final day, to fill the tag. I had traveled 140 miles from my New Berlin home to Fennimore Sunday seeking the classic turkey hunt complete with sunrise and, hopefully first-light gobbles.
High up and far back from the farm where I had received permission to hunt, I trudged on toward a corner of a woodlot I knew only in the light of day. I had sweet-talked two afternoon gobblers to their final mistake from the stand in years past, but had never before taken the 30 minute walk in to greet the dawn.
I kept moving without a flashlight, my eyes alternating between watching the hemorrhage growing in the eastern sky and scanning the silhouetted branches against a million stars. Expecting, surely, to bust the flock from the roost at every new turn of woodlot corner. Over every new rise of freshly-turned dirt readied by the spring plows.
I made it to my stand without being "busted", and settled into the hunter's detail work of kicking dried leaves away from my boots, setting out Henrietta where my full-choke load of number 5 shot would end it quickly for Tom, and pulling on knit gloves and headnet. And I waited and listened. And I watched the safe delivery of another morning.
I heard the gobbles greeting the light, distant, and occasional. Tom had not ended his day the evening before on roost in this woodlot, and he wouldn't be here now. I called softly on my mouth call expressing my intentions to any interested gobbler who might yet be holding his voice. None answered.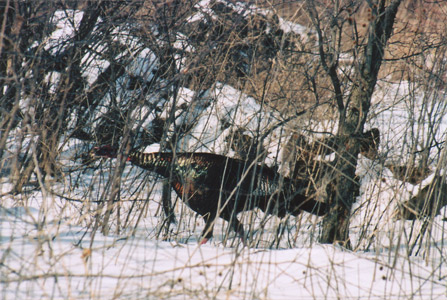 Ellis took this photo of a lonely Tom in the spring snow. He called in another gobbler only to make an unforgiving mistake at the moment of truth
Seven years ago I recalled as a rookie being almost embarrassed and hopeful no other hunter was near as I first played my love song to Tom. No one in Wisconsin could sound so bad, I reasoned. It was the same song that brought my neighbor's perplexed wife out to his barbecue to inquire what the horrible screeching was. "Oh, that's just Dick, practicing his turkey call," Bill said, flipping another burger.
The game has changed. After years of practice, my inclination is to believe that any adult gobbler within ear shot of my call is a bird in trouble. That is a good feeling for a hunter. I was patient with my morning and allowed much of an hour to slip away. And I turned my attention to the near-non existent gobble in the west.
I know from experience that lonely Tom even hundreds of yards away is a surprisingly reachable target. I mustered all the air my lungs would give and played the diaphragm call, screaming my demand for companionship through cupped hands.
Tom answered. But was it to me, or had he even heard? It has become a familiar game of uncertainty. A game only answered when slowly over twenty minutes, a half hour, forty minutes, Tom's answers grow louder, the conversation more sure.
Tom went quiet at less then 100 yards following a 45 minute discussion concluding with my much more laid-back invitation to come on in. Too often, especially post-early mornings, Silent Tom makes Doubting Thomases of us. If he isn't gobbling, the hunter tends to believe he isn't there. Best to believe he is there. And when Tom is talking to you, but then goes silent, well, then boy, you're often really in business. Tom is coming for his prize.
Because I strained to hear his approach in the dried oak leaves and didn't, I gambled a last, slightest adjustment of shooting position. He caught me and my amateur mistake and told me so. I had made the 99 yard drive and fumbled on the one yard line when all I had to do was take care of business.
Hoping for parole from my self-imposed sentence, I listened as Tom stayed in the woodlot for 15 minutes, his warning putt echoing against the hollow as he marched back and forth, back and forth, back and forth. Eventually Tom marched away, leaving me with a horrifyingly truthful story to admit.
In bed that night after the long drive home, a few things were clear. It's always more fun for a reporter to tell a personal success story. But it's also the very real chance for failure every time out that brings us back for more. And, as I closed my eyes, Tom was with little doubt alive and well on his own roost, hopefully with Suzie or maybe even the Jackson triplets.
And there's always something good a hunter can find in that.