Weather or Not - Wisconsin anglers familiar with adjusting to uncertain conditions
By Dick Ellis
Reader Note: "This Dick's Trip was taken in 2005. Remember to check for current regulations prior to taking your own trip. See contact information below to connect with Top Madison Chain fishing expert Gene Dellinger."
Mother Nature was wielding a heavy hand over much of Wisconsin during the opening week of the inland fishing season. Mother's haymakers complete with plummeting temperatures, high winds and lightning had already knocked out planned trips for this column on Green Bay and Okauchee when Gene Dellinger, owner of D&S Bait in Madison, offered to step in our corner.
Although high winds and thunderstorms remained early Friday, the guide intimately familiar with the waters of Monona, Mendota, Kegonsa and Waubesa, said he "knew" we would find crappies on the latter. I jumped like a reporter who hadn't seen so many firm dates drop in one week since homecoming of 76'. Friday evening we drifted shallow, warmer water over emerging weeds on Waubesa and talked about adjusting to conditions on any lake; and angling opportunities on the Madison Chain.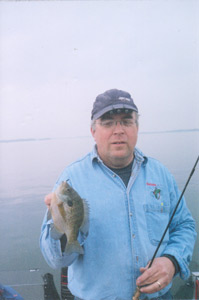 There was just 20 minutes of futile searching before the fish, bluegills to eight inches plus and less active crappies to 10 inches, cooperated in bunches. The 3,000 acre Waubesa is a quality panfish lake, Dellinger said, with crappies to 14 inches and a good number of bluegills in the eight inch-plus class.
"Those 14 inch crappies are not common but I saw them taken this winter and I personally caught 12 inch fish," he said. "This is a quality panfish lake. There are a lot of bluegills. The largest crop of fish is in the 6-1/2 inch to seven inch range but there are quite a few fish in the eight to 8-1/2 inch class. This summer those smaller fish will be pushing 7-1/2 to eight inches."
Friday night in 54 degree water temperatures Dellinger set his primary target on spawning crappies over emerging weeds using an ice fishing rat finky jig tipped with a spike. He also uses a 1/32nd ounce jig with a minnow to fan cast, but prefers above all else a flat line drift on the weed lines with small tube jigs and minnows.
"That method will come pretty soon in post-spawn when the weed lines are more defined," he said. "In spring, you're looking for warmer water, new emerging weeds and any cover. That often means shallow bays. Even in cold water, some of that water is warmer. It doesn't mean you'll find a lot of active fish, but you still have to seek it out."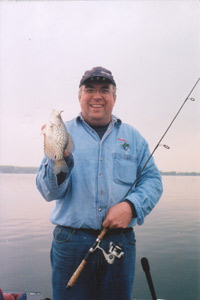 Dellinger noted that with weather and water temperature dictating spawning activity southern Wisconsin isn't automatically ahead of northern regions of the state on the fish calendar. Normally there is a week or two difference. But summer-like weather statewide the first two weeks of April, he said, like this spring can trigger fish even in the far north to stage in pre spawn earlier before the erratic cold weather of spring shuts down the biological clock again. The fish may stay in on their spawning territory, he said, but they may not be in the aggressive feeding cycle dictated by spawning activity.
When Dellinger found the gills and crappies in locations on opposite ends of Waubesa, his float was never up for more than a minute before he was bringing in and releasing another fish. Other boats worked for muskies or trolled for walleyes, indicative, he said, of the diversity of the lake and the diversity of the Madison Chain.
"This is a very good walleye, musky and bass lake," he said. "Waubesa has the most walleyes per acre 20 inches or better than any other lake on the chain. The walleye bite right now on Waubesa and Mendota is primarily a night bite; the water is clear and the lack of vegetation for cover means more walleyes feed at night in water depths from zero to 10 feet. There's another bite off the break in 12 to 18 feet of water trolling crankbaits. Several fish have already been taken this spring in the 28 and 29 inch class."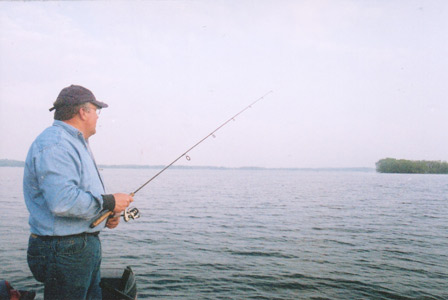 Waubesa and Monona, he said, are also known for their quality largemouth bass fishing and Mendota for its smallmouth bass. What is not as commonly known, Dellinger said, is the opportunity to catch a big largemouth bass on Mendota. The to-each-his-own ability of the angler to seek out his target of preference, north or south, is a Wisconsin luxury. The thought was reintroduced when avid musky angler and Dellinger friend Steve Imhoff of Madison drifted in and expressed his eagerness to head to the north country as soon as possible.
"And I'd rather catch these panfish all day long than fish for muskies all day long," Dellinger said. "I know four guys from Minocqua who come down every winter to fish Mendota and Kegonsa because they know good fishermen catch nine and 10 inch gills with some regularity."
"Every pattern is seasonal. On the Madison Chain if you're open-minded and your goal is to catch fish, there is always something going on. Think about the guy you know who always brings home fish. He always catches fish because he always fishes for what's biting now."
For Madison area fishing reports or for more information on Gene Dellinger guided trips contact D&S Bait at 1-608-241-4225.