"CRAPPIE SCHOOL IS IN…AND OUT Following mobile fish increases success"
By Dick Ellis
Reader Note: This "Dick's Trip" column on the Big Eau Pleine Reservoir near Wausau takes place in 2004 with tremendous Professional Guide Phil Schweik. Schweik is an all season Wisconsin licensed guide and owner of Hooksetters Fishing Services, which in addition to guiding offers fishing products and seminar speakers. Contact him at 1-715-693-5843 or pschweik@dwave.net or www.hooksetters.biz.
The Big Eau Pleine miniature mountain range continued to grow as Phil Schweik rode the power auger through 20 inches of hardwater on the 7,000 acre reservoir south of Wausau. First light had brought with it just a new kind of blindness as a dawn whiteout with horizontal snows smothered even the wooded shoreline at 100 yards. Ice and sky blended in soft, swirling shades of white and gray.
Schweik set the six jigging rods over a sharp drop and sent the crappie minnows, Rosy Reds, and Marmooska jigs dressed in plastics down to work, confident the bait would be dancing in the deepest water on the outside bend of the old river channel. His target was a prime predation path often frequented by roving schools of big crappies.
| | |
| --- | --- |
| | |
| In early morning whiteout conditions February 2nd on the Big Eau Pleine Reservoir near Wausau, Phil Schweik waits for a crappie. | With the pile of crappies averaging 12-inches growing on the ice of the Big Eau Pleine Reservoir, Phil Schweik of Mosinee pulls another fish from the augured hole. |
"When you're fishing a reservoir like this, think of it as a river, not as a lake," said my friend from Mosinee. "The deepest water is on the outside bend. The fastest breaking current works on it. That's also where the most brush is going to get caught up and where the crappies and walleyes are going to be looking for their forage baitfish."
A life-long river rat who paid his early dues learning how to fish everything that the Wisconsin River basin flowages like the Eau Pleine, Lake DuBay and Lake Wausau could offer, Schweik knows the water, watches the weather, and reaps the benefits of expertise and patience. During the weeks prior to this February 2nd hunt, Schweik had found sporadic action on the river before wallowing in crappie heaven with his wife, Rhonda on this same outside bend January 30th. The final tally was 45 crappies at a minimum of 12 inches, including two rare, phenomenal fish at 15-1/2 and 16 inches.
"The crappies are in," his e-mail stated that night. "Come Monday. There's a storm moving in and the fishing will be very good. See you at 6:30 a.m."
At 2:30 a.m., I pried my nine-year old daughter's fingers off her bed board and began the tricky process of making the transition from warm bed to warm sweats to warm truck. Off from school, Taylor and I would be joining Schweik and his fourth grader, Cassie on the Big Eau Pleine after a four hour ride in a hard snow that followed us north from Madison. The girls would have the benefit of a warm shack, coloring books and snacks. Our trade-off for the company of the ladies and setting a stationary ambush was angler's mobility and the crappie chase often crucial to greater success.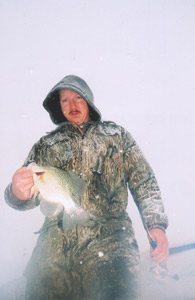 In early morning whiteout conditions February 2nd on the Big Eau Pleine Reservoir, the first 12-inch crappie of the day falls to a Phil Schweik minnow. Eventually ten crappies would be caught in 2-1/2 hours. Recently, by staying mobile with the roving schools Schweik and his wife caught 45 crappies during a morning on the ice.
"Flowage crappies follow their forage base," Schweik said. "They're chasing schools of baitfish. They're really mobile. You have to be too. We've had six guys out here drilling holes and leap-frogging each other all day. The fish hit here, then there, and we try to guess which way the schools are traveling. We've had good success with it."
Monday, Schweik set the bait for crappies suspended two to ten feet off the bottom in 18 to 23 feet of water. A vexilar helps Schweik pinpoint the depth of the fish, with the "incidental" suspended walleye the occasional bonus.
"If I can find the crappies on the vexilar I can usually get them to bite," he said. "If they come through and see the plastics, nine out of ten times they'll hit it if you have the right color. On the Big Eau Pleine that usually means red. Other flowages can mean pink, purples, or black. If the bait is two feet above the fish, sometimes I can get them to come up for it. Two feet below, forget it. The trick with a Vexilar is to bring the bait up just a little higher than the crappie."
Schweik expected an early bite to begin at first light and continue until mid-morning, an early afternoon bite, and a final bite to kick in near dark. He has not consistently experienced fast action on flowage crappies in the evening, with the exception of illuminating the holes with lights to draw in baitfish and pursuing crappies.
Action Monday was marked in brief flurries, with beautiful crappies in the 12 and 13 inch class showing up occasionally. Schweik set the hooks gently, and gave old "papermouth" finesse rides up on four pound test line. When the whiteout cleared over the Big Eau Pleine Reservoir, 10 crappies had taken the bait in about 2-1/2 hours. A lone 15-inch walleye was our "incidental" bonus.
"That was typical flowage crappie fishing," Schweik said. "We can't say we had a lot of luck. We caught a few but not with much consistency by staying in this spot. General rules here are, fish just before a storm front in a low pressure system or during the storm, and move with the fish. In a high pressure system with high skies…forget it."