MacFarland named new DNR carnivore specialist
MADISON -- David MacFarland, who has worked as the wolf, bear and furbearer research scientist for the Wisconsin Department of Natural Resources since 2010, has been named to the position of carnivore staff specialist for DNR Bureau of Wildlife Management.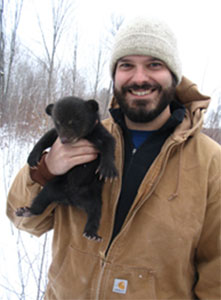 David McFarland
WDNR Photo
"David was a valuable member of the wolf season framework team that developed rules and harvest quotas for Wisconsin's first wolf season in 2012," said Bill Vander Zouwen, DNR wildlife ecology section chief. "David has also worked closely with many citizens to conduct carnivore research, most notably in the completion of two black bear population estimates."
MacFarland holds a bachelor's degree in environmental science from Messiah College, a master's degree in conservation biology and sustainable development and a doctorate in wildlife ecology, both from the University of Wisconsin-Madison.
In his new position, MacFarland will be responsible for the wolf management, bear management and cougar response programs for our bureau.
"Management of Wisconsin's large carnivores is arguably more interesting now than ever," MacFarland said. "Wolves are fully state managed for the first time in decades, bear populations have grown and cougars are returning after a long hiatus. The decisions made over the next few years will lay the foundation for several decades of carnivore management.
"I am looking forward to working with the citizens of the state as we decide together how to manage these species now and into the future."
MacFarland began his position April 7 and is stationed out of the DNR office in Rhinelander.
FOR MORE INFORMATION CONTACT: David McFarland 715-365-8917 or Bill Vander Zouwen, 608-266-8840