ON THE TRAPLINE WITH ARNIE GROEHLER

TRYING TO CATCH WILEY-E-COYOTE: NOV 10-16
THIS IS NOT THE SAME COYOTE OF OLD
Of all the animal species that I trap, coyotes give me the most grief. Unlike animals like raccoons and muskrats which are creatures of habit, and can be caught the very next night, coyotes are quite unpredictable. I would put them on par with a trophy whitetail or black bear, in difficulty to catch. You pay your dues, in time and energy expired, trying to catch them.
I have spent many a night tossing and turning, mulling over potential strategies to outsmart a particular coyote. They are extremely intelligent, have refined senses and are tough to pattern. No two are the same, as each seems to have different personality traits. Some are bold and aggressive and will respond to your trap sets right away, while others will completely vacate the area the minute your traps are in place. All of this adds up to a degree of frustration that leads many trappers to not even try and go after them. So when I do catch a coyote, especially a large "Alpha-male," it gives me a real sense of accomplishment.
The coyotes of today are much different than when I first started trapping. Back in the 1960's a coyote found in Southern Wisconsin would be around twenty pounds and run as a single or pair. Their primary food source would be mice, rabbits and small animals. They were rather shy, seldom seen, and always kept their distance from human activity.
The coyotes that I catch today are a much larger animal altogether. They average about thirty pounds, with many of the adult males pushing fifty pounds. Some have speculated that this increase in size was the result from interbreeding with domestic dogs. I am not sure. They also have taken to running in packs, or extended family groups, similar to wolves. With this increase in size and pack numbers, the coyote has developed a need to capture larger food sources. As many hunters with game cameras can verify, coyotes take down a lot of deer, not only fawns but many times healthy adult does and bucks. If a hunter should wound a deer, and not recover it before nightfall, often the coyotes will locate it first, and not leave much.
Perhaps the biggest difference I see today is how coyotes are starting to lose their fear of man. This is especially true in the urban areas. I get many frantic calls from folks in the suburbs who have packs of coyotes prowling their back yards. These same urban coyotes have developed a taste for our pets. Why expend a lot of energy chasing rabbits when they can just wait for you to let your dog or cat out. With many towns and villages enacting no-hunting or firearm discharge ordinances, the wild animal populations are starting to explode. I have come to believe that there is now more wildlife within the city limits than out in the countryside.
HOW WOULD THE ROAD RUNNER CATCH A COYOTE?
There are many trap set methods to catching coyotes. Most appeal to a basic need: food, sex, guarding territory, or curiosity. The key is to provide a certain smell or bait that catches their attention and triggers a desire to investigate. Conceal your trap in the approach to this smell and you should have a chance at getting the coyote to place his foot exactly on the trap pan, a 2" x 2" area.
Because of their keen senses, they can tell that whatever bait or smell you have placed, it was put there by a human, and they approach with caution. I have observed their tracks in the snow circling my set location up to thirty times before feeling confident enough for that final approach. Even when you do catch the coyote it does not mean that your trap will be able to hold them. Coyotes are powerful animals and never stop trying to escape once caught unlike most other animals, like raccoons, who are often sound asleep as I approach them the next morning while checking my traps.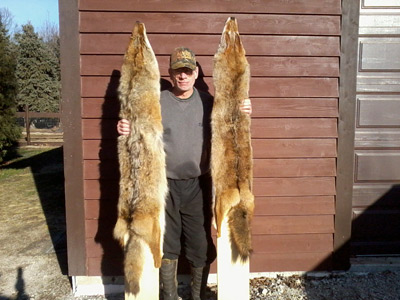 All of the equipment needed to trap coyotes must be heavy duty. Coyotes have strong jaws with crushing force that can break open trap chain links. They will test your equipment; one weak link and they are gone. I will often set several traps in one given location, hoping for multiple catches, as a pack comes by. This also comes in handy should a possum arrive before the coyotes, and get caught. You will still have a few other traps set and ready.
Once you have the traps set out, the waiting game begins. A coyote pack can cover a large territory. It might take a week or so before they show up in your area. The key is to keep your sets operational and try to keep human scent and disturbance to a minimum. It's kinda like shooting the 30-point buck; everything has to be perfect and go right, as you may only get one opportunity.
COYOTE UGLY
Unfortunately, coyotes are one of the most disease prone animals around. They are quite susceptible to both mange and canine parvo. Some years, over 50% of the coyotes that I catch have mange so bad that their fur is not salvageable. I did a field study for a UW-Steven's Point grad student which concluded that most of the coyotes that I catch also have heart worms. This seems to be nature's way of keeping the coyote population in check, as I know that I cannot trap enough of them to do it. The harder that I trap them the larger their litters the next spring.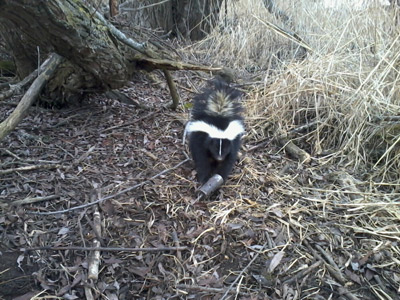 "What's this? The first trap set of the day has a "black and white" fox."
Trappers also need to be cautious when handling coyotes. Always wear rubber gloves when skinning them, as some of these diseases can be transferred to you. One thing that I did learn (the hard way) is not to throw a coyote over your shoulder and head back to the truck. All of the fleas that where on the coyote hopped over onto me. Nothing like having to strip down naked in the backyard and get sprayed with the garden hose on a cold November evening before the wife will let you into the house.
One day I did catch eleven coyotes (my all time best day) and was rather proud. Arriving home I summoned the family to view my achievement. My wife's little dachshund was barking wildly at them, so I lifted her onto the pile of coyotes in my truck. She was only there for about two minutes. Later that night a growth appeared on her nose, by morning it had grown to a large series of open sores. My wife took her to the vet where they did many tests and administered some strong antibiotics. The vet never did pinpoint exactly what disease my wife's dog got from these coyotes, but it cost me $472 in vet bills. So even when I appear to succeed, and catch a lot of coyotes, somehow they still manage to win out in the end.
THE SPECIAL MOMENTS
There was a time during the 1990s when it looked like trapping as we know it would be greatly restricted. The animal rights folks were putting a lot of pressure on lawmakers to just get rid of us. We were viewed as being a barbaric throwback from the days of the mountain men, no longer needed or tolerated by a modern urban society. It was about this time that the wild animal populations were really starting to explode in urban areas.
Each year there were more and more problems with animals trying to take over our backyards and even houses. Raccoons in the attic and fireplace flue, woodchucks burrowing under the deck, deer eating the shrubs, beavers damming up the creek, and coyotes eating the pets. A subtle attitude change started to take place. In the same way that the "garbage man" became a "sanitary engineer," trappers became animal damage control officers. We had a purpose, title and established benefit to society.
I was returning back home from checking my traps at a large commercial property on the north side of Milwaukee. Running low on gas I stopped at a gas station. While filling up a guy walked over and asked if I was a trapper; he had noticed the large pile of raccoons and muskrats in my truck. I was proud to state, "Yes, I am a trapper." He had recently moved to the country and had a 20 acre farmette which was being overrun by animals, and wondered if I could come out and trap a few.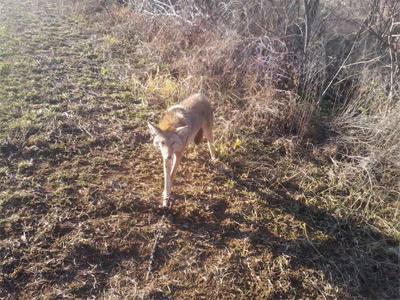 "Victory! Another coyote out-smarted"
Later that week I stopped out and had him walk me around his property. As I drove down his long driveway there were about 30 wild turkeys walking about on the edge of his lawn. As we walked from the house to his pond I could see that the shrubs were trimmed pretty good by the rabbits. The lawn had hundreds of dug up holes from skunks digging for grubs during the past summer. Several of his small trees planted last year were shredded by the antlers of a few bucks. I wanted to get close to the water edge of his pond and look for muskrat sign, but couldn't as the goose droppings were just too thick.
As we were talking suddenly a gray cat came streaking from the marshy area, headed straight for his deck. Never have I seen a cat run so fast. I do not believe that his feet ever touched the ground. A second later, in hot pursuit, came two coyotes. They streaked by us and did not stop until the first step of the deck. The cat made it to the house OK, but not by much. The owner looked at the coyotes, which were now trotting back to the marsh, and then back at me, "Can you trap some coyotes too?" As long as there are wild animals causing conflicts with man, there will be a need for trappers.