Spring Beaver Trapping
By, Dave Hraychuck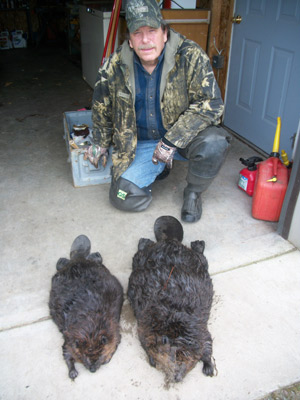 With fur prices up and the ice out, I decided to "giver" for a week or two of open water spring trapping. Warm spring trapping weather is a rarity, so I wanted to take advantage of the early thaw.
As I followed the beaver trail through the marsh, the water was knee deep, 38 degrees on the surface, and strangely enough, there was 3" of ice on the bottom of the channel. Amazingly, just a week earlier, I was jig fishing crappies on 18-20" of ice just 100 yards from the beaver hut.
Channel sets for beaver are easy to make. In most marshes you can find the beaver runway or channel going from their hut to their food source. Use a 1 ½" to 2" dead stick to span the channel, hold the conibear in place, anchor the wire solidly and the trap is set.
At the end of my first day of trapping, I had made seven sets using #330 conibears hung in channel sets. I looked forward to a good trap check the next morning.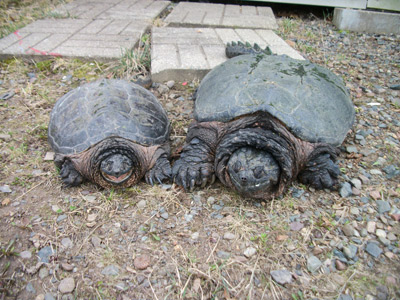 The next day, at set number one, I saw that the area was torn up and the trap was under the bog. Pulling up the trap, I felt movement. To my surprise, the movement was not a beaver but a very lethargic, very mad 20# snapping turtle! The next trap was empty, and the third set was disturbed with a 40# turtle lodged in the conibear! After working for 25 minutes, the turtles were photographed and released back into an area of the marsh that I wasn't trapping. The next three sets were untouched, and the last set held a nice, extra- large beaver!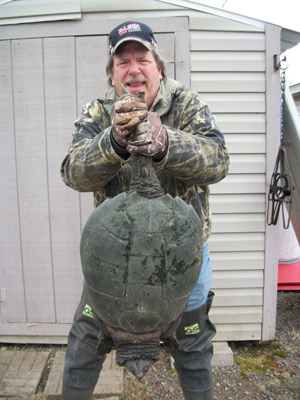 Spring trapping is usually cold, wet, and uncomfortable, but at the end of my first morning of checking traps, the only things uncomfortable were the snapping turtles.
After six more days of trapping, I had harvested nine nice beaver, five incidental muskrats, one XL otter, and another very angry snapping turtle. The biggest beaver weighed in at 69 pounds!
As I ended my spring beaver season, I was reminded how much I enjoy trapping. An added bonus was making new friends with the land owners in the trapping areas. I was also reminded that beaver trapping is a sound wildlife management tool for controlling the beaver population.
I will be setting traps for beaver again next spring, and if we have another early thaw, I'm hoping that the snapping turtles will sleep a little longer than they did this season!