ON THE TRAPLINE WITH ARNIE GROEHLER
CATCHING A FEW BEAVERS: NOV 3rd - 9th

BEAVER FUR AND WISCONSIN'S HERITAGE
This week found me taking care of some beaver trapping opportunities. While the summer drought and hot temperatures greatly reduced the muskrat population, the beaver numbers actually increased. Beavers are a relative newcomer to present day Southern Wisconsin. When I first started trapping during the 1960's there were no beavers around here. I trapped my first one in 1975. Now virtually every river, creek and water system has a resident population.
This increase in numbers has been a mixed blessing. To trappers like me they are a special fur bearing animal, providing a link to the days of the mountain men and wilderness trappers. To many farmers and property owners they have become an un-wanted nuisance; dropping trees and damming waterways. Beavers are one of the few animal species that can alter their habitat to better suit their liking. In doing so they can cause conflicts with man, which is where I come in. I receive many calls requesting that I remove them.
The quest for beaver fur (soft gold) is one of the primary reasons that the early explorers traveled through the territory which would become Wisconsin. The soft under-fur was used to make "top hats" in Europe. Their pelts brought top dollar and provided the settlers with a ready income source. Even Congress got involved by having the Lewis and Clark expedition note where there were large numbers of beavers. Wisconsin may be known as the dairy state, but I believe that California has now surpassed us in the amount of milk produced. Perhaps we should change our motto to: Wisconsin, the fur state. When you add up all of the fur products from Wisconsin, including ranch mink, fox and wild fur, we lead the nation, by a large margin. And it was the beaver which started it all.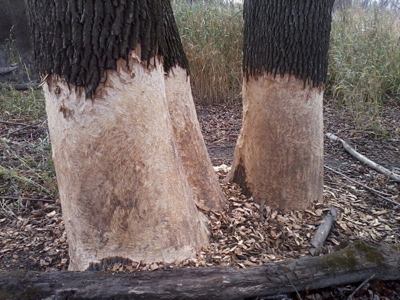 "Beavers can cause a lot of damage to your trees."
CONSERVATION MEANS WISE USE OF A NATURAL RESOURCE
Trappers try and use all parts of the animals we catch. The beaver is a good example of this. The fur is used to make quality garments and hats. Beaver meat, when properly prepared, is similar to venison in texture and taste. I have had it shredded, with a barbeque sauce, roasted and made into sausage. It was all good. Lewis and Clark wrote in their journal that the beaver tail was their favorite delicacy. Somehow they were able to get the thick gristle to their liking. Many sled dog racers feed it to their dogs before competition, as it provides a high energy protein source.
The beaver glands, called castor glands, are used as a base for the finest perfumes. It takes two years to tincture them down, but they then can maintain the correct scent pattern desired by the manufacturer. There have been some years when the beaver glands brought more money than the fur. The tail has a thick leather similar to an alligator hide. It is used to make wallets. Even the bones are ground down and made into bone meal for roses. Lately the rendering companies have been reducing the fat into bio-diesel. Nothing goes to waste. We have found a use for every part of the beaver.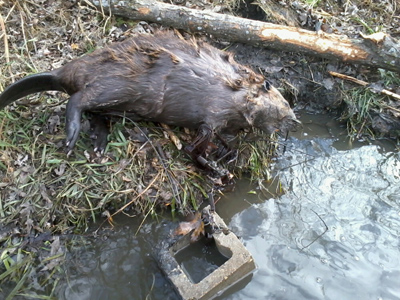 "A beaver I caught using a castor mound set."
THE CASTOR MOUND SET
One of the best sets to capture beavers is called the castor mound set. Beavers are territorial, and will not tolerate other beavers moving into their colony area. The castor mound set simulates that an outside "intruder" beaver has arrived and is trying to take over part of the established colony's territory. Beavers mark their colony boundaries by scraping together piles of leaves and mud and then depositing some castor gland oil. These castor mounds equate to a "no trespassing" sign to other beavers.
I will locate one of the existing castor mounds and then destroy it. A few feet away I will make an imitation castor mound complete with the castor oil from a beaver which I previously trapped from another colony. In the water directly in front of this imitation castor mound I will conceal the trap which has a long slide wire going out to deeper water. An adult beaver from the colony will smell this new castor from an "intruder" beaver and come over to investigate. In the process it will get caught in the trap; at least that is the plan.
SOMETHING THAT YOU DO NOT KNOW ABOUT BEAVERS
Every year I learn more about these interesting fur-bearing animals. This summer a Maine biologist informed me that beavers are creatures that need to digest their food twice (referred to as coprophagy). So after chewing on some tree bark, they digest and excrete it, then eat it again. Hopefully they can keep track of which droppings are on their first or second cycle.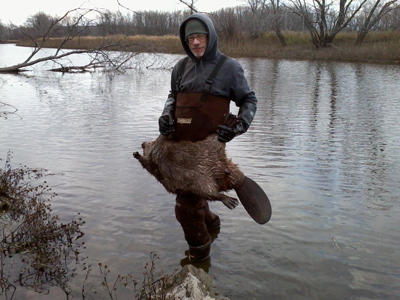 "Here I am with a nice 60 pounder."
THE SPECIAL MOMEMTS
This week the deer rut started in earnest. Virtually every year I get to witness bucks fighting and doing all sorts of strange behavior while running my trap line. It is neat to see a buck with a large rack up close grunting at you, or shredding a small sapling, as long as they keep their distance. Once they get closer than twenty feet I get concerned. There seems to be something about the different trapping/animal smells on me that gets these bucks all riled up. Several times I have had to yell, wave my arms and throw rocks at bucks who wanted to challenge me. I believe that my greatest danger, as a trapper in the woods, is not from wolves, bears or mountain lions, but from a ten point buck with an attitude during the rut.
I was down in a creek taking a raccoon out of a trap when I heard the sounds of two bucks fighting. They sounded like a herd of elephants crashing through the corn field above me. As they came into view I could see a large eight pointer who was being chased by a small six point. The little buck was giving it everything he had, charging non-stop at the big guy, while the eight point was trying to ignore him, looking rather annoyed.
As they passed by, the bigger buck suddenly stopped and looked down at me in the water. The smaller buck kept up his attack. With a whisk of his antlers the eight point lifted the smaller buck up off of his feet and pushed him down the bank right at me. The little buck fell head-over-heels and landed in the water close by. For a few long seconds I froze with a case of "trapper-in-the-headlights," as I did not know what to do next. The little buck looked at me, then looked at the eight point, then back at me. In an instant he charged back up the bank and resumed chasing after the bigger buck.
Why can't I see things like this, from my stand, on opening day of the deer gun season?