Whitewater And Quietwater Part I: A paddler's view from the stern
By Steve Henske
Barely heard over the violent pounding of the whitewater Jeff Konopacky yells: "It doesn't look too bad and I don't feel like portaging, so I'm going to run it." I don't blame him. The temperature is on the uphill side of 90 degrees and the air is thick with humidity. Portaging this C-III rapid would mean a 300 meter trek on a rarely used bush trail, littered with blowdowns and loaded with bloodsucking insects that have no intent of helping portage our gear.
I reminded myself that our Wisconsin group of six came to the Allanwater River in Ontario's Wabakimi Provincial Park in July of '07 to paddle, not to carry our gear around every little set of Class 2 or 3 rapids we come across. The fact that this is our twelfth set of rapids in three hours puts portage time at a premium. We have so far run them all and our projected campsite is only another two miles. That means 12 miles behind us and 128 miles to go over the next nine days.
(Photo: Rob and Eric Simkins of Amherst, Wisconsin look for Indian pictographs on the falls section of the Kopka River, Ontario)
After scouting out the rap we find a safe cheater route along the river's right shore created by this year's high water levels. The adrenaline jitters start and Jeff and Kosha lead in their 17 foot Dagger Venture. Missy and I gingerly follow in our 16 foot Appalachian with Dave and Gary's Old Town Tripper playing "clean-up" in the rear. Our reward for running the rapid is another deep pool literally stacked with walleye and northern pike.
And so continues another canoe trip in the Canadian bush. We do not turn our backs on the fine paddling waters of Wisconsin and the UP of Michigan. My canoes have logged literally tens of thousands of miles on local waters. The proximity of our home in Stevens Point to fine whitewater is fantastic with many great day trips to be had within a 1.5 hour drive. Wisconsin also has some great overnight paddling trips on the St. Croix/Namekogan, the lower Wisconsin Waterway, the Peshtigo plus a host of others. But, if you are searching for an extended and truly wilderness canoe trip then head north young man… head north.
[Read part II of Steve Henske's story "Whitewater And Quietwater: Planning your wilderness trip" on the Trips Elsewhere page at onwisconsinoutdoors.com.]
I first started paddling the Canadian Shield back in 1980 with a trip into Quetico Provincial Park, the north half of the Boundary Waters. I have been back there a few times and still love it but find that a country the size of Canada has a lot more places to paddle than just Quetico. Lay out a map of Ontario and the first thing you notice is that there are very few roads, and those few roads dry up to almost nothing within a couple hours travel north of the border. The next thing you notice is that there is one heck of a lot of water. Water everywhere. Enough water to keep Las Vegas and Los Angeles, and probably the entire country of Mexico green and happy for eternity. Consider that there are thirteen Canadian Provinces and Territories and all have navigable canoe waters totaling millions of miles, it only makes sense to not go back to the same place too many times.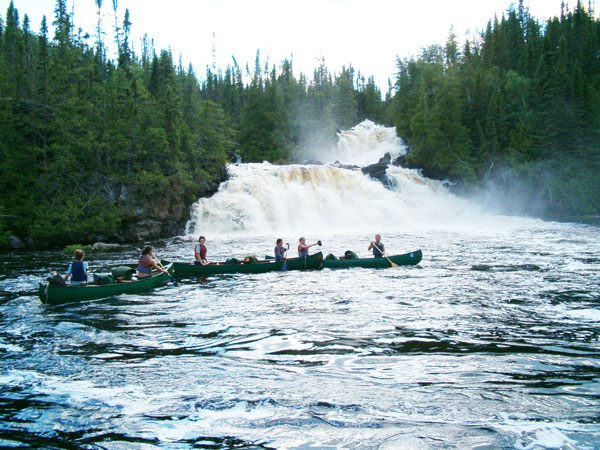 My paddling days started earlier than I can remember. My father Dick Henske has an impressive stable of tattered and dented canoes that lay testament to our family's early method of paddling- the braille method. He does have motor boats, but I found it pretty hard to get in trouble when I used the canoe. That was further reinforced after I dunked his three hp Evinrude one night when I was 12. A broken paddle is much cheaper to fix than the crankshaft in an outboard motor. We would paddle down the river on the Manitowish Chain and camp on my friend's grandmother's point. Back then we considered canoeing to be stealthy. No noise meant nobody knew what we were up to… which was a good thing.
Soon the half-mile paddle would take only minutes and the trips got longer. As one's paddling skills and physique develops cranking out miles becomes an afterthought. In 1977 I entered college at UW-Stevens Point with what I considered the usual college gear… a fishing rod, my waders and tackle box, my shotgun and bow, but no canoe. It took two full years before I broke down and dropped fifty bucks on an old Grumman 17 foot tin can. It immediately got camouflaged for the marsh.
It was then that I met my future partner in life. It turns out that Missy liked to canoe, which was a good thing because my $50 camo duck boat was one of the more valuable items I owned. She was amazingly, impressed. Soon thereafter we found a rental home on the Plover River. Our family began to expand and we paddled … a lot. All three of our children grew up on the water and are now accomplished paddlers and quite comfortable running a raging whitewater river or canoe-camping on a quiet Canadian lake.
I overheard a couple guys at a local pub discussing those "tofu eatin' canoers and kayakers." Now anyone that truly knows me will say that I am probably more of the quiet type, and being true to my nature I ordered up another cold one and kind of slid over there and eavesdropped on the conversation. "Those anti-hunting SOB's drive around their Subarus and come paddling down my trout river when I am fishing and scare all the fish away." I straightened them out in pretty short order. I don't like tofu because it falls apart on the grill. I do not own a Subaru. My paddling buddy Jeff has a Subaru and he is a deer-killing machine. I am an incredibly avid bowhunter with more moose, caribou, and deer antlers than my walls have space to hang them. And anyone that has not trout fished out of a canoe is truly missing something.
(Photo: Wisconsin canoers enjoy the view at the last drop of the falls section on the Kopka River, Ontario)
I do admit to owning a fishing boat (camo) and a ski boat. They are used but not nearly as much as my fleet of six canoes. The draw of paddling is getting into places that a powerboat will never go… quietly, lightly, efficiently, inexpensively and reliably. The pace is such that you see things that never reveal themselves when screaming across a lake in a powerboat. Wildlife is not nearly as spooked, the water striders stay in stride and a person can actually use a reference book while identifying the local flora while paddling. Not to mention the fishing! If you have never had the wonderful opportunity to do a fly-in fishing trip in Canada and thought the fishing was great… you have no idea what you have been missing. The canoe will bring you down absolutely virgin waters that have never seen a fisherman. You feel the eddies, you never run out of gasoline.
This column first appeared in the Sept/Oct 2007 issue of On Wisconsin Outdoors.