Colorado Dreaming
By John Luthens
I left Wisconsin on an early-summer morning: flowers budding, insects humming, blades of grass sharpening into splendid shades of green. I remember stopping for the night at a nameless inn somewhere in Nebraska. The cornfield terrain was flat as a billiard table, but I slept restlessly and rolled the starchy sheets on the motel bed into bunched-up mounds. I found myself dreaming of mountains.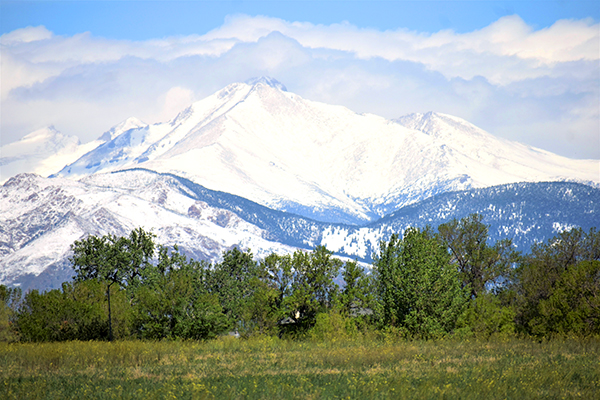 Snow-covered passes and glacial rivers, high-country meadows and avalanches of boulders rolling down into roaring canyons; it was one of those mind-benders where you can control your actions, but you find yourself in a dreamscape that changes on a whim without any logical rhyme. It stretched west out of Nebraska and into Colorado for a solid week. The dream still seems too vivid to be real.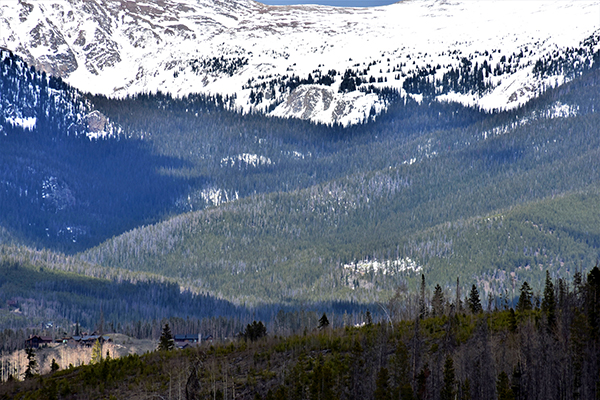 I was lying in aspen meadow outside the city of Boulder. The front range of the Rocky Mountains loomed above, with a breeze rolling down from the peaks and rippling the prairie grass. Broad-billed hummingbirds buzzed through the purple columbine with the roar of miniature jet fighters. Seventy-five degrees of sunshine at a leisurely elevation of 5400 feet; summer was in full command and it felt like heaven, nowhere to go but into the clouds.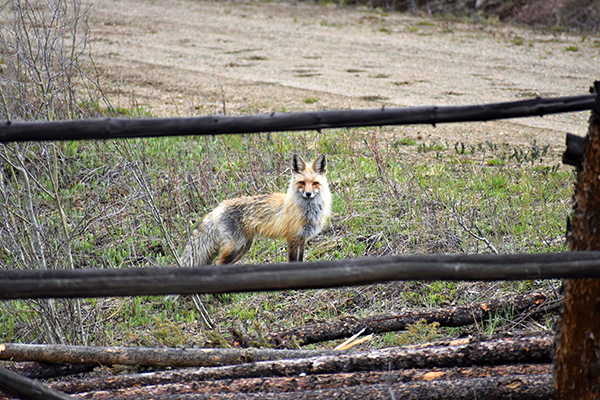 Frasier firs blanketed the horizon; the split-rail fences of cattle ranches squeezed between as I followed the switchbacks and climbed higher into my Colorado dream. Magpies and western jays shrieked in the timber and foxes watched from dirt-packed meadows. Trout rivers roared with snowmelt, and though I was packing fly rod and gear, the waters were still impossibly unfishable unless one was willing to chance being tumbled into the boulders with the force of a freight train slamming into the mountainside.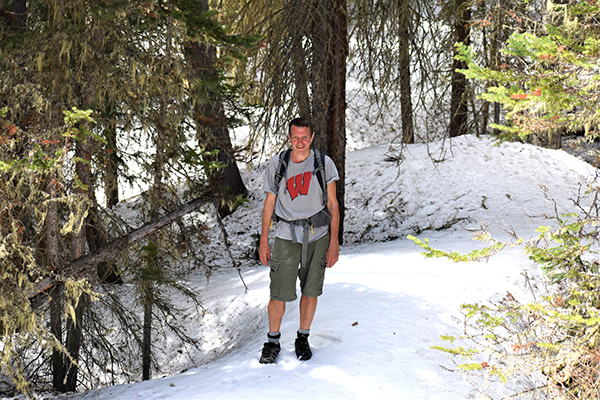 Wandering in an altitude-induced daze, I found myself buried in the midst of 1100 square miles of Arapaho National Forest outside the valley of Winter Park, elevation 9100 feet. Trailheads spawned like rabbit runways, swinging in every direction and forking into pure wilderness. The trails shot through every mountain terrain imaginable, but they all had a pair of things in common. They all started at roughly 9100 feet, and they all climbed straight up from there.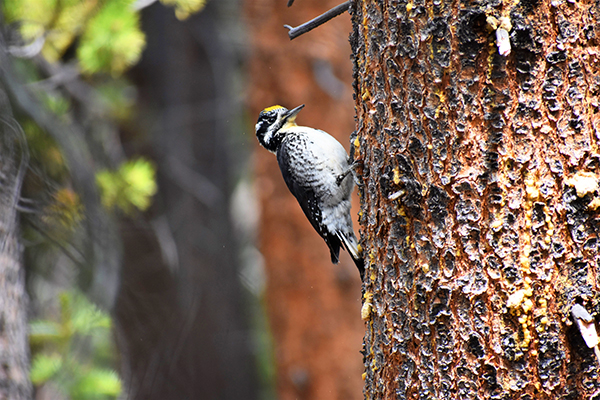 The first few mornings dawned crisp and clear. I hiked in shorts and t-shirt over snowpack whose depth was measured in feet. The smell of the pines carried across the passes in a breath that smelled like mountain flowers and Christmas trees packed together in a fragrant wallop. Streams looked like sluice boxes in the sun, their bottoms dazzled with flakes of pyrite, fools gold. Three-toed woodpeckers drummed on the timber line, and the remains of last year's high-country elk-hunting camps were ringed with bugled memories and weathered firestones.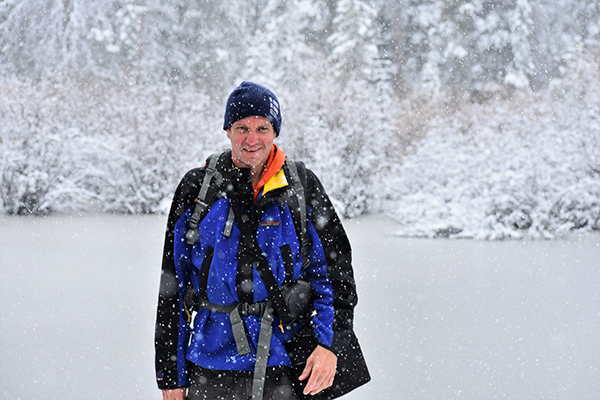 Dark clouds blanketed the peaks, and the dream changed on a dime. It started to snow, hard pellets below, with the real stuff higher up. It began to be measured in inches. Then it began to be measured in feet. Setting down my pack to dig for warmer clothes, I blinked in the blizzard, and when I opened my eyes, a cow moose and her calf paced by at twenty yards without a second glance. Fools gold, moose tracks and pines alike began to look like they were tucking in beneath a white blanket. Then they were gone.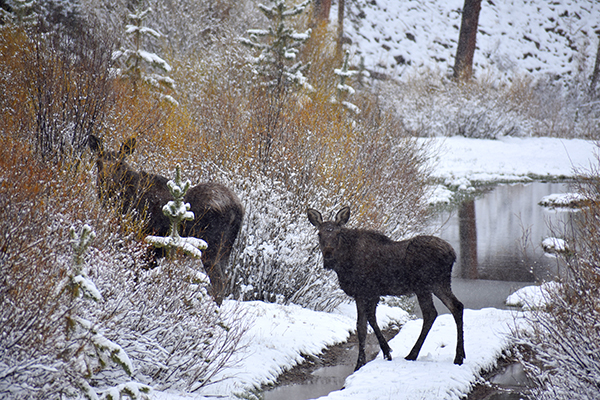 My dream came to an end on a blustery afternoon at 11,000 feet, not another soul for miles and only the sound of the wind coming across the pass and cracking through the deadfalls to keep me company. I began to lose the trail that I was hiking on for 100 yards at a crack in snow that pulled me in up to my waste. No cellular reception to speak of. I was forced to remember how to use a compass. A final glimpse at the endless mountains, and then I turned around. An alarm clock was ringing, and I was headed back to reality.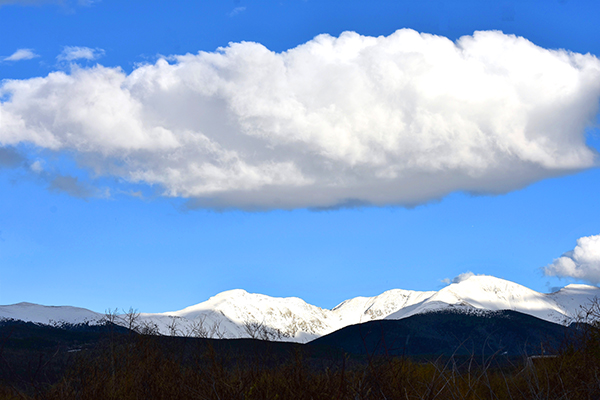 Some say that dreams are simply wild mirrors that reflect reality. Others say that mountains are mirrors into the wildest places of the soul. I agree with both of them. I've been there.
John Luthens is a freelance writer and outdoor photographer from Grafton, Wisconsin. His first novel, Taconite Creek, is available on Amazon or at www.cablepublishing.com or by contacting the author at Luthens@hotmail.com