20th annual trek over frozen Lake Superior
Book Across the Bay set for Feb. 13
ASHLAND, Wis. – The Upper Midwest's most unique winter event, Book Across the Bay, will celebrate two decades of sparkling success in 2016. On Saturday, Feb. 13, cross-country skiers and snowshoers of all ages and ability levels will set out on the 10-kilometer course, following a route not on land, but over the frozen surface of Lake Superior, the world's largest freshwater lake.
As was the case last year, the race's starting point will be Maslowski Beach on U.S. Hwy. 2 on the far west end of Ashland. However, all walk-in registration and bib pickup will be held at Thompson's West End Park in Washburn on Saturday, Feb. 13, from 10 a.m. to 5 p.m. Shuttle buses will run all afternoon from Washburn to the start area in Ashland at Maslowski Beach.
The finish line for Book Across the Bay is in Washburn, on the bay near Thompson's West End Park. A heated tent will be set up there for the post-race festivities, including a chili feed, beer and soda, live music and the awards ceremony.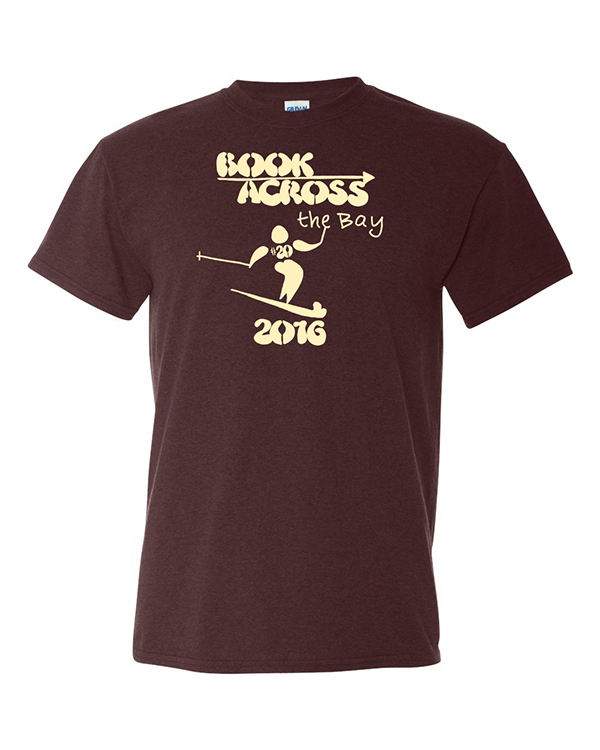 Ashland High School student Anna Erickson, 15, designed this year's winning T-shirt art for the 20th anniversary of Book Across the Bay. (Submitted Photo)
Because there will be very limited parking available at Maslowski Beach, Book Across the Bay participants are encouraged to park in Washburn and use the shuttle service. Laurence Wiland, vice president of Book Across the Bay, Inc., and one of the race's original founders, noted that parking in Washburn is really "the best option. Then your car is waiting for you after the race. The shuttle from Washburn starts at about 2 p.m. on Saturday and will run right up until race time."
To avoid the inevitable last-minute rush, Wiland urged participants to take an early shuttle over to Ashland as there will be plenty to do in the afternoon before the race starts at 6 p.m. "Our big heated tent will be set up near the start area and activities will be going on all day there," he noted, "including ski waxing, food and music, the free Book It kids' ski race, the Bike Across the Bay bike race, and more."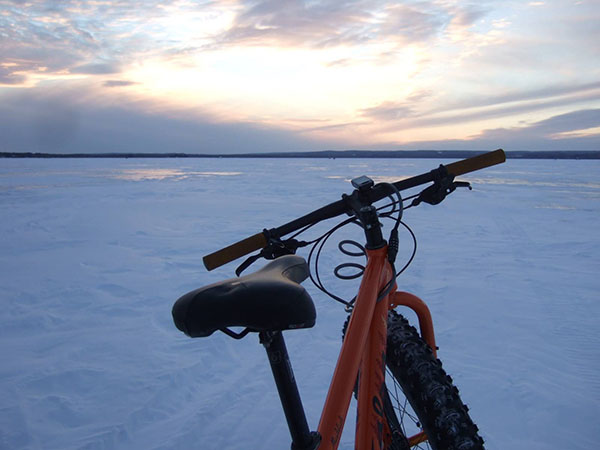 Held during the afternoon before Book Across the Bay, the third annual Bike Across the Bay follows a 10K course on snow and ice over the frozen surface of Chequamegon Bay. Fatbikes are recommended; helmets are required. (Photo courtesy of Ashland Area Chamber of Commerce)
Book Across the Bay is held at night and the course is lit by the stars above and up to 1,000 candles in ice luminaries that line the entire route, truly a magical sight to behold. The course is groomed for both classic-style and skate skiing, though participants also have the option of making the journey on snowshoes or even walking if conditions allow.
"Walking the course requires a very firm surface," explained Wiland. "Otherwise, if there is too much snow on the ice, you would need snowshoes. People thinking about walking should monitor the course conditions posted on our website because we will be updating those as it gets closer to race day."
Daytime activities on Saturday, Feb. 13, include the free Book It Kids' Fun Race sponsored by Solstice Outdoors, and Bike Across the Bay hosted by the North Coast Cycling Association and Book Across the Bay.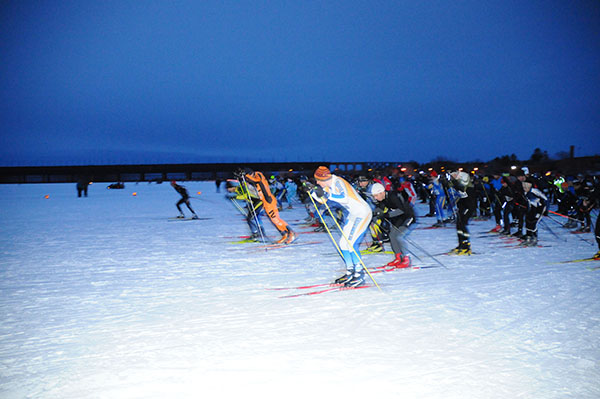 The Book Across the Bay starting line in Ashland is always a bit hectic. The 10-kilometer, point-to-point race takes participants from Ashland to Washburn, where a bonfire and party with food, drinks and live music await. (Photo courtesy of Ashland Area Chamber of Commerce)
Open to children ages 12 and under, the Book It children's event will take place from 12:30 to 1:30 p.m. Registration and bib pickup for the 4th annual Book It will be held Saturday beginning at 11 a.m. at Maslowski Park inside the Book Across the Bay tent at a Solstice Outdoors table.
The Book It race starts at 12:30 p.m. for ages 8-12 and 1 p.m. for ages 8 and under. Every participant will receive a commemorative medal along with hot chocolate and cookies. For more information, call 715/682-3590.
The 10K course for Bike Across the Bay is a combination of hard-packed drifted snow, crusty snow, and some ice. Fat bikes are highly recommended. Helmets are required. Race start time is 1 p.m. Day of event registration will be at the Book Across the Bay tent at Maslowski Beach from 11:30 a.m. to 12:30 p.m. There will be enough time between events for those who wish to do both Bike and Book Across the Bay. Contact John Murphy at 715/209-8169 with any questions.
Book Across the Bay has grown exponentially since its inception in 1996 when around 350 people took to the ice on skis and glided across the bay toward the twinkling lights of Washburn on the distant shore.
"In 2014, we had about 3,600 participants," Wiland said. "Every five years or so, it seems to take a jump. But we always plan for 4,000."
"There are hundreds of people who make this event possible," Wiland continued. "We absolutely could not do it without our more than 300 volunteers who do everything from stuffing bags to making food to freezing luminaries to lighting candles to building bonfires to grooming the course.
"The area residents feel this is their event and I totally concur. This event belongs to the community."
For more information on or to register for Book Across the Bay, go to www.batb.org.