Price County Fishing Report 8-4-2013
The much welcomed stable weather last week turned good fishing into great fishing by the end of the week. Ross's Sport Shop Guides and Customers were reporting great action from Crappie, Walleye and Musky.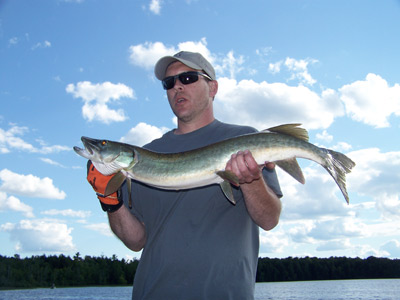 The Walleye bite has been good at Daylight and Dark but don't rule out a mid-day bite. We are still finding the Walleye scattered from 6 to 15 feet of water and the bite seems to be doing well on Fatheads with some fish still eating crawlers.
Perch, Crappie and Gills are still biting well, Perch and crappie have been in 15 to 20 feet of water, use minnows or plastic for the Crappie and chunks of crawlers on a hook and sinker or small jig for the perch. Look for the gills a little shallower (6 to 12) and around fallen trees, cribs and docks.
Musky seemed to have moved shallow after the major water temp drop early last week, we are getting them in the slop on spinner baits and top water. Venom tackles "Musky Mamba" has been one of my go to lures the last few weeks.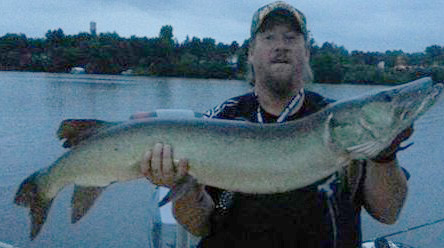 Pictured are John's Clients from this week with their mixed bag catches and also Client Jay with a smaller Musky that he released while fishing with John Carlson and Ross's Sport Shop Pro Staffer Joel Walczak with a 47.5 that he released this week in the Phillips Area (sorry picture was from a cell phone)
For lodging, guide, dining, and entertainment information and much more connect with Price County Tourism and Executive Director Kathy Reinhard at www.pricecountywi.net, 800-269-4505 or tourism@c0.price.wi.us.
John Carlson-N.P.A.A. #378
Ross's Sport Shop & Guide Service
286 North Lake Ave
Phillips, WI 54555
715-339-3625
715-820-0958 mobile
rossport@pctcnet.net
www.rosssonline.com