PRICE COUNTY HAS OPEN WATER AND GREAT FISHING!
Please help us spread the word, not all of Northern Wisconsin is froze solid. The Phillips Chain of Lakes will be mostly ice free for the 2013 fishing opener this Saturday. The Flambeau River in Price County is also virtually ice free.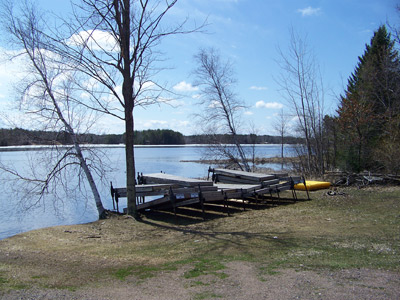 John Carlsons picture is from the Phillips Chain of Lakes in Phillips, WI. This is the latest ice out in memory with only days until the opening of the hook and line Game Fish season.
As of noon on 4/30/13, you can put in at the Elk Lake Landing and go up to the Big Elk river mouth and over to the island, and down stream into Long Lake to the big point right before the Golf Course, then there is a big area of busted up ice and solid ice to about where the Rock Wall by the long islands are. Then from there to the damn is open, the area around Evergreen Resort is open, I would say over all Duroy is 30% ice free, Elk better then 99% and Long about 60% ice free, I didn't get a good look at Wilson. Soo is about 40% ice free as well. The ice is super black and has pulled away from the shorelines. The wind and 79 degree temps that we are experiencing today are taking a toll on the ice on the Phillips Lake Chain.
For lodging, guide, dining, and entertainment information and much more connect with Price County Tourism and Executive Director Kathy Reinhard at www.pricecountywi.net, 800-269-4505 or tourism@c0.price.wi.us.
John Carlson-N.P.A.A. #378
Ross's Sport Shop & Guide Service
286 North Lake Ave
Phillips, WI 54555
715-339-3625
715-820-0958 mobile
rossport@pctcnet.net
www.rosssonline.com