Central Wisconsin Outdoor Report 3-20-2013
With Mother Nature still hanging we are seeing plenty of ice on area lakes for fishing, but all the snow could make for an interesting 2013 turkey season.
Crappies are still being targeted heavily by area anglers as nice catches are being made in transition areas between deep water haunts and spring spawning areas. Most of the fish we are finding are in 10 to16 feet of water moving along channel breaks. Tip-downs scattered along the breaks will pick up travelling crappies as will tiny ice jigs tipped with plastics or minnows. The key to consistency is to run your baits at various heights in the water column as the fish will come through at different levels throughout the day.
| | |
| --- | --- |
| | |
| John and Erin Couillard with some nice crappies | Pat Gogin and the boys with a nice half day catch |
Bluegill fishing has been consistent with some dandy sized fish being caught. Most of the gills we are finding are either roaming out on the 10 to 12 foot mud flats or they are holding tight to shallow wood cover in 4 to 6 feet of water. Either way the same techniques are working to pick up the gills. Tiny Gill Getters in yellow and orange that have been tipped with waxies or spikes have been the ticket this past week. Use your electronics to help locate fish but don't spend a lot of time in one hole if they are not biting. To be successful you may need to do some hole hopping.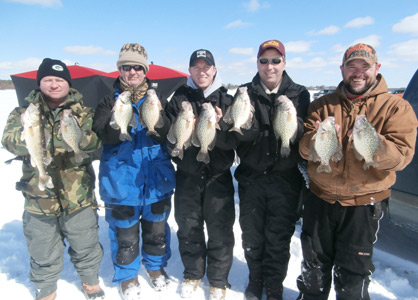 Pat Gogin and the boys with some dandy crappies
Northern pike have been very active especially in the shallow backwater areas off the Wisconsin River System. To cash in on some of these fresh water alligators try running tip-ups baited up with large golden shiners or good sized sucker minnows. Set the tip-ups so they are in 1 to 4 feet of water and run your baits 6 inches to 1 foot under the ice.
Guys have been getting some walleyes both on open water below the dams and through the ice.. The ice bite has been good by targeting shallow backwater areas off the main river system early and late in the day. Run tip-ups baited with golden shiners or sucker minnows set about 8 inches to a foot off the bottom in 3 to 6 feet of water. For you guys that are itching to get out on the open water, some areas below the dams are producing a few fish by guys tossing 1/8th and 1/4 ounce jigs tipped with fathead minnows.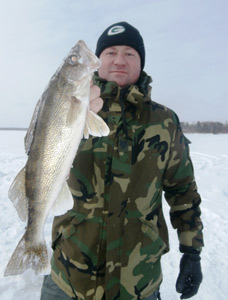 A good late ice walleye for Rob
With turkey season right around the corner it looks as though hunters are going to have to do some major scouting to locate active areas for this upcoming season. With all the deep snow that we have on the ground, turkeys are going to be yarded up in tight areas much like deer do in the winter. The turkeys Home Range is going to be very limited so unless the birds are holed up on your property or property that you have permission to hunt preseason scouting is going to be a must.
Have a great week,
Phil Schweik
Licensed Wisconsin Hunting & Fishing Guide
Hooksetters Guide Service www.hooksetters.biz
Ruttnut Guide Service www.ruttnut.com
Reed & Hoppe Wildlife Food Plots www.foodplotting.com