Gary Engberg Outdoors
Now's the Time for Panfish
Soon is the inland lake season opens for fishing. Though the panfish season is open year-round, now is the time to target shallow water crappies and bluegills as soon as the ice is gone in shallow water. The water temperature in most area lakes is approaching 50 degrees which is prime time for crappies which are spawning or close to it in most area waters. Bluegills are also in the shallows and can be caught along side the crappies, but they won't spawn till after the crappies in a month or less.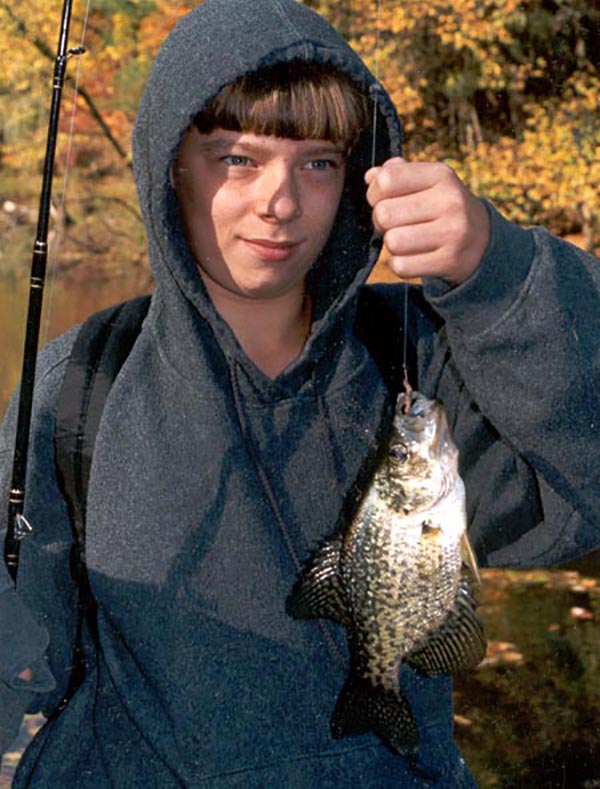 A crappie caught in early spring.
Fish (most species including walleyes, bass, northern, and muskies) are still in water under 12 feet deep and often in only a few feet of water. It's possible for a shore angler to have as much success as those fishing from boats. It's possible to catch most fish species before they head deeper to their summer months haunts.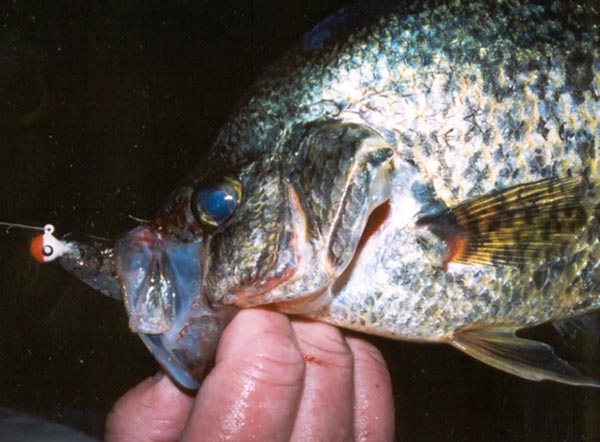 A crappie caught on a jig and plastic.
A reason many people don't fish is because they don't have a boat or anyone to fish with. You don't need a boat to fish on many waters around the state of Wisconsin because there is public access on many lakes, rivers, and creeks. When you shore fish there are usually others anglers in close proximity and you often end up meeting other people doing the same as you are, enjoying themselves outdoors in one of the best months of the year. Catching some great eating fish is a bonus!
Good spring locations for crappies and bluegills are quiet and shallow bays, canals that lead to a main lake, backwaters areas, wooded and brushy shorelines, downed trees and stumps, fish cribs, and areas with new emerging weeds. What you're looking for is waters that warm up quicker and contain feed or forage for the hungry crappies and bluegills. Other things to look for when pursuing crappies is to pick smaller bodies of water, lakes with dark or mud bottoms, and southern facing shorelines that receive more sun because all of these variables warm the water quicker and contain the key element of food.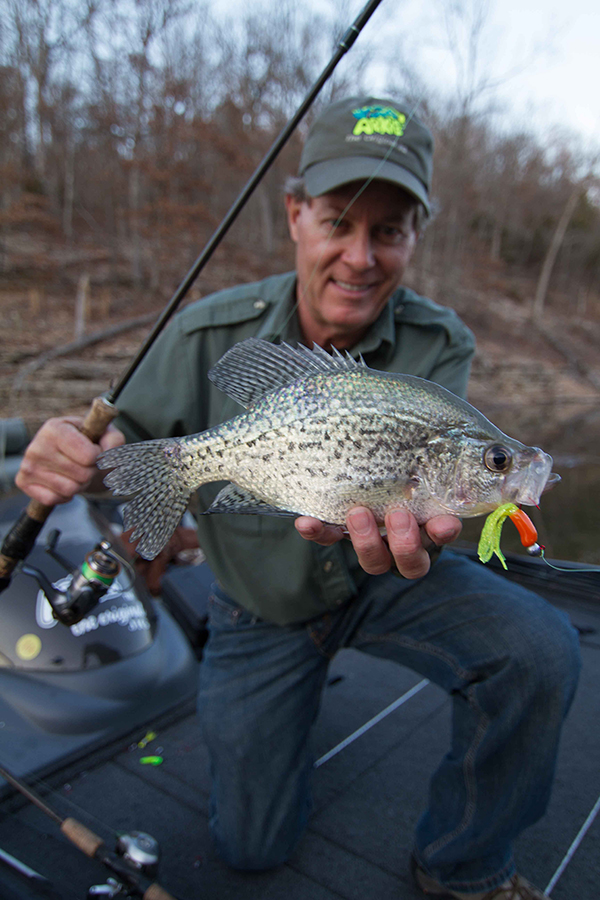 Slab crappie.
The other important factor that affects panfishing is the weather. Ideally, you want warm and stable weather with moderate evening temperatures with lows in the upper 40's or 50 degrees. Cold fronts will knock the fish back to deeper water. There also is no reason to get on the water for panfish at dawn. Wait until the sun shines and has a chance to warm the lakes waters before going fishing. Mid-day can often be the best fishing time of the day!
As far as gear or equipment goes, use ultra-light rods, reels, and line (Berkley Trilene mono is good) in four pound or no more than six pound test. The light line is necessary for finicky and spooky fish and can make a big difference on your fishing success. The terminal tackle needed is small stealth floats or bobbers, assorted ice fishing jigs, some plastic tails (Gulp is great), small split shots, and some tube jigs. The Bait Rigs Cobra jig works wonders under a slip-float for all panfish! Live bait usually rules with wax worms, spikes, and small minnows all working at different times, but try to have all kinds of bait, so that you're covered on tough days. A rod from 6 ½ to 7 feet long helps you make longer casts and avoid scaring the spawning fish out of the shallow water.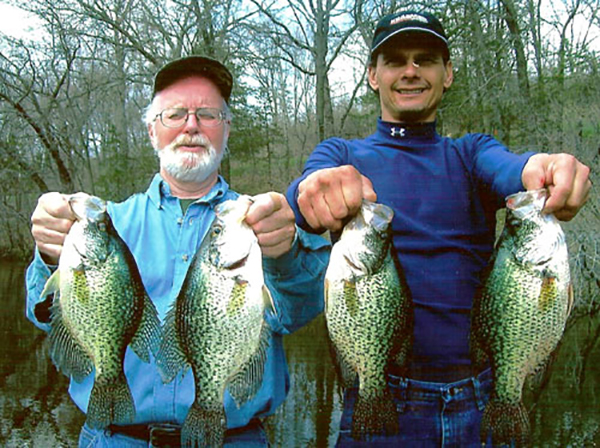 Lake Wisconsin slabs.
This time of year, some of the best locations in the Madison Chain of Lakes area include; University Bay, Marshall Park, County Park, Dingles Bay, Warner Park, and Warner Bay which are all on Lake Mendota. Lake Monona's Squaw Bay, Pirate Island, and the "Triangle" area around Brittingham Park are also all good spots. The south-end of Lake Wabesa and Hog Island produce on this Chain lake. Finally, Mud Lake can be productive early in the season for all species of panfish. Most of these spots can be fished from shore, waded, or by boat.
Other fishing catching locations in the surrounding area include; Crystal Lake near Roxbury, Lake Wisconsin between Lodi and Merrimac, and the many backwaters and sloughs of the Wisconsin River. Most days, the shore angler can regularly catch crappies and bluegills on Crystal Lake. Fish these "hot spots" now before the fish move deeper to mid-lake structure and become much harder to catch. Keep enough for a few meals, but don't be a fish hog. Release some big females for future generations and the next angler. This is also a great time to take children fishing and introduce them to a sport that they can participate in for life. Now, it's easy for kids to catch fish while they're shallow and accessible. Have fun!