Whitewater And Quietwater Part II: Planning a wilderness canoe trip
I remember preparing for my first Boundary Waters trip to Quetico Provincial Park in Ontario 27 years ago. Drawing from my experiences growing up, I knew the basics of canoe camping and also owned a lot of the general camping gear, but I had never been to Canada nor been in a truly wilderness area beyond what northern Wisconsin's Vilas County had to offer. Very few "how to" books were written before 1980 on getting started. And, since I was young and knew everything, I was too bullheaded to read one anyway. Fortunately, two of my buddies had been there before and possessed a rough gear list including the proper maps, a somewhat reliable vehicle and some bush paddling experience. We survived my first Canadian canoe trip without mishap. Mishap is a big word when venturing out into the bush. We cannot control the weather. We cannot control the insects. We cannot control the possibility of somebody in our group getting appendicitis. But with proper planning and reliable gear we certainly can be ready to deal with any of these variables if they should occur.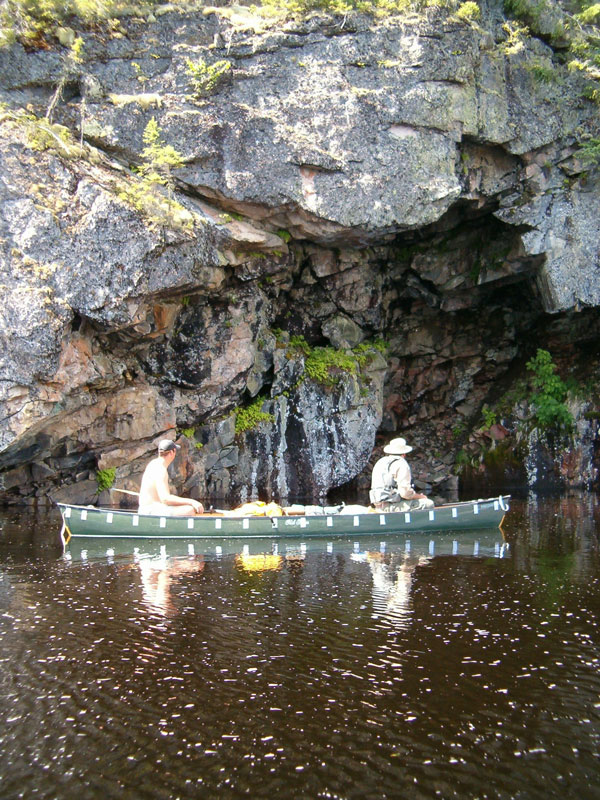 First step: How do I get started?
If you really want to get involved in wilderness canoe tripping, I would highly recommend that you attend the Canoecopia Exposition in Madison, WI, which is typically held in early March at the Alliant Center. As one of the largest paddling expositions in the world, the show offers 20,000 square feet of exhibits displaying gear, outfitters, maps, gadgets, books and anything else even remotely related to paddling. There is also an impressive line-up of guest speakers from around the globe covering a huge range of paddling topics. Another great source of information is the Internet. Web sites like Quietjourney.com, Paddling.net, MYCCR.com (Canadian Canoe Routes), canoeing.com and some others offer an endless stream of info regarding gear, techniques, experiences and paddling destinations. If you know someone that has been canoeing or camping, then try to get them involved. Drawing from actual experience is always the safest route.
What next?
As in any type of physical activity, practice makes perfect. Day trips on local waters with your canoe will build confidence in your skills and also show your limitations. Experienced paddlers tend to be a friendly lot, and it is a rare situation when you are not welcome to join in a day paddle with some newfound friends. Start paddling with a loaded canoe and do it on a variety of water conditions. Moving water skills should be developed, but most rapids encountered in the bush can be either portaged or lined. Some of the most challenging situations I have encountered have been on windblown lakes. Learning the nuances of paddling a craft through two and three foot white-capped rollers can save your life. One of the best skill builders is canoeing with a dog as your ballast. An excited, 65 lb. Golden Retriever bouncing around in your canoe will help your sense of balance better than anything I know.
The camping part:
Learning the basics of canoe camping before diving into the middle of nowhere will put your stress level at ease, so you can have an enjoyable trip. Bottom line is that you have to get out and do it. Wisconsin has a lot to offer for either one, two day and even weeklong paddling trips. Pick up two of Mike Svob's books: Paddling Northern Wisconsin and Paddling Southern Wisconsin. These wonderful guides to 165 Wisconsin rivers can help you find a place to get started. The Lower Wisconsin State Riverway is a fantastic place to get your feet wet if you are canoe camping for the first time. Extending 92 miles from Prairie du Sac to Prairie du Chien, this gem is a great trip for anyone.
Time to buy a real compass:
Once you have reached a comfort level living out of your canoe for a night or two, begin to look for a more challenging destination. For many Midwest paddlers the first taste of the North Country is northern Minnesota's Boundary Waters Canoe Area (BWCA). The BWCA is a remote and beautiful, designated canoe camping area chock full of lakes and rivers. If taking this next step, I highly recommend you secure the services of an outfitter. A good outfitter will set you up with the proper equipment, maps, food and permits taking the worry out of what to eat and how to pack. Take notes on how they set you up. Many seasoned veterans of canoe camping will become self-outfitted. Owning your own canoe and gear has the benefit of familiarity and will save you some big money if you use it enough. Our basic "outfit" has been developed over many years of trial and error, stays packed as a unit and is ready to go almost anywhere at the drop of a canoe paddle.
Earning your stripes:
Wilderness canoe tripping is not for everyone. Camping in remote areas away from cell phones, computers and the family SUV can create a disjointed feeling for most people and panic for the rest. History shows that each generation becomes more dependent on technology and further removed from the land. In our busy world it is what makes our economy click. That same technology is making it easier to access the boreal forest due to demands for pulp for paper, minerals and hydroelectric power. The roadless areas are getting roads. True wilderness still lies a short distance north of the border but it is getting further away every year. To experience it from a canoe, relying on your own preparedness and judgement is a challenge—and a wonderful challenge at that.
This story first appeared in the Nov/Dec 2007 issue of On Wisconsin Outdoors.
[Read Steve Henske's story Whitewater And Quietwater Part I on the OnWisconsinOutdoors.com Silent Sports web page]