Ontario Fishing Adventure at Manotak Lodge
By Dave Sura
Trying to sleep was difficult, to say the least, as I anticipated my second trip to Manotak Lodge in Perrault Falls, Ontario. This year's trip was going to be different. Last year I was accompanied by my wonderful wife, Kati, and daughter, Abby. This year was the guys' trip. Mark Peterson, Dan Schultz, Tony Firle, Rick Rivera, Rich Henderson, and I began our journey north in the early hours of a mid-July morning. We were all wide awake, anticipating the beauty, serenity, and awesome fishing awaiting us on Perrault Lake.
After nearly14 hours on the road, including many necessary stops, we were greeted by Dave and Linda Becker, owners of Manotak Lodge. We were assigned our cabins, dropped off our gear and returned to the office for our orientation on the camp. We then received our licenses, boat numbers, and fishing towels for our week of fishing. Before retiring after a long day, we spent a few hours on the lake catching smallmouth bass and northern pike.

Getting a great night's sleep was just what we needed to prepare us for our first full day of fishing. After a quick breakfast, we were down at the dock getting stocking up on leeches, minnows and nightcrawlers from the veteran deckhand, Earl. Soon we were on the lake chasing fish despite the high skies and hot temperatures we encountered for most of the trip. We had three upgrade boats, 17-foot Lund Outfitters with 50HP Yamaha outboards, depth finders and live wells. Fishing out of the upgrade boats is the way to go and definitely worth the $250 weekly charge.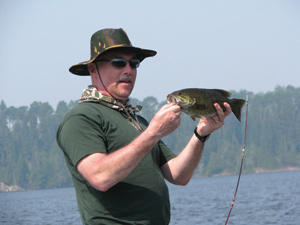 Dan and Mark were in one boat, Rick and Rich in another, and Tony and I in the last. The other two boats from our group spent the morning chasing pike and bass. Tony and I went walleye fishing. The first morning was a good one. Our group caught well over 20 bass and northern, along with a half dozen walleyes, which were cleaned and delivered to our cabins for shore lunch. Excellent fishing, great banter and great food continued through Monday. Big fish eluded us, but that wouldn't be true later in the week.

Tuesday was special. Tony and I again spent the morning chasing walleye and perch while the rest fished for bass and pike. When we arrived back at camp, we were looking forward to fresh fish, with Earl providing a shore lunch kit available from the lodge for $10, that included the pans and propane stove necessary for an awesome lunch. There is nothing better than fresh fish and cold beer for lunch. Since we had extra, we gave a plate full to Dave the Pelican and Earl at the dock. Both were very appreciative of the snack.

Back on the water Tony and I immediately got into fish on a rock bar known as "the shore lunch spot." After a five-minute battle, I landed a fat 28-inch northern on a jig and leech, and over the next few hours we landed several nice 'eyes' and many bass. The highlight was a 30-inch walleye that bent my rod over, worked the drag and refused to even show herself for five minutes. A few runs later, she was in the net. Unfortunately, the fish was exhausted from the battle and would not make it. Back at the lodge, people were excited to see and photograph the fish and hear the story.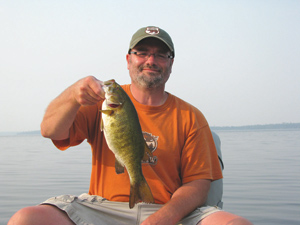 The next day, Mark, who had never fished walleyes, targeted several of the rock bars that Tony and I fished the days prior. The fish were still willing to bite. Mark caught a half dozen walleyes, including a nice 21-incher and Rich followed with a fat 19-inch walleye. Bass also cooperated.

That afternoon we switched back to the original teams and Tony and I fished "the sunken island." As we began fishing a 16-foot hump, I told Tony that the spot should have a big fish on it. Well, it did. Tony landed a beautiful 26-inch walleye, his biggest ever, after a nice battle. The fish was released after a few photos.

Once back in for the evening, we e-mailed or Skyped our families via the wireless internet available to the guests. Kati would help me find a taxidermist for the walleye that would help me to remember my time at Manotak Lodge for many years to come.

A weather change Thursday chased 90-degree temperatures and brought the winds. Despite the change we packed our gear in the van and drove to the musky lake available to fish by the guests of Manotak Lodge. We headed out only to find it nearly impossible to control the boats and fish effectively. After a few hours of futile fishing, we surrendered to the weather, spending the rest of the day at Manotak relaxing and discussing the plan for our last day on the water.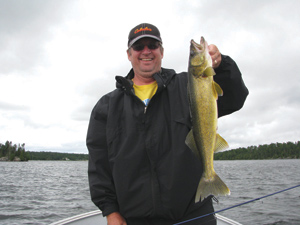 Friday brought more wind and scattered showers, weather more typical of Ontario. Despite the weather Mark and I headed back to the "shore lunch spot" where we landed several nice eater walleyes and lots of bass. On our way back for lunch we fished Little Manotak Island, where we found more bass and Mark's biggest walleye, a very nice 23-inch fish that he released.

That afternoon we fished for bass and northern, saw a pair of otters as well as many loons and eagles. For the week, we had landed well over 100 bass and northern and 50 walleyes. Not bad for a week of fishing, especially considering I was the only one who had fished the lake before. Several of us had taken the biggest walleyes and smallmouth of our lives, while Mark claimed both the largest pike and largest smallmouth he had ever before caught.

Wow, what a week. We all had a blast and can't wait till next year. If you're thinking of heading north of the border next year, I highly recommend Manotak Lodge. Dave, Linda, and their staff are awesome. They bend over backwards for each guest, clean your fish for you, and genuinely care about you. It's true what they say: "You came here a guest and leave as a friend."

Connect with Manotak Lodge at www.manotak.com or 1.800.541.3431. I guarantee you won't be disappointed with the lodge or the fishing on beautiful Perrault Lake.