MULEY HUNT IN THE WYOMING ROCKIES… Almost Impossible to Resist
BY BILL THORNLEY
CODY, Wyoming– There is something a bit unnerving about walking out into the mountains near Yellowstone National Park in the pre-dawn darkness and looking down to see a huge – and very fresh – grizzly bear track in the snow on the same trail you are walking.
It also makes a guy a little nervous walking through tall river bottom brush. There are little red berries called "rose hips" everywhere. The bears love them. Then you come across a massive pile of still steaming dung filled with rose hips. Yes, still steaming in the morning snow! Makes you start looking around a bit excitedly.
So it was as we hunted mule deer out of a cabin at Shoshone Lodge & Guest Ranch near the east entrance of Yellowstone in Wyoming.
I went out with hunting buddy Mike Carson and his son, Spencer. Mike and I have been making the trip since 1984.
We were a lot younger in 1984. Getting up and climbing a mountain at dawn is getting harder on middle-aged knees and ankles. At the age of 54 I find myself getting stiff a lot quicker now. But on a snowy October morning there is really no place I would rather be than the mountains.
Shoshone Lodge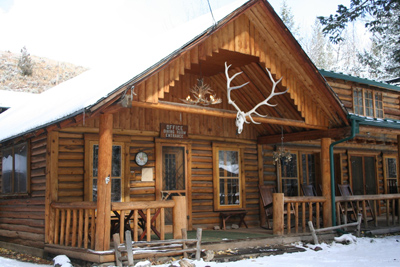 "The historic Shoshone Lodge & Guest Ranch is located 3.5 miles outside Yellowstone's east gate and 46 miles from Cody, Wyoming."
For the past few seasons we have stayed at Shoshone Lodge, located just 3.5 miles from Yellowstone's east entrance.
The lodge was built from native timbers in the early 1920's by Cody's first county sheriff, Henry Dahlem. The building is a beautiful display of craftsmanship and history which features a full service dining room, office and lounge. After a cold day in the mountains, it is nice to feel the warmth of the fire in the historic hearth built from stones collected by the original family members. Today, the lodge remains in the family, and is run by Mike Christianson and his staff.
The lodge is not actually open this time of year, but instead allows hunters to rent the cabins, which we did.
Shoshone Lodge offers wilderness hunting expeditions for elk, mule deer, bear, and big horn sheep, as well as non-wilderness hunts for mule deer and antelope.
You can "rough it" in one of the high mountain camps or stay, like we did, in a cabin and hunt from there.
For information on a hunt or a summer visit, you can contact Shoshone Lodge & Guest Ranch, Cody, Wyoming, at 307.587.4044.
Email: shoshonelodge@gmail.com.
All correspondence should be mailed to:
Shoshone Lodge & Guest Ranch, 349 Yellowstone Highway, Cody, WY 82414.
As we drove into the lodge I noticed the play area for children. Inside the lodge I found a picture of that same play area … with a big grizzly inside the fence! It was a preview of what was to come later, I guess.
Ready to hunt
We went to bed early the first night, as most hunters do, anticipation of the hunt the next morning at full "Buck Fever" level.
It was dry, brown and mild, but the weather forecast hinted at snow and cooler weather moving in to help improve hunting conditions.
We made our way to one of the countless deep canyons leading into the mountains and started up. Mike and Spencer took one side, heading north, while I climbed up the other side.
The first day of hunting was pleasant, and from my high vantage point I could see a wall of dark clouds moving in towards the end of the day. Snow was indeed on the way.
A few does, fawns and a small fork horn buck passed, but nothing to shoot at. Back at the truck I found out that Spencer had indeed gotten a shot at one of the massive mature mulies that roamed the mountains, but missed. He was one bummed out kid on the drive back to the lodge.
Predator impact
It is no secret that the big game herds are nowhere near what they once were thanks to predators. Mountain lions, wolves and grizzlies are taking a tremendous toll.
In the area we were hunting, mule deer are in trouble, moose are now rare, and elk have almost disappeared. And now the predators are turning to sheep and even buffalo in Yellowstone.
Outfitters are being forced out of business as the herds disappear, because available tags are disappearing as well.
In parts of Wyoming where grizzlies and wolves exist, there has been a near zero elk calf survival rate due to depredation, and elk numbers are crashing. In some parts of the state, the elk harvest last year was down 45 percent, whitetail deer harvest down 50 percent, and the mule deer harvest down 45 percent from the average past five year harvest. Many hunters who did see elk reported seeing no calves with cows.
Talking with several outfitters and hunters during the past few years, it is easy to see that the bears – and the wolves – have really had a negative impact on the herds of elk and deer. Hunters are now either going elsewhere or unable to get one of the very limited licenses that are available. It is not a good situation, and kind of sad to see after witnessing how good things were for hunters and outfitters just a few short years ago.
Back to the mountain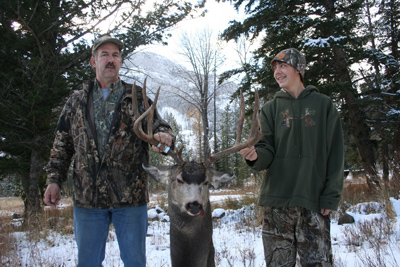 Mike and Spencer Carson with Spencer's 5x7 Wyoming mule deer buck."
Day two started out remarkably like day one. It was dry and cloudy and mild. By mid-morning, sunshine was breaking through and it felt almost warm on my face.
Nine deer passed my way with not an antler among them.
By early afternoon, however, weather conditions began to change. Thick, dark clouds rolled in and the temperature dropped sharply. Snow was on the way. Looking to the higher peaks I could see it was already snowing.
On the way back up to the lodge, which was at a higher elevation than were we were hunting, snowflakes began to fall. Old Man Winter had arrived in Yellowstone.
The drive home also produced encounters with several shaggy buffalo as they grazed along the roadside. We spotted several deer, all does and fawns. And I even got the unique opportunity to film a pair of young bull moose as they sparred down in the river bottoms. The smack of their antlers echoed into the lodge pole pines as they shoved each other gently … well, gently for a moose. It was one of those moments you go out there to experience.
Another "moment" shocked us back into awareness that we were in grizzly country when a bear appeared on the driveway leading to the cabin! Made us think twice about going from the cabin down to the lodge in the dark for sure.
Time spent thinking
Morning brought snow cover and the hope that the deer would be moving.
We decided to try a different canyon, a long trail along a small creek.
Bear encounter number two took place moments later when Mike and Spencer came upon a young grizzly located on the other side of the creek. Luckily, he didn't charge and all continued on their way.
I continued up the trail and didn't see the bear, which was just fine with me. I did see several deer, again all does and fawns.
But as any hunter knows, time spent hunting is also time spent thinking. I couldn't help but have my mind wander back to last season and a pair of grizzly encounters at the lodge.
The first took place when another hunter who was after deer downed a nice buck near the same spot we were hunting. Two maulings had taken place there during the summer, and as the hunter began to make his way down the hill toward his deer he became aware of a grizzly charging toward the deer from the other direction.
The hunter froze and watched the bear sniff his deer for several minutes before putting his nose in the air, apparently catching his scent, and wandering off.
The hunter sat for about 20 minutes, he told us, making sure that the grizzly was gone. Finally standing up to go get his deer, he heard a whistle close by. Turning, he found that the grizzly was behind him at a distance of about 50 feet! The bear had made a big circle and come silently from behind. Again the hunter froze, and again the bear eventually wandered away.
The frazzled hunter got his deer finally.
Also last year, one of the guides working out of Shoshone Lodge was camped up on top of a mountain, hunting bighorn sheep. After a long day of hunting he rode his horse back to his tent, leaned his rifle against the horse corral after taking care of the animal, and forgot to take it into his tent a short time later.
While in the tent, the guide could hear the horse acting up. Looking out into the rapidly advancing night shadows, he saw a big grizzly sitting outside the corral, looking at him. The bear was between the guide and his rifle, so a waiting game began. It was a long wait. Darkness settled in and the bear would not leave, huffing and puffing outside the tent every time the guide thought it was safe to move.
The guide got together some wood and built a fire just outside the tent so that he could see the bear, which lingered just beyond the firelight, giving the guide an eerie image of the huge shadowy shape and glowing eyes.
Not a wink of sleep was had (no surprise), and finally, around dawn, the bear lumbered off and the guide returned to the lodge to tell his frightening story.
A father and son hunting deer were mock-charged by a grizzly this year, a story we heard from them the first night we were there.
The bears were everywhere, and I was a little bit nervous about it.
The fresh tracks and fresh dung piles made things even more interesting. Not like hunting back home at all!
But it turned out that the roaming grizzlies weren't quite done with us just yet.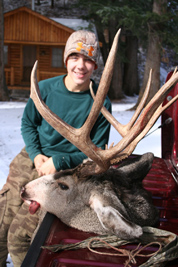 Spencer Carson, age 16, with a 5x7 Wyoming mule deer buck – but a 700
pound grizzly got the meat!
Second time buck
Walking, walking and even more walking. Throw in a lot of climbing as well. Hunting Wyoming is not an easy thing to do, not at all.
Mike and Spencer put in 14 miles one day, and not much less than that the rest of the week. And finally, the hard work paid off.
Returning to the same spot where Spencer had missed the big mule deer buck the first day, they were amazed to spot the same thick-antlered 5x7 deer bedded down below them.
This time the shot did not miss. Second time lucky, the buck was down.
Then the work began as they had to climb down to where the buck lay and field dress it.
The deer was capped and the meat quartered, but time was running out to get out of the mountains before dark. It was a long walk back, so it was decided the head would be packed out and they would have to return the next morning for the meat.
Rising before dawn the next morning, they were off again, trekking back into the mountains with back packs for the meat.
Arriving back on the high ridge that looked down to the opening where the deer had been left, they glassed the area cautiously.
Below them they saw a large, dark shape and at first thought they had located the carcass … then it moved.
A huge paw shot out, swiping the air as it struck out at annoying ravens.
"We could see the paw," said Spencer. "And it was a big paw."
A grizzly, estimated at about 700 pounds, had found and claimed the deer. They were not about to argue, and backed out slowly and quietly.
It was not totally unexpected. We had talked about the possibility the night before.
Grizzlies in the Yellowstone area are not stupid. They have come to associate the sound of gunshots with food. When they hear a rifle they come running. To a bear it is just like a dinner bell ringing. The big boar that claimed Spencer's deer had probably heard the shot when it happened, zeroing in on the sound and following it to a meal of fresh venison.
It has happened often, leading to well fed bears and frustrated hunters. Mike, in fact, lost a bull elk in a similar fashion several years earlier when he and his guide returned to pack out the meat only to discover a sow and two hungry cubs had beaten them to it.
Hunters in the mountains are encouraged to hunt in pairs and carry bear spray.
"We always give people a basic set of rules for staying safe in grizzly country," said Wyoming Game and Fish information specialist Tara Teaschner in an interview with the Cody Enterprize. "We tell people, travel in big groups, make lots of noise, stay on established trails, and don't hike at dawn or dusk. Hunters, by the nature of what they're doing, break those rules. We sneak quietly through the woods and hike up the mountains at dawn, and back down at dusk."
And when a hungry bear lays claim to a mule deer or elk carcass, the smart thing to do is to simply consider it a loss. It does not pay to argue with a bear.
"Don't try to challenge a grizzly for a carcass," said Teaschner. "Your tag represents an opportunity to take a big game animal home, not a guarantee that you will."
Unfortunately, there are no do-overs. If a hunter shoots an animal that is later claimed by a grizzly, the tag is still counted as spent. The hunter may not shoot another animal.
Grizzly-human conflicts naturally go up during the fall hunting seasons. The bears are more active as they look for food to fatten up for the coming winter hibernation. And hunters often provide them with that food.
I have long thought that any bear that wants my deer is welcome to it. And even if I don't see a bear anywhere nearby, a still assume that there is one somewhere nearby.
End of the hunt
As the week came to an end you could almost see winter creeping down the mountain.
When we arrived, the only snow we could see was on the highest peaks. But day by day the snow cover advanced to lower elevations, first to Yellowstone, then all the way down to Cody by the time we left.
The wind was damp and cold, the sky gray and almost depressing, a bitter preview of what awaited us back home in the coming weeks.
As we packed up and drove past the grazing buffalo for the final time, they were covered with wet snow. Winter was taking hold, and it felt like we were escaping at just the right time.
There was one more surprise awaiting us on the way home.
Driving back from Wyoming can be a long, long trip. Not only does it seem like it takes forever, you actually lose an hour when you pass out of Mountain Time back into Central Time. Not fun, by far the worst part of the trip.
But as we drove through Wyoming, then South Dakota, and then Minnesota, old Mother Nature offered one more jab.
About two miles outside of Luverne, Minnesota, at around 9:30 p.m., an 8-point buck jumped out of the ditch, taking out the grill of our truck and stranding us for another night. I never want to smell an air bag again – yechh!
Luckily, the radiator managed to survive and we carefully made our way home the next morning.
It had been a weird hunt. Lots of obstacles. We were all really glad to get back home this year.
But you know what? It lasted for only a few days. Now, we're already thinking about next season.
The lure of Wyoming's Rocky Mountains is strong, and for hunters it can be impossible to resist.