THE PACKERS AND FISHING IN KEY WEST
"Go Pack," the couple yells at us. We respond with "Go Pack" and then as they pass us the lady shouts over her shoulder "it is snowing in Milwaukee." It is a good way to start Packer Sunday, especially since we are in Key West, Florida. It is warm and sunny in mid December as my wife Becky and I walk down the street in t-shirts and shorts.

Of course it is warm. We are in the southern most city in the United States. It is not warm back at home in northeastern Wisconsin; that is why we are in Key West.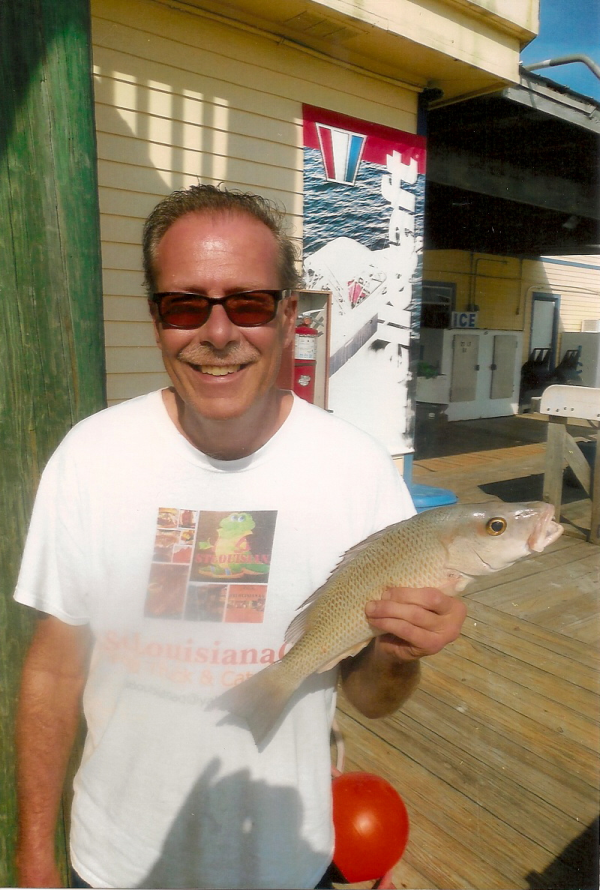 Mark "Pete" Peterson with a mangrove snapper, the first fish of the day.
We are on our way to breakfast in paradise at The Blue Heaven. The Blue Heaven has a long and colorful history as does most of Key West. It once was a bordello and had a boxing ring where Ernest Hemingway refereed matches. Today it is a restaurant and they make a lobster benedict which will change your perception of what breakfast should be. The place is packed and there is a line waiting to get a table. Becky and I find a spot at the bar and I order a Bloody Mary. They also make a great Bloody Mary. We have to wait through two Bloody Marys before we get a table. It is a tough life.

After breakfast we aimlessly wander around town when the Conch Train rambles by. The Conch Train is a miniature tourist train taking people around the island for an hour and half tour of the high and low spots of Old Town Key West. As the train passes us we hear a couple more people yell "Go Pack." As we walk around we regularly hear someone shout "Go Pack" or "How about those Packers?" It seems Key West is a Packer town. It makes us Packer fans proud to find so much support this far south from the "Frozen Tundra."

The Pack is playing the Houston Texans in Green Bay and we were delighted to hear when Randall Cobb scooted into the end zone for a touchdown he dropped to the ground and made a snow angel. That is the way to celebrate a touchdown during a snow storm in Green Bay. We were also very delighted to hear the Packers beat the Texans which puts us one game closer to regaining the NFC North title and on our way to the playoffs.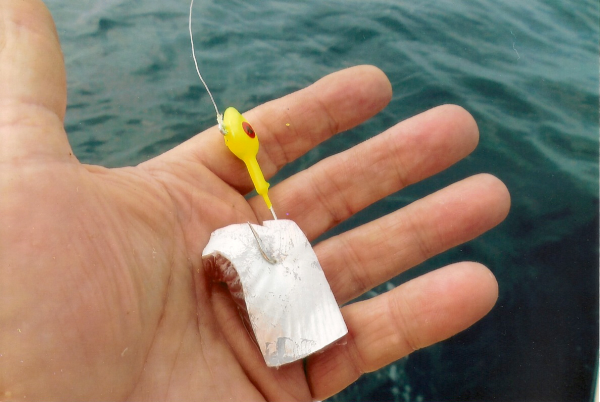 Almost fishing like in Wisconsin for walleyes using a chartreuse jig but with cut bait from a bonito.
LIFE IS GOOD IN KEY WEST

We are here in Key West to not only to escape the onslaught of early winter in the north, but also to celebrate my birthday. During the next ten days we are in Key West I will turn sixty seven. Seventeen years ago when I was turning fifty, Becky engineered a surprise trip to Key West so I could go fishing on my birthday. As she tells people, since then, I feel I should go every year to Key West to celebrate my birthday and go fishing. That seems perfectly reasonable to me. For a number of years we did go to Key West every year and then we missed a couple of years because of hurricanes, now visiting every other year.

We eat at our favorite restaurants, explore our old haunts and generally soak up warm, ocean breezes while taking great pleasure in the fact it is cold and miserable back in Wisconsin. Three days later our friends Mark Van Dorn and Mark "Pete" Peterson from Oklahoma join us. It is cold and miserable in Oklahoma too and they are glad to be in Key West. "It was eighteen degrees when we left," Mark tells us.

The next morning it is dark when Pete and I wake but it is still warm. Gotta love Key West. Pete and I are going fishing. We pack a small duffle bag with an extra jacket, sun screen, my camera and a six pack of Yuengling beer. You can't find Yuengling anyplace in the country except the east coast. Another reason to go to Key West. We walk to a diner for breakfast. How many fishing trips have started with fried eggs, bacon and hash browns? While we are waiting for our breakfast Pete tells me "it has been thirty five years since I last fished." He grew up in Rice Lake, Wisconsin, and fished when he was a kid but didn't fish again after he left home. We call a taxi to take us to the marina. By this time the sun is up and it is another cloudless day with bright, blue skies in Key West.

At the marina we find our charter boat, No Doubt and Captain Desi Perez. Desi is twenty eight years old and was born and raised in Key West.
He has fished the waters around Key West all his life and has been a charter boat captain for the last three years.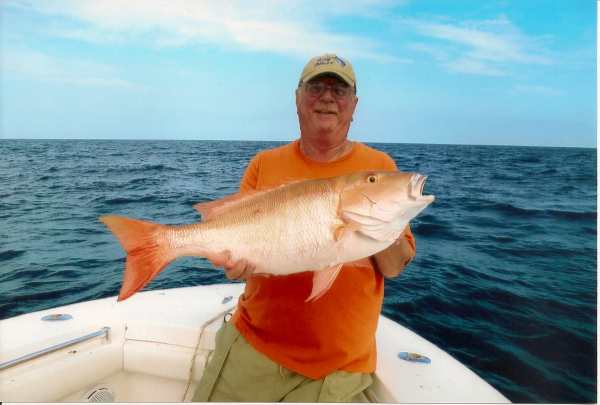 The author with his trophy mullon snapper.
GOING FISHING

We pull out of the marina, heading first into shallow water, looking for bait. Desi is standing on the bow of the boat with a casting net as I slowly steer his boat. He yells back instructions to me such as hard left or right and put it into neutral. When I slip the throttle into neutral Desi throws out the net. As the net collapses into the water he quickly hauls the net back with small silvery fish caught in it. He dumps the minnows into a livewell and after three attempts tells us he has enough bait for the day.

He takes over the steering wheel and pushes the throttle forward until the No Doubt is cutting through the water. There is little wind this early in the morning and I tell Pete seldom have I seen the ocean this quiet. The sun bounces off the surface like diamonds in the water. The dark blue ocean melts into the lighter blue sky on the horizon. It is a great to be fishing.

We are in about a hundred feet of water when we first stop. After about twenty minutes without a strike we move into a little shallower water and try again. We don't do any better and move a third time.

We are fishing less than ten minutes when a fish hits Pete's bait, pulling line off the reel. As he flips the bail over on his reel, the line tightens and his spinning rod is bent in half. The fish charges off, taking line off the reel. Finally stopping as Pete begins the task of bringing the fish to the side of the boat. It puts up a stubborn, bulldog fight. Finally we see the fish. It looks pale blue in the water some ten feet or so below the surface. By this time Desi is standing next to Pete with the gaff. The fish is splashing on the surface as Desi extends the gaff, hooks the fish, pulling it into the boat. I fist bump with Pete. The fish is about a four pound mangrove snapper. It is the first fish of the day and first fish towards our fish fry later tonight.

Desi drops Pete's fish into the ice chest and before he can get more bait for Pete I feel a fish racing away with my bait. I flip over the bail on the reel to feel a fish pulling back against the rod. It puts up a good fight and a moment or two later I have it coming through the last of the water, hauling it into the boat. It is a yellowtail snapper. It about fourteen inches long. Although not a particularly big fish, it is a normal size for a yellowtail.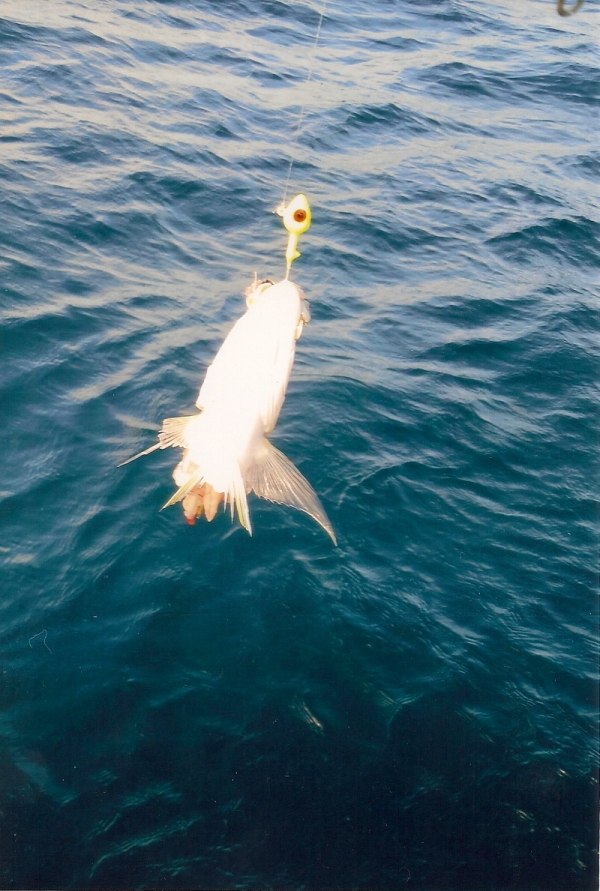 What is left of a yellowtail snapper after being attacked by a shark or barracuda.
They are my favorite salt water eating fish. They taste similar to walleyes from my Mid West lakes and rivers. Most of the yellowtails we catch are also about the same size as the walleyes we catch back home but perhaps because they have to battle the currents in the ocean and in considerably deeper water are much stronger than our walleyes and put up a greater fight.

The key to catching fish our fish is using chum. Chum is a frozen block of fish parts. The block of chum is in a net bag, dropped over board. As the chum breaks apart with chunks floating back and down from the boat, snappers, groupers and other fish are drawn to it. Once they start coming to the chum they are willing to take our baits. For bait we use chunks of a bonito, sliced into one by two inch pieces. We just slide the hook through the cut bait and drop it over board. There isn't anything fancy about it. We do have minnows as well as cut bait and later in the day we do try minnows briefly but have our best luck with cut bait.

We are readily getting strikes. Most of the fish are yellowtails and are steadily adding them to the ice chest. Dinner is looking better and better.
Desi is fishing with us and at one point all three of us have fish on at the same time. When we get the fish in they are all keeper size yellowtail, ending up in the ice chest.

ALMOST LIKE WALLEYE FISHING

Although we are fishing in the ocean in much deeper water our fishing has some similarities with what I am used to back in the Mid West. We are using chartreuse jigs and I tell Desi they are like the jigs I use for walleye fishing, the same color as my favorite jigs back home. From then, on whenever Desi ties a new jig on one of our lines he says "you guys are walleye fishing." We are using spinning rods and reels only a little heavier than what I use in freshwater fishing. We use twelve pound monofilament whereas back home on the Mississippi River I generally use eight or ten pound mono.

We drop the bait in the water, leaving the bail open on the reel and strip line off by hand as our bait disappears in the water. We keep striping line off until we feel a fish start to run off with the bait. We flip the bail over on the reel, let the fish tighten the line and the fight starts. Once I feel a fish hit my bait but when I flip the bail over there is nothing there. I pull the rod tip up, letting the bait drop as if I am jigging for walleyes. I feel the fish hit again and this time have it on solidly.

My line is peeling off the reel when I flip the bail and the rod is doubled over to a tough, steady run. It is stronger than any of the yellowtails I have been catching. Line is zinging off the reel and nothing is slowing down this fish. Finally the fish stops and I pull back. The fish moved slightly. I drop the rod tip, pull up on the line then drop the rod tip again while furiously cranking on the reel to regain line. I get six or seven cranks on the reel and the fish takes off again, pulling off as much line as I just recovered.

It is a tug of war with this fish and I am winning it seemingly only by inches as I slowly get back more line than I lose each time the fish takes off. Desi is standing next to me with the gaff. It seems to take forever before I first see the fish but it dives again taking off more line again. The fish is now close and I pull back one more time so Desi can gaff the fish. It is a big mutton snapper. We estimate it to be about fifteen pounds. Desi calls it a trophy fish, telling me it is a big fish for this time of the year.

Pete has a fish on and as he is bringing the fish in, it jolts to a stop and then his spinning rod bounces back. When he brings it in all we see is the head of a yellowtail. Underneath us are either barracuda or sharks attacking the fish we are catching. A couple minutes later it happens again to Pete and this time a three foot long barracuda follows the head almost all the way to the surface.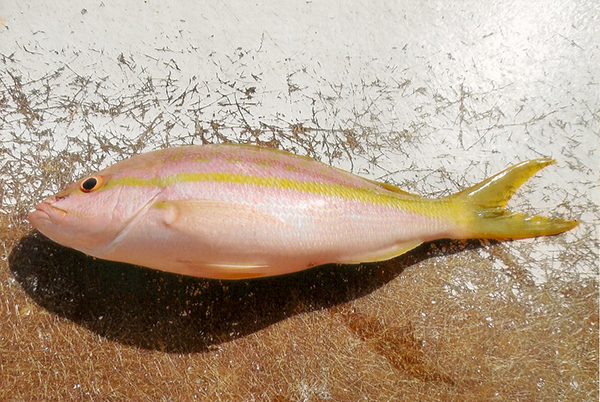 A yellowtail snapper, the author's favorite salt water eating fish.
A few minutes later I have a strong strike. The fish stays deep and fights hard. This time nothing attacks my fish and when I get it to the surface I see why. I have a shark. I am surprised the shark has not cut through the light monofilament line. It is not a big shark as far as sharks go. It is about two feet long but Desi doesn't take any chances with it and cuts the line. After that we have no more shark or barracuda attacks.

With cutting the shark free it takes the last chartreuse jig Desi has. I switch to a red jig and within a few minutes catch another yellowtail. Just like in freshwater, sometimes color really doesn't matter.

By early afternoon the wind picks up and the boat is pitching in three foot waves. The light winds we had in the morning didn't last long.
It is time to return to the marina. Pete and I sit in the front of the boat, sun beating down on us as we are drinking a beer while beginning the run back. It has been a good morning of fishing and our beer is a just reward for our efforts. There are few pleasures as fine as a cold beer on a hot day after catching a bunch of fish. I look over to Pete and ask if he would do this again. "Hell yes," he says but I could have guessed his answer by the smile on his face.

THE FISH FRY

Back at the marina we help Desi drag the ice chest to the cleaning table.It is heavy with fish. We have fourteen yellowtails, four mutton and four mangrove snappers. We are going to have a big fish fry. That evening we go to the Half Shell Raw Bar. We are met there by local friends Larry May and Jamie Smith. Originally from Chicago and after vacationing in Key West for a number of years they decided to permanently move to Key West and haven't looked back.

At the bar we order drinks while handing over several bags of fish fillets. A couple drinks later we are sent to a table as a platter of fish fillets, deep fried and blackened are placed in front of us with boiled red potatoes and coleslaw. It is one of the best fish fries we have ever had.

A couple days later I turn sixty seven. We are spending our days visiting all the typical tourist spots such as Hemingway's home from his days there in the 1930s. We spend a couple afternoons drinking beer in the same bar Hemingway drank at when he was in Key West. Today it is Captain Tony's Saloon but when Hemingway lived, wrote and drank in Key West it was called Sloppy Joe's. In the middle of bar is a large tree. In the early days of Key West it was the town hanging tree and Captain Tony's, which was built around it, is reported to be haunted.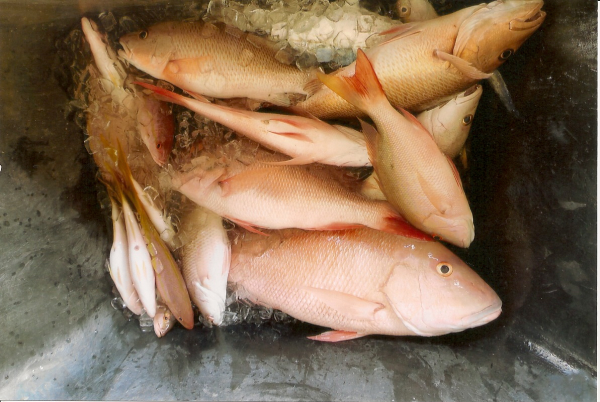 A days catch of yellowtail, mullon and mangrove snappers from the waters off Key West
A couple days after my birthday, Becky and I walk across the tarmac at the Key West airport to get on a plane, starting the journey home, back to reality. It is ninety degrees with light blue, cloudless skies. Six and a half hours later we land in Minneapolis. It is dark with below zero temperatures and six inches of snow on the ground. An hour later we get to our home in northwestern Wisconsin. As we drag in our luggage Becky looks at me and says "I think we need to go to Key West every year." It sounds good to me. And oh ya…what about those Packers?

AUTHORS NOTES: To contact Captain Desi Perez III to charter a fishing trip with him on the No Doubt call him at 305-731-0371 or through his website at www.nodoubltfishingcharters.com.
The Half Shell Raw Bar at 231 Margaret Street will cook your freshly caught fish for $12 per pound. They also have some of the freshest oysters in Key West.
The Blue Heaven at 729 Thomas Street serves breakfast, lunch and dinner seven days a week. Although all their food is unique and very good, their breakfasts are legendary.
Captain Tony's Saloon on 428 Greene Street is not only famous because of Ernest Hemingway but also Jimmy Buffett who played there when he first came to Key West.

EDITORS NOTE: Mike Yurk's column is sponsored by Warner's Dock in New Richmond, Wisconsin. Warner's Dock is the premier marine dealer in northwestern Wisconsin. They have a complete supply of new and used boats, motors, and trailers as well as other marine supplies plus a complete maintenance staff for all your boating needs. They can be contacted through their website at www.warnersdock.com or by telephone at 1-888-222-3625.