Mural Fest & Classic Car Show in Ashland on Sept. 12
ASHLAND, Wis. – Ashland's annual Mural Fest & Classic Car Show will roll into town Saturday, Sept. 12, from 9 a.m. to 2 p.m. in the 200 block of historic Main Street. Since 2005, Ashland has been known as the "Historic Mural Capital of Wisconsin" and the city will celebrate a decade of artistic excellence with this year's festival.
Don't miss the thrill of the Mural Treasure Hunt starting at 10 a.m. at Home Expressions, 116 W. Main St. Enjoy food, music, arts & crafts, sidewalk sales, children's mural painting all day, plus dozens of beautifully restored vintage vehicles in the Classic Car Show.
Guided Mural Tours on the Hometown Trolley conducted by artist Sue Prentice Martinsen will be held at 10 a.m. and noon. (Meet at the Ore Dock Mural, 301 W. Main St., across from the Ashland County Courthouse.)
New this year will be fun Bicycle Mural Tours, taking off at 11 a.m. and 1 p.m. Bring your own bike or rent one from Bay City Cycles, 412 W. Main St. Meet at the Ore Dock Mural for the bike tours.
For more information on registering a vehicle to be in the Classic Car Show or if you would like to sign up to be an arts & crafts vendor, call 1-800-284-9484 or go to www.visitashland.com.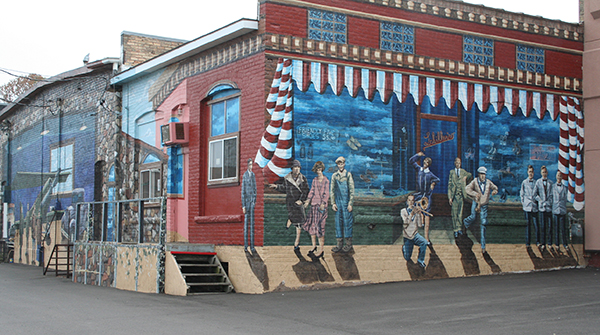 A little local color on Ashland's murals
Since painting their first historic Ashland mural in 1998 as part of the state's sesquicentennial celebration, northern Wisconsin artists Kelly Meredith and Sue Prentice Martinsen have conceived and created more than a dozen colorful murals throughout this storied city nestled on the shores of Lake Superior.
Highlighting various eras and landmarks from Ashland's rich history, the vibrant murals depict subjects ranging from the city's lumberjacks and military veterans to its railroads, storefronts and massive former ore dock. Thanks to the efforts of these two talented artists and the support of the entire community, in 2005 Ashland achieved the distinction of "Historic Mural Capital of Wisconsin," making the city a year-round public art destination.
Self-guided Mural Walk Tour brochures are available at the Ashland Area Chamber of Commerce, P.O. Box 746, 1716 W. Lake Shore Drive, Ashland, WI 54806; or by calling 1-800-284-9484. Check out www.visitashland.comfor additional mural information and history.