FISHING THE BACK COUNTRY IN KEY WEST
It is warm and dark in the early morning as Pete, Mark and I leave our condo, walking along Caroline Street on our way to breakfast. We hear a rooster crow. Mornings start slowly in Key West. There is no one on the street as we walk. It is the beginning of a typical day in Key West and a morning of fishing for Pete and me. Mark came along to have breakfast with us.
Mark Van Dorn and Mark "Pete" Peterson joined my wife, Becky and me a couple days earlier in Key West from Oklahoma City.
The day before Pete and I walked down this same street to find our charter boat. It is in the marina right behind Half Shell Raw Bar. After finding it we walked a block back to Caroline Street, stopping at Harpoon Harry's Café, well loved by locals and tourists alike for its good food and reasonable prices. I approached the cash register and asked the lady behind it what time they open in the morning. She told me 6:30. I told her we had a fishing boat to catch at 7:30 and asked if we would be able to get in and out in time.
"Honey, we will get you to your boat on time," she said. "We do it all the time." Can't ask for better assurance than that.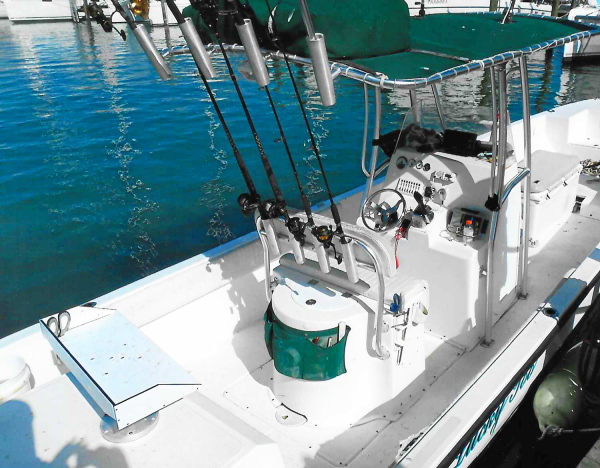 Tools of the trade to spend a day in the back country in Key West
fishisng for snappers.
THE DAY BEGINS
The sun is edging away the darkness and there is a thin morning light as we get to Harpoon Harry's. We are about seven or eight minutes early and take a seat on a bench outside. There are several other people waiting as well but I don't think any of them were going fishing. I guess we are the lucky ones.
A couple minutes later the door is pushed open by one of the waitresses and we go in and take a table. An older waitress comes, by coffee pot in hand and pours coffee in the cups we turn right side up. A minute or two later she is back for our order. I have eggs over corned beef hash with a side of grits. As a Yankee from Wisconsin it took me a long time to warm up to grits. All the years I was in the Army I shunned grits but a few years ago I had this transformation about grits, found I liked them and now eat them wherever I find them. You don't normally find them up north so I have to go south to get my grits fix.
Within minutes we get our food. I guess they aren't kidding about getting us to our boat on time. The grits are wonderful. It is truly a good start to the day. After breakfast Mark walks back to the condo where my wife, Becky, is still sleeping and Pete and I walk the block to the docks.
This fishing trip is a birthday present from Becky. In a couple days I will be turning seventy. Twenty years ago Becky took me to Key West as a surprise birthday celebration so I could be fishing on the ocean when I turned fifty. Now, she tells everyone "he thinks he should go every year to Key West for his birthday." I guess she has spoiled me.
AT THE BOAT
As we step onto the dock I see a burly man with a full beard sitting on a plastic locker. "You must be Captain Moe," I ask him as I extend my hand. "I am, " he says, shaking my hand. We climb down into the boat. Ropes are thrown off and the motor rumbles into life as we pull away from the dock.
We are going into what Moe calls the back country. When I talked to him a couple days earlier he told me we were going to fish the back country and I thought he was talking about fishing the flats. I told him we were looking for a bunch of snappers for a fish fry. He told me not to worry. We were going to catch all the snappers we want but we won't be going out on the ocean to get beat up with big waves. That seemed fine to me. I had spent enough time get banged around on the ocean so if there is a way to skip that and still catch a bunch of fish I am all for it.
Paul "Moe" Mottice known as Captain Moe originally came from Ohio. He came to Key West thirty five years ago with the Coast Guard and never left. He has been a charter boat captain for over twenty years. In addition to fishing, Moe is part of a television series, the Curse of the Bermuda Triangle, investigating and exploring the mysterious phenomena for the Science channel.
It is a short ride and I notice we follow pools of blue water with channels between them. Around these pools and channels are brown weeds close to the surface. When we stop I notice we are in about thirty feet of water. A gentle wind is blowing across the water ruffling the surface. It beats being in over a hundred feet of water battling two foot waves.
We are using cut bait on jigs. We toss the jig into the water, leaving the casting reel free spool as the current drags the jigs back and under the water. When a fish hits we see a bump on the line or the line takes off. Then we flip over a small lever on the reel which stops the free spool, crank on the reel to tighten the line, pull back to set the hook and reel the fish in. It sounds easy enough but is somewhat foreign to how I fish back in Wisconsin so it takes a bit to get used to.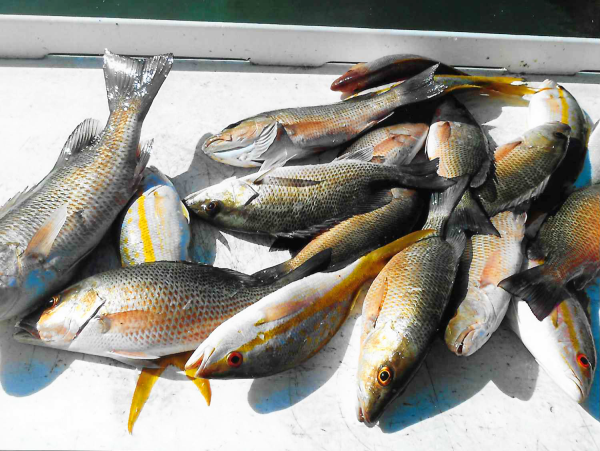 A days catch of snappers, a mixture of yellowtail, mangrove and
mutton snappers.
FIRST FISH
I miss a couple strikes. I see the line bounce and engage the reel but the fish is gone. I let the line continue free spooling off the reel and after it gets out far enough I bring it back in and start over again. It took about fifteen minutes when the line shoots off and by the time I tighten the reel the fish is steadily pulling against it. The thick casting rod is bent as the fish races off. I stop the fish and start cranking on the reel and the fish is getting closer to the boat and then I see it in the clear water. I hoist it in the boat. It is a mangrove snapper and goes into a bucket. Our goal is to catch enough snappers for our dinner tonight.
We start getting strikes regularly. Pete catches his first fish, a mutton snapper and it goes into the bucket too. The fish hit hard and fight hard. I have always said pound for pound saltwater fish fight harder than freshwater fish. Perhaps it is because they have to fight the currents in the ocean they become stronger and hardier fish. We catch our first yellowtail snapper. These are the fish we are after. Yellowtails are my favorite saltwater fish for eating. I find they taste similar to walleye in my home state of Wisconsin.
We have fewer fish hitting so we pick up anchor and head to a new spot.
Again we follow a blue water trail through the brown shallow weeds around us. We stop, drop lines and start getting strikes again.
We put more fish in the bucket. We will have a great fish fry. We move again and once we stop, start getting more strikes. I love it when a fish hits and as soon as you reel up whatever slack is in the line the fish feels like a race car taking off. Although our casting rods are heavy by fresh water standards these snappers bend those rods in half and the drag whines as the fish charges off. Even fish too small to keep put up a good fight.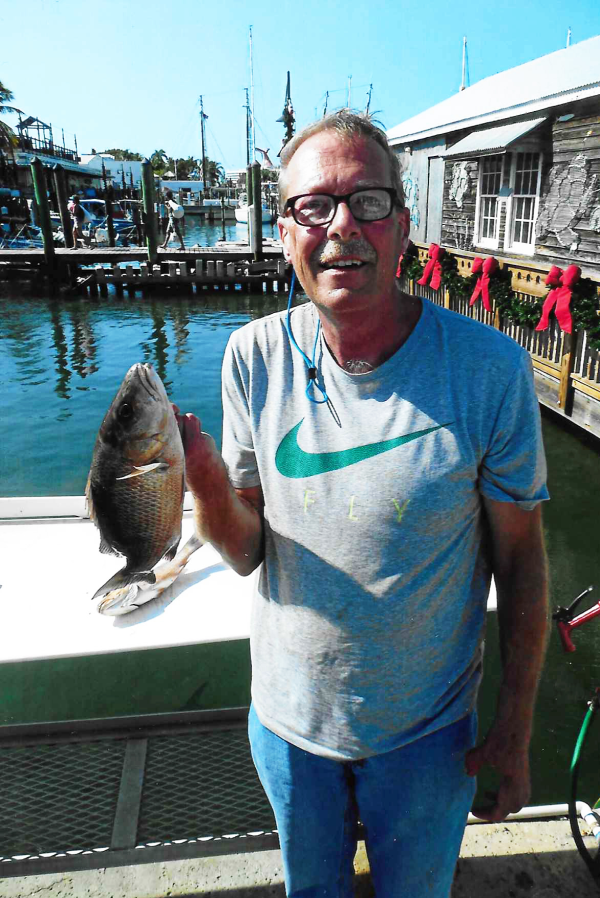 Mark "Pete" Peterson holds a muton snapper.
The wind picks up a bit more but we are steadily getting strikes and our boat rocks gently in the water. This is a far cry from battling waves in the deep water out on the ocean. I like this fishing in the back country.
Finally Moe calls it a day and we pull in our rods, pull up anchor and head back to Key West. Again as we motor back we aren't getting beaten up by the waves as we would be further out on the ocean. The fish are taken to the cleaning table and dumped fish out. They are mostly yellowtail but a couple mutton and mangrove snappers. We have nineteen fish on table. We threw back at least that many smaller fish. We all have a beer while the fish are cleaned.
On land it is now hot and feels good as we stand in the sun. As the fish are cleaned guts and bones are thrown in the water. A school of tarpon show up to feed on them and then a flock of pelicans drop in to compete with the tarpon for the scraps. There is some serious fish and bird drama going on. We finish our beer and we are handed a couple bags of fish fillets.
THE FISH FRY
Back at our condo I rinse the fish off, put half the fillets in a bag for our fish fry later this evening, placing them in the refrigerator. I divide the rest of the fillets in two bags and put them in the freezer. We have friends in Key West who would love to get some fish.
The night it is dark and warm as we walk to the Half Shell Raw Bar. As we walk up Caroline Street, getting away from Duval it is quiet. Mark, Pete, Becky and I find a place at the bar and order drinks. I pass our bag of fillets over the bar, telling them to make half of them blackened and the other half deep fried. We are on our second drink when the bartender directs us to a table. A waitress places a large plate of fish fillets on the table along with coleslaw, round potatoes and potato salad. It was five pounds of fillets and by the time we are finished eating, it is all gone. Couldn't ask for a better feast.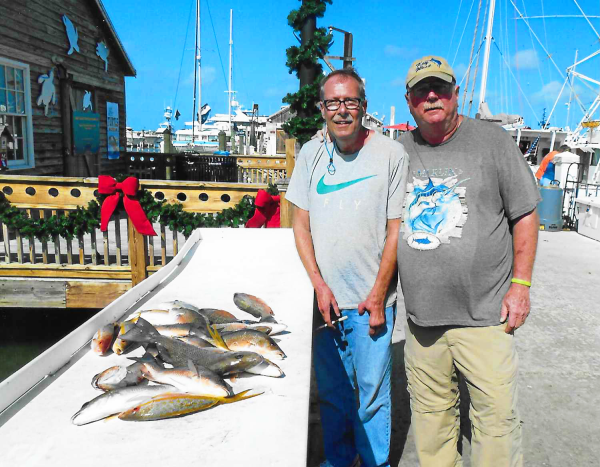 Pete and the author with the mornings catch.
When we get back to the condo we mix another drink and sit on our deck overlooking the ocean. Below us, right at the waters edge is a man starring out to the Gulf of Mexico playing his ukulele. He doesn't realize we are watching and listening to him. We are quiet so as not to disturb him as he plays to the ocean. Across from us is a Navy pier and the lights from the pie bring fish to the surface. There is an immense flock of white birds dipping and gliding over the surface, diving into the dark water feeding on the fish. The man finally ends playing, gets on his bike and rides off. It is the perfect ending to a perfect day.
AUTHOR NOTES: Captain Moe's Lucky Fleet can be contacted at 305-304-8065 or by email at moe@bestkeywestfishing.com. He can also be found by Googling Captain Moe Lucky Fleet. He provides charters for four, six and eight hour fishing trips.
Harpoon Harry's has been providing good food at a reasonable price for over a quarter century. They can be found at 832 Caroline Street or call 305-294-8744.
Regardless of you are going fishing or not they serve a great breakfast. The have a spicy Bloody Mary they call a Bloody Harry. It goes well with breakfast or for that matter any meal.
The Half Shell Bar will cook your catch for $13 a pound, either grilled, broiled, deep fried or blackened or in any combination you want with a number of different sides. They are found at 231 Margaret or call 305-294-7496. They also serve some of the best oysters on the half shell to be found anywhere on Key West.
EDITORS NOTE: Mike Yurk's column is sponsored by Warner's Dock in New Richmond, Wisconsin. Warner's Dock is the premier marine dealer in northwestern Wisconsin. They have a complete supply of new and used boats, motors, and trailers as well as other marine supplies plus a complete maintenance staff for all your boating needs. They can be contacted through their website at www.warnersdock.com or by telephone at 1-888-222-3625.