Fall Paddling is Great Paddling in Lacrosse
The meandering waterways of the La Crosse area are a paddling paradise, offering wetlands courses for gentle canoe rides as well as moderate to strenuous kayaking adventures along the Mississippi, Black, or La Crosse Rivers. Canoe trails, launches, and outfitters abound in the area, making it one of the best paddling destinations in the region.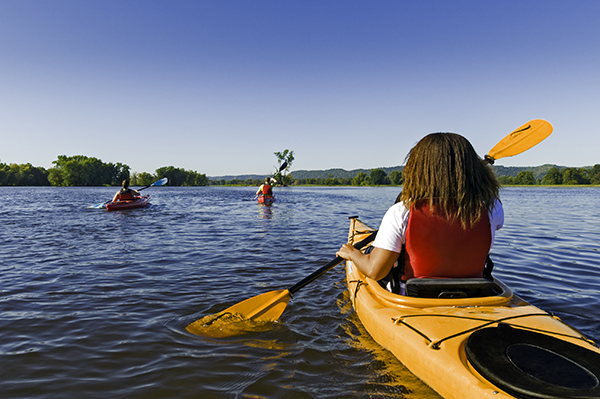 Upper Mississippi National Fish & Wildlife Refuge Canoe Trails
The 240,000-acre refuge encompasses 231 miles of Mississippi, from the Chippewa River in the north to Rock Island, IL, in the south. Along the way, 96 miles of canoe trails from beginner to expert levels are marked out. Several of these trails are within easy driving distance of La Crosse. Paddlers should always take caution on the river, especially when water levels are high.
Lake Onalaska Canoe Trail: A relatively new trail on the refuge. Follow the Mississippi backwaters to Lake Onalaska. From Lytle's Landing, it's an easy four miles to Fred Funk Landing or seven miles to Mosey's.
Long Lake Trail: A three to four-hour trip comprised of five easy miles through the Mississippi backwaters. From Hwy 35 in Trempealeau, head south on Fremont Street/Lake Road past the railroad tracks. It's 1.5 miles to Long Lake Landing.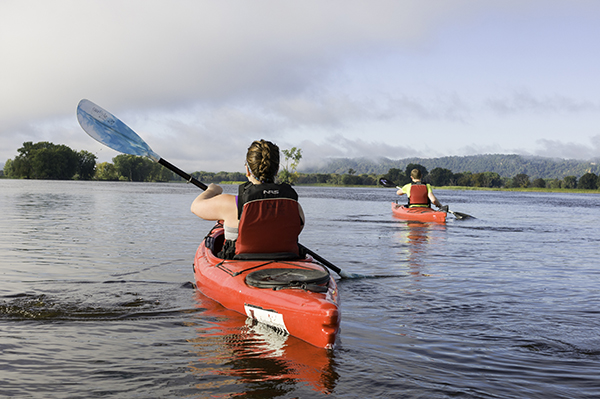 Brown's Marsh Canoe Area (Lytle's Landing): An easy, unmarked paddling area that's closed year-round to motorized watercraft. Take Hwy 35 from La Crosse, turn left on Co Rd OT, left onto Co Rd ZN and a right on Co Rd Z until the road ends.
Tip: Check out the Driftless Outdoors Show May 17-18, 2019 at the Onalaska Omni Center. 50,000 square feet of kayaks, canoes, bikes, camping, fishing, archery, hiking, equipment and information brought to you by some of the Nation's top experts and retailers.
Visit www.explorelacrosse.com for details or call 800-658-9424