Delavan Lake Fishing Reports 8/10/15 through 8/16/15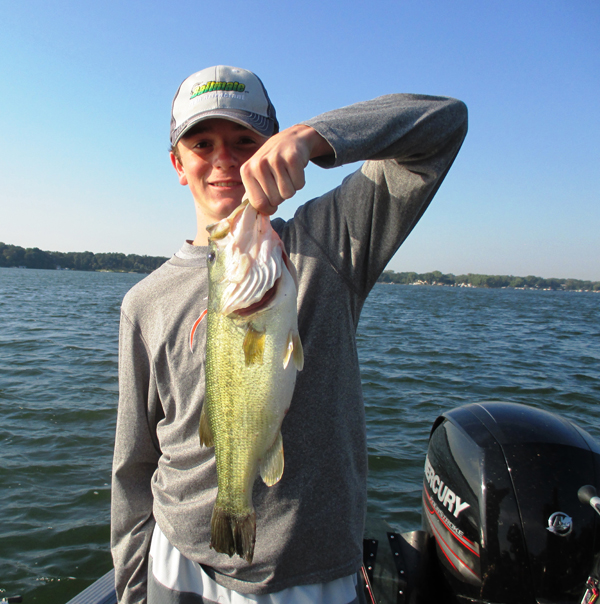 Ian with a Delavan Lake largemouth
Delavan Lake fishing has been a little hit or miss. There are still plenty of fish to be had, but the concentrations of recent weeks have dissipated a bit. The warmer water has slowed down the action. The best time has been the early morning hours or later in the afternoon. The best bite remains the largemouth bass.
Largemouth bass fishing has been good. The fish can be caught on the weedlines in 15-18 ft of water. They are located near hard bottoms with sand and rock. I've been focusing on the main lake points by the Village Supper club, Oriental boat house and Willow Point. The best approach has been lindy rigged nightcrawlers or split shot rigged nightcrawlers. With the heat of the summer, there is a secondary pattern that is working. It is the shallow water slop bite in 2-3 ft of water. Black or White frogs have been producing most of the action. The best location has been by north shore and in the boat launch channel.
Northern Pike fishing has been spotty. The best success I've had has been while bass fishing and using a split shot rigged leech. The bigger fish however have been biting on a medium to large sucker fished on a lindy rig. The bigger fish are being found in 22-24 ft of water. I've been slowly trolling down the weedlines covering a lot of water.
Bluegill fishing has been fantastic. The bluegills are on the weedlines in 14-16 ft of water. The average size of the fish are between 7 and 8 inches. The best approach has been fishing a leaf worm on a small hook and fishing straight beneath the boat. Look for the fish by Assembly Park or by the Oriental boat house. I have been catching bluegills throughout the whole lake in that depth range.
Walleye fishing has slowed down. I was catching 3-4 fish per trip but have only caught one in the last five trips out. I've been locating the fish in a depth range of 22-24 feet on my Hummingbird depth finder but haven't been able to induce the bite. The largest concentration of fish I've been seeing are off the main lake points.
Crappies can be caught if you are willing to put in the time. They are scattered on the weedline in 15-18 ft of water. The best approach is small purple or chartreuse plastics fished on a 1/32 oz Arkie jig head. The fish are not in large schools so it takes a while catching one here and there.-
Good luck and I hope to see you on the water. For guide parties, please call Dave Duwe at 608-883-2050