Capital City Muskie School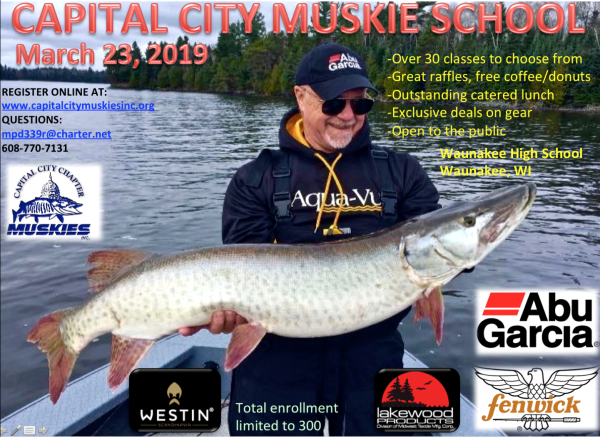 The 18th Capital City Muskie School will be held on Saturday, March 23, 2019 at Waunakee High School in Waunakee, WI.
This is a unique program, open to the public, to help anglers interested in muskie fishing to get ready for a new season.
Thirty-seven classes are offered in three sections over the course of the day which starts off with coffee and donuts/muffins. After the first two sections have been completed there will be a super, catered lunch. After lunch will be one more section of classes which is followed by numerous prizes being raffled off.
The classes cover a wide range of muskie subjects with new classes. The skills, knowledge and sharing attitude of the instructors is outstanding. Tuition for adults is $35, but it goes up to $45 starting March 19th. Kids 17 and under cost $10.
To register online, go to: capitalcitymuskiesinc.org. Questions – email mpd339r@charter.net or call 608-770-7131.