Ashland Area Fishing Report for July 30, 2015
~ Fishing guides Roger LaPenter and Luke Kavajecz from Anglers All, 715/682-5754 (http://www.anglersallwisconsin.com), report the following:
This report is about the Ashland side of Chequamegon Bay. Summer smallmouth fishing has been sweet! The fish have settled into their typical summertime patterns, utilizing deep weeds, current areas, rock piles, and structure around Ashland.
Early mornings have been good, and then the fish seem to go on and off throughout the day. If you're not getting any action, try another spot. Along the Ashland shoreline, they're catching smallmouth bass, northern pike, perch and walleye (during the low-light hours).
Fishing will continue to get strong as the season progresses. Live bait rigs with circle hooks will take a bunch of fish, but soft plastics are still working great in certain areas, too.
Trolling for lake trout and the occasional salmon has also been good offshore and out deep around the Apostle Islands and beyond. Spoons have been working well, as well as flasher/fly rigs. The fish are in the shallows, or higher in the water column early, and move deeper as the day progresses.
Wind direction and strength are key factors to take into account when deciding where to fish, according to Carolyn Swartz, co-owner of Anglers All on U.S. Hwy. 2 East in Ashland.
Brown trout tend to move to the inside of the bay on days when the wind is coming from the south, she said. "People are catching them along with walleye while trolling the edges of the channel."
Browns and lakers are being caught by trollers using mainly spoons, spin-and-glows and mayflies.
For the most complete and up-to-date fishing report, just give them a call at Anglers All and they will gladly keep you informed!
~ The Ashland Area Chamber of Commerce, www.visitashland.com, 1-800-284-9484, reports:
Fishing is always a thrilling adventure in the Ashland area! Chequamegon Bay is famous for its world-class smallmouth bass fishing.
The 69th Annual Edward "Bud" Williams Kids' Fishing Party – sponsored by the North Wisconsin Rod & Gun Club – will be held at Kreher Park in Ashland on Saturday, Aug. 1. Register your young angler (ages 7-13) on the day of the party starting at 8 a.m. Bring your own poles. There will be free food and refreshments, plus prizes! For more information, call 715/209-5563.
CAPTIONS: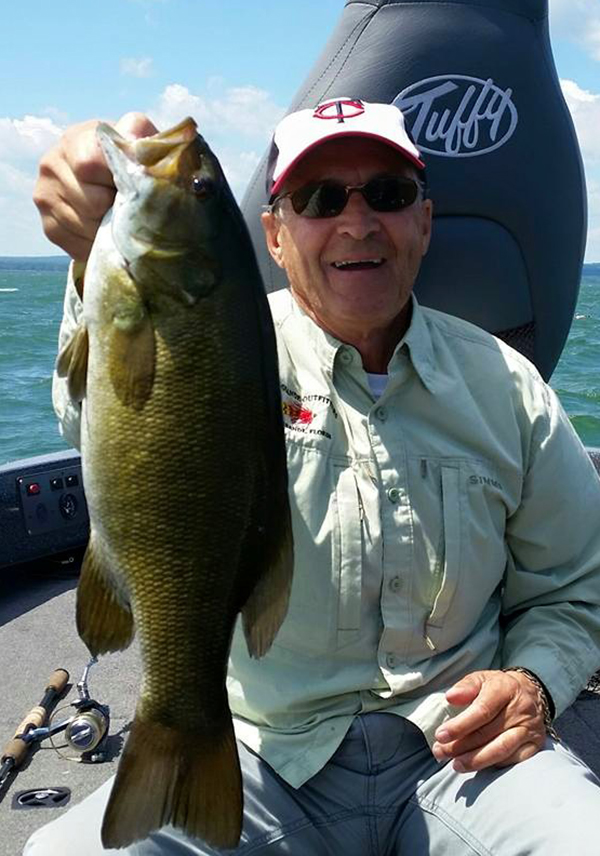 Paul proudly displays the smallmouth bass he caught July 19 out on Chequamegon Bay with Nate Baron of Ashland-based Up North Guide Service. Nate said "it was a little breezy" on the bay that day. "Despite the heavy winds, Paul did an awesome job and put some beautiful smallies in the boat," he added. (Photo courtesy of Nate Baron)
Nate Baron of Ashland's Up North Guide Service said he "had a great day fishing with Rick" (pictured) on July 24. "Rick opted to go fishing while his wife went shopping for the day," explained Nate. "It was a crankbait bite over rock and weeds in 14-16 foot of water. Rick said the eight-mile, 55-mile-per-hour ride back to the landing to beat the storm was a highlight of the trip. We made it with two minutes to spare!" (Photo courtesy of Nate Baron)