Ashland Area Fishing Report for Jan. 8, 2016
~ Fishing guides Roger LaPenter and Luke Kavajecz from Anglers All, 715/682-5754, report the following:
This report is about the Ashland side of Chequamegon Bay. Winter is here, folks! The Ashland area has received 3-4 more inches of fresh snow over the last couple of days with more on the way.
And despite temperatures averaging a balmy 29 degrees during this past week, we're about to go into the deep freeze this weekend with a predicted high of 3 above zero for Sunday, Jan. 10.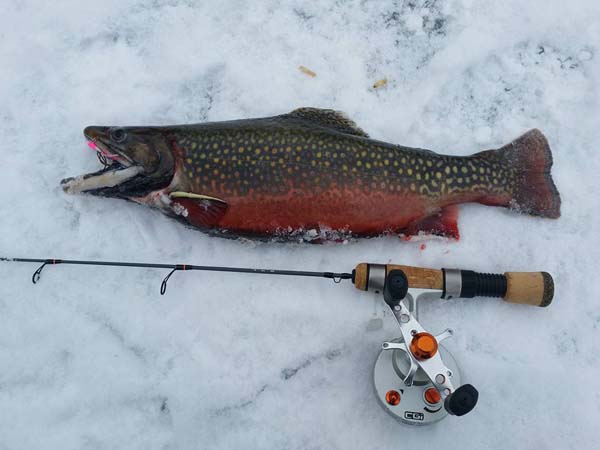 Nate Baron of Ashland was pretty happy to get in a little fishing on New Year's Day. He caught several brook trout using Looper bugs tipped with a waxie. (Photo courtesy of Nate Baron)
"Conditions are kinda iffy right now because of the new snow," observed John Radloff, Anglers All employee. "Yes, we are fishing, but people need to walk out onto the ice, no machines. The ice is very unpredictable," he warned.
Radloff did say there were "some guys out in the channel" yesterday. "They were on foot, quite a long hike," he noted. He also said anglers caught some fish off the coal dock the other day, including brown trout, whitefish and smallmouth bass, mostly using shiners.
"Although it's been a pretty warm winter so far, ice fishing season up here is getting closer," commented Luke Kavajecz, professional guide with Anglers All. "A few anglers have been working the small inland pothole lakes, and we're starting to see the first signs of ice forming out on the big lake."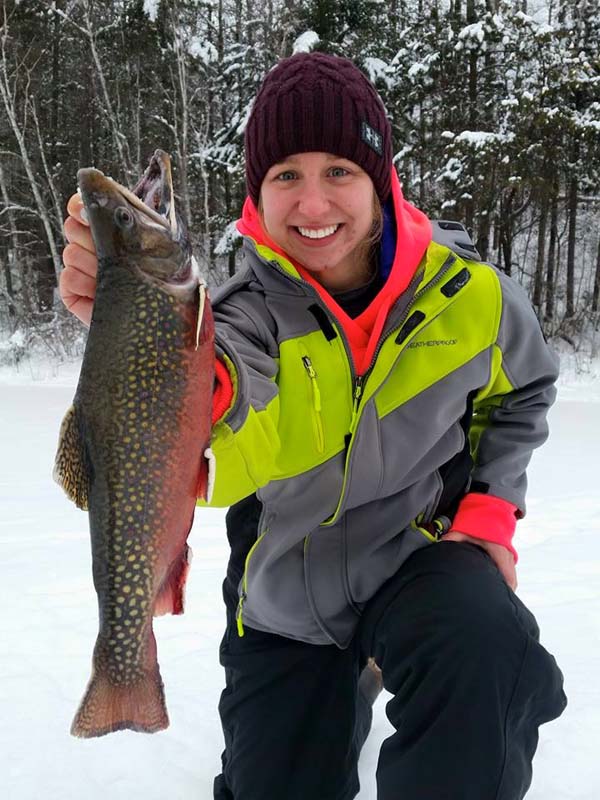 Sara Brown had a very Happy New Year for 2016! She caught this handsome "brookie" on a snowy Jan. 1 while on a fishing trip with Up North Guide Service. (Photo courtesy of Nate Baron)
As far as the inland lakes go, folks have been fishing them and having some luck catching panfish such as crappies and bluegills. Extreme caution is urged, however.
"People are fishing on the inland lakes, but this is a year when you have to be incredibly cautious and check with an ice bar as you go," advised Carolyn Swartz, co-owner of Anglers All.
Are you all set for ice fishing? These items should be among those on your readiness checklist: review ice safety information, inspect your portable ice shack, check your ice auger, and invest in a good pair of ice cleats. Anglers All has numerous items in stock for hard-water season with more gear on the way, so be sure to stop in.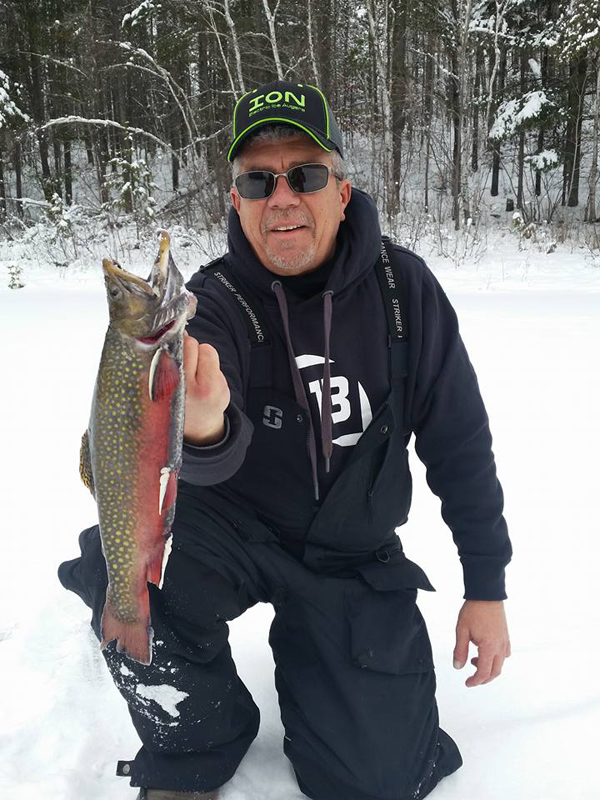 Brook trout were the catch of the day on Jan. 1 for Nate Baron, owner of Up North Guide Service, who used "awesome hand-tied jigs and flies from Jeff's Jigs and Flies, made right here in the good ol' USA!" (Photo courtesy of Nate Baron)
For the most complete and up-to-date fishing report, just give them a call at Anglers All and they will gladly keep you informed!
Please remember: No ice is ever 100% safe! Conditions can change rapidly on Lake Superior in particular. Please have all the necessary safety equipment with you such as ice claws or picks, a cellphone in a waterproof bag or case, a life jacket and length of rope. For your own safety and especially if you are unfamiliar with the area you will be fishing, hire a local guide or check with a bait shop prior to venturing out on any ice.
Ice safety: Did you know?
New ice is usually stronger than old ice. Four inches of clear, newly‑formed ice may support one person on foot, while a foot or more of old, partially‑thawed ice may not.
Ice seldom freezes uniformly. It may be a foot thick in one location and only an inch or two just a few feet away.
Ice formed over flowing water and currents is often dangerous. This is especially true near streams, bridges and culverts. Also, the ice on outside river bends is usually weaker due to the undermining effects of the faster current.
(Ice safety information taken from Wis. and Minn. DNR websites.)
~ Fishing Guide Scott Bretting from River Rock Inn and Bait Shop, 715/682-3232, reports the following:
Sorry there's not much to talk about yet. The ice on the bay is still not safe as it's been too warm at night. We need a week of below-zero temps to make some good ice.
There is a lot of pack ice on the Ashland side of the bay and open water from the lighthouse to Washburn. Next week is forecast to be very cold so that should help.
There are a few people walking out on the bay, but it is not recommended. If you are brave enough to go out there, please check the ice often and be sure to have your safety gear. There have been some reports of ice ranging from 4 inches to spots where you can kick a hole through. This is common for most lakes.
Stop in and see their great selection of live bait, fishing tackle, gear, accessories, and much more at River Rock Inn & Bait Shop on West Lake Shore Drive (U.S. Highway 2)!
~ The Ashland Area Chamber of Commerce, 1-800-284-9484, reports:
Fishing is always a thrilling adventure in the Ashland area! Chequamegon Bay is famous for its world-class smallmouth bass fishing. The 12-mile-long bay's rock piles and breakwater structures make for perfect bass habitat.
Fish anywhere in Wisconsin without a license or trout stamp Jan. 16-17, 2016, during Free Fishing Weekend. This includes all inland waters and Wisconsin's side of the Great Lakes and Mississippi River. Other fishing rules apply, such as limits on the number and size of fish you can keep and any seasons when you must release certain fish species. So, pack up the family or call your friends and head to the water for fishing fun! For more information, go to www.dnr.wi.gov and search "Free Fishing Weekend." This is a great way to introduce new anglers to ice fishing!
The 20th Annual Book Across the Bay, a cross-country ski and snowshoe race across the frozen surface of Lake Superior, is set for Saturday, Feb. 13, 2016. Book Across the Bay is held at night (the race begins at 6 p.m.) and the 10K course is lit by the stars above and up to 1,000 candles in ice luminaries that line the entire route, truly a magical sight to behold. Visit www.batb.org to learn more and to register.
Ashland's 6th Annual King of the Bay Snowmobile Drag Races will be Saturday, Feb. 20, 2016, at Maslowski Beach. Held on the ice of Lake Superior's Chequamegon Bay, this exciting event offers hot snowmobile racing action with 660-foot tracks on both shaved ice and groomed snow. King of the Bay also features raffle prizes, concessions and awards in more than 60 classes. Go to www.ashlandkingofthebay.com for more details.