Ice Duels on Monona Bay
Kevin Fassbind earns title of Last Angler Standing
2/7/15-Madison, WI
Thirteen anglers and 7 scorers showed up at 7AM for the second annual Ice Duels on Monona Bay. The weather was perfect, the Bluegill's were biting and everyone was eager to fish the only head to head, double elimination ice fishing tournament in America.
Aaron Berg was last years undefeated champion and had set a few challenges out there. Kevin Fassbind is a champion tournament angler who went out surprisingly early in last year's event. In between the two were 11 other anglers who had their own plan. The field was set for some exciting battles!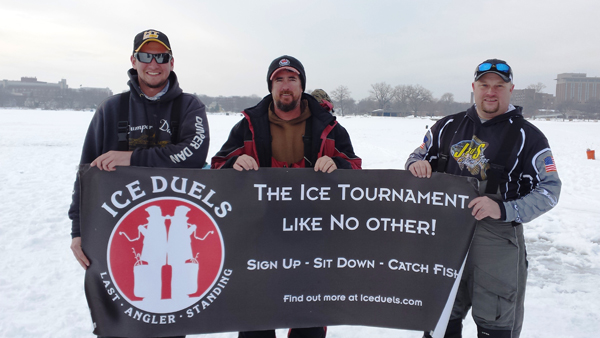 The first Duel began just after 8:00AM, and for the next 5 hours, anglers went head to head against each other for 30 minute matches, elimination happening after a second loss. Fassbind fell to Berg in their matchup in the 5th round, as Berg marched through the elimination rounds undefeated. Falling into the loser bracket and having to wait for an eventual semifinal round against Ben Warner, to see who would face Berg in the championship round, did not seem to faze Fassbind, who took it all in stride.
Competing in his first Ice Duels tournament, Ben Warner defeated Wayne Gstohl (4th overall) in round 6 to face Fassbind in the semi-final round, but Fassbind was on a roll, defeating Warner 18-8. The final round was now set. Berg was one round away from going undefeated and a 2-0 record in Ice Duels.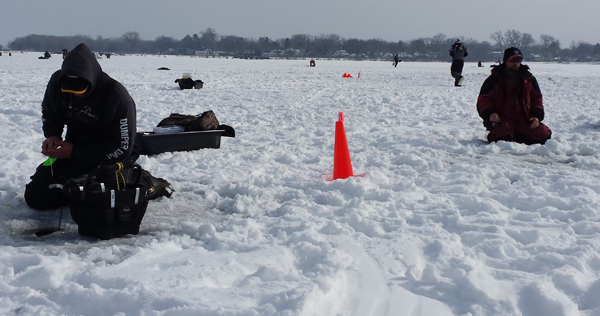 Given an option to shorten the final round from one hour to 30 minutes, both anglers chose the shorter round. In all matches, anglers swap holes at the 15 minute mark, and Fassbind had a one fish lead at the swap.
Using the long rod technique against Bergs palm rod plan, the effectiveness of simply lifting a fish out of the hole in one motion, versus having to hand over hand a fish with the palm rod proved more efficient and less likely to lose a fish. Over the next 15 minutes, Fassbind was able to jump out to a big lead, defeating Berg 20-11 at the buzzer. Both anglers are friends and may already be thinking about next year's challenge!
A special thanks to all our great sponsors, including HT Enterprises of Campbellsport, WI, Clam Corporation, Striker Ice, Vexilar, J-Wheelz, Beam Outdoors, Kalispell, MT CVB and more.
Our next event(and last of 2015) is this Saturday February 14th at Lake Onalaska. More info at www.iceduels.com
For more information about this press release, please contact Mike Howe at 406-249-0556