Predicaments: The Dog
By Randy Williams
A long time ago, before cell phones, I went fishing with a good friend, Bert. We also took my wife's little black dog named Nikki. The place we chose to fish was Lake Poygan. Our landing was on the east shore where the Duck Inn once was.
We launched, put the dog in the boat, and then Bert tied up the boat on a dock. (Nikki had a special spot in my boat as she curled up under the steering wheel and you hardly knew she was there.)
The parking lot is a long way from the landing, so I drove off to park my vehicle with the empty trailer. It took a long time for me to walk back to the boat. A breeze over the water had kept Bert occupied keeping the boat from banging on the dock.
We fished for about six hours and had a great time. We caught eight different species of fish that day, including some walleyes and white bass and crappies that we kept for eating.
After we were done fishing, I docked the boat and took the long walk back to the vehicle. There was a note on the windshield. It said I have the dog back at home. Oh the dog. I did not notice that Kathy's quiet little dog had not been in our boat all day.
The dog must have jumped out of my boat when I was parking the car.
I got home and found out that the dog had spent the day jumping in and out of people's boats at the landing. Finally someone went to the Duck Inn and called our home phone number, which was etched on Nikki's collar. Kathy had driven to the landing, rescued the dog, and left the note on my windshield.
When I got home Kathy, met me at our front door. She was so angry she said, "Go straight to the doctor to get a CAT scan, because there is something wrong with your brain."
She might be right because I get so focused when I am fishing that I can become oblivious to anything that is not connected to fishing. It was a long time before I was allowed to bring Nikki along on another fishing trip. Believe me, I never forgot the dog again. And on a side note I never did get a CAT scan, because it was a dog that I lost.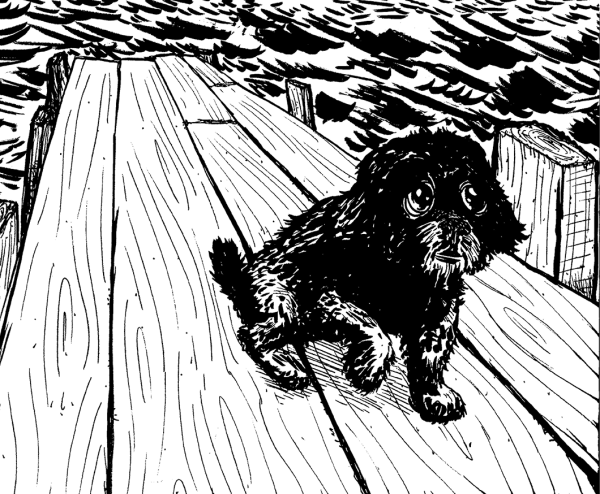 Want to read more stories like this? Predicaments: Mostly True Hunting and Fishing Stories can be purchased at www.amazon.com , print and digital editions are available. Print copies can also be purchased at Johnny's shop of Bait in New London WI.
Randy Williams lives in New London, WI. He has a degree in conservation, is a fishing guide, and a taxidermist. He has won over 40 fishing tournaments and spent 5 years as a co-host on an outdoor TV fishing and hunting show called No Excuses Outdoors. He has been an outdoor columnist for the Waupaca county Post and recently published a book called Predicaments:Mostly True Hunting and Fishing Stories. He now enjoys hunting and fishing full time after retiring from teaching. To watch videos of his adventures visit www.wilfish.com