Pay It Forward With Walleyes
By John Lindeman
This year's annual fishing trip targeting trophy walleyes cruising Little Bay de Noc in Michigan's Upper Peninsula turned out to be a bit of history repeating itself. The usual suspects would definitely repeat themselves: rough water; big fish; cold weather; and good friends.
We didn't know it, but this years' trip was going to be a repeat of something different. This trip would put myself, and long-time fishing partner Jon Markley of Appleton, Wisconsin, in the middle of one of those "It's your responsibility" type of moments.
We were about to PAY IT FORWARD with walleyes.
The trip started out like all the others. At the boat launch and local bait shops, we minded our own "fishing business." Happily exchanging the usual information when other anglers seemed willing to strike up a conversation. When you think about it, fishermen might be sustaining the dying art of verbal conversation. No text messaging, tweets, emails, blogs – just people talking face to face. But that is another story.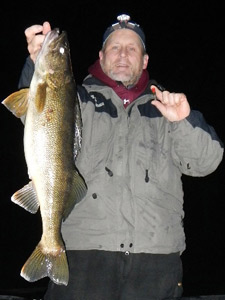 Between the occasional conversations, we were also having a good laugh at the expense of some of our walleye-chasing peers. You know, the guys who quickly remove lures from rods before getting too close to the dock. Don't forget about those other guys insisting they couldn't find a bite, all while a knock flopping noise comes from their live wells.
The funniest moment of the trip, however, occurred when our group entered Bayshore Bait and Tackle in Kipling, MI. Upon entering the stealthy character purchasing his favorite F18 Rapala, quickly turned them upside down on the counter to hide their true identity. He then held them tight to his pant leg to exit the shop. That was the first time I understood my daughters use of the expression "Oh My God."
After all, it was wasted energy. Any good bait shop will share the hottest colors when asked. It's how they stay in business. In less than a minute after that slick departure, I learned that clown and red/white color patterns on reef runner, rapala and rouge lures seemed to be what the walleyes wanted this year.
Our guy may have won the battle with the pant leg trick, but we won the war.
Early in the week, we noticed a husband and wife fishing team. My first thought was awesome! I know I could not talk my wife into fishing big water, in November, for several nights! You get the picture.
I was so impressed, I walked over and struck up the conversation. After the introductions, the wife quickly cut to the chase: "This has been the trip from hell," she said.
New to the late November fishing program for Little Bay de Noc, the duo had yet to put a walleye in the boat. Husband Rick, a long-time walleye guy and member of the Northern Illinois Walleye Club, was grasping for straws.
Thus begins our "Pay It Forward With Walleyes" saga.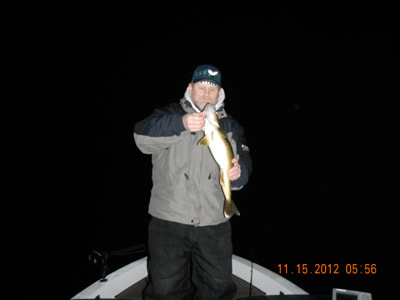 Over the next two days, my partner and I began to spill our fishing guts. Whenever we ran into them, we spilled more. Lures, colors, depths, locations, weights, trolling passes – you name, we spilled it.
We got specific, even telling Rick to troll his clown reef runner 40 feet behind a KFin Trolling Weight and planer board in 10 -15 feet of water. Classified information.
Then came the good news. The morning before their scheduled departure, the duo landed an 8-pound walleye. It was their only fish of the trip. Jon and I seemed happier than they were. We could see it in their eyes. That 8 pounder did not justify all the work they had put in.
Later that morning, we watched as the couple packed for the trip home. When they hoisted the cover over their boat it hit - their fishing trip was over.
Like all life-long fishing partners, Jon and I were thinking the same thing. I did not want to say it first, because it's Jon's 19-foot Skeeter that we fish out of. But he confirmed my thoughts when he leaned over to me and said, "It's time to pay it forward."
All I could say was "AMEN!"
We were going to pay it forward, because the same thing had once happened to us.
Fours years earlier, Jon and I were having a tough trip. We could not find many fish, let alone the big walleyes Little Bay de Noc is noted for. Then came our fishing angel. He went by the name of Bill.
Back then, Bill took us out on the lake for two nights. We soaked up everything he said. It changed the way we looked at the bay. We had been doing some of the right things, but he fine-tuned them. To this day we are still using the knowledge he was willing to pass on to us.
Now it was our turn. We could have hid our lures against our pant leg. We could have turned away when it looked like a question was coming our way at the boat launch. But that's not what Bill did. Bill's investment in us enabled Jon and I to catch and release several fish over 10 pounds since meeting.
We had no choice concerning the tough time Rick and his wife were having on the water. Jon and I were going to pay it forward and enjoy the process. We had been sharing information, but there is nothing like on-the –water demonstration. The same kind of in-the-boat instruction Bill gave us.
The invitation was given and Rick accepted.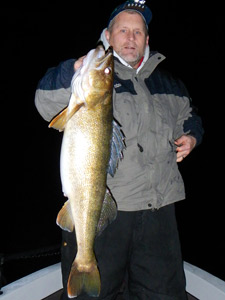 Things started with a bang with three quick walleyes in what seemed like the first 20 minutes. After that, things slowed a little and we all got to know each other. Just like us, Rick had been doing some of the right things, so we fine-tuned his methods. Then a couple more walleyes came to the net.
Everything was up for discussion, even scent on the baits. During all the conversation, we learned that Rick had been up earlier in the year for an August guided trip for walleyes. So we exchanged some GPS coordinates - A bonus.
Then a few more walleyes and a northern came over the back of the boat.
Everything was working out. Jon and I were making a new friend and we were all catching walleyes. Information is great, but there is nothing better than a walleye in the net to justify your methods.
When the night finished, we ended up with 11 walleyes ranging from 21 to 27 inches. We couldn't turn a big fish for Rick, but he didn't mind. After the hand shakes and email exchanges, Rick marched off in the dark back to his cabin.
Our mission was complete. The fact that we were able to put Rick on some fish was not the point. We had shared a few hours in the boat with a guy from Illinois who had a similar passion – WALLEYES.
The process was painless. We exchanged information and had a few laughs. I just can't help but wonder who is going to benefit when Rick "Pays It Forward With Walleyes."
John Lindeman
Kingdom Fishing Innovations
gokfin.com