The Jim Olsson Harbor Report Curing the cabin fever
Jim Olsson here, back at it again with my buddies Randy, Craig and Dan pursuing Brown trout in the Milwaukee Harbor. Our latest trip took place on Sunday February 17th. It was mixed clouds and sun with just a little more wind than you want while fishing from a boat in February.
We arrived at 1:00pm and found that the river and harbor had frozen over since we last checked the conditions on Friday afternoon. Ice is one of the things that you have to deal with if you want to fish from your boat in the winter so we launched and worked our way out to the harbor.
Once we arrived in the harbor we realized that the wind was pushing the ice pack west into our preferred fishing location at the warm water discharge. After many passes trying to break ice we realized that it was futile to fight the ice and decided that once the 3/4" sheets stacked up against the side of the boat we could break a hole to fish through with a paddle then remove the ice chunks with our landing nets.
After twenty minutes of fishing this way our luck changed and the wind shifted noticeably to the Southwest. As soon as this happened the ice drifted away from the boat and we were free to fish around the small icebergs that would drift in every so often.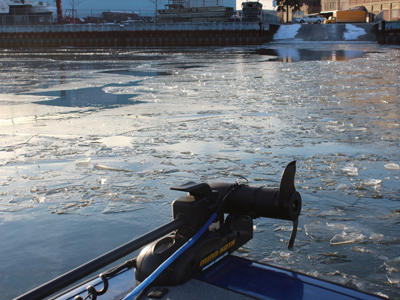 Now that we were free to fish as we wanted we began casting jigs and soaking spawn sacs. Spawn seemed to perform best this day though that isn't always the case. Our first fish came on a gulp minnow in a shad color followed by a Rainbow trout shortly after. Sunday was an excellent day for larger fish as we landed many in the 4 to 8 pound range. All in all it's a great cure for the cabin fever that plagues may outdoorsman this time of year. If anyone has questions on gear or lures you can message me on Facebook and I'll do my best to steer you in the right direction.
Antler King Trophy Products
Pro-Staffer
Jim Olsson