Exceptional Wisconsin Guide Jim Hudson Loses Life on Lake Superior
By Dick Ellis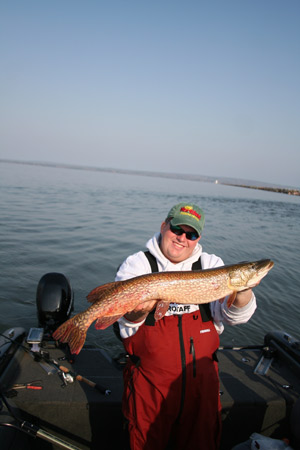 Wisconsin top guide Jim Hudson lost his life on Lake Superior Saturday. In this photo taken with On Wisconsin Outdoors in 2011, he shows Dick Ellis how to catch pike near Ashland.
Husband and exceptional Wisconsin fishing guide Jim Hudson lost his life on Lake Superior Saturday when his snowmobile broke through the ice in the channel between Long Island and the mainland, the Ashland County Sheriff's Office reported.
Rescue crews, including the U.S. Coast Guard, responded to the scene. About 1:38 p.m., approximately 30 minutes after receiving calls of a person in the water, rescuers from the La Pointe Volunteer Fire Department and the Madeline Island wind sled reported that they had pulled Hudson from the lake.
Hudson was transported to Memorial Medical Center in Ashland and then airlifted to Essentia Health St. Mary's Medical Center in Duluth, where he was pronounced dead. The incident remains under investigation by the Ashland County Sheriff's Office and the Wisconsin Department of Natural Resources.
Hudson ran Hudson's On the Spot Guide Service primarily on the Lake Superior waters of Chequamgeon Bay and the Apostle Islands. He hosted On Wisconsin Outdoors on open and ice fishing stories over the years and provided a weekly fishing report for our website readers. We respectfully post photos taken of Jim on these trips.
He was a truly talented person on the water who made sure his clients had fun and caught fish. "He really knew what he was doing, but he was also just a really nice guy," said Milwaukee area angler Randy Rothenbueler who traveled to Ashland with friends to fish with the guide several times. "He treated us very well, very personable and easy to talk to. He loved doing what he was doing but he also loved to have people go out and enjoy the outdoors."
We will post more information as it becomes available.
In an interview with Ashland County Sheriff Office at 10:30 am Monday, Sheriff Mick Brennan informed OWO that Jim Hudson was checking out other fishing locations including the South Channel Saturday. He was ahead of another snowmobile and rider with him, who trailed Hudson by about one-quarter mile and to the west of his position.
That companion watched the guide enter the water and brought his own sled to a stop about 200 feet away. He then attempted a rescue but also broke through. Because he was wearing flotation equipment he was able to drag himself from the water, and make the emergency calls stated above. He also tried to use an ice bar as a tool to assist Hudson but was not successful. The body was recovered about 30 minutes after the emergency call was made.
"Jim had been a police officer with the Bayfield Police Department," Sheriff Brennan said. "Mentor as he was, he would be teaching us another lesson. No matter how well we think we know this ice, the water is very large and constantly changing. What might be good today might not be safe tomorrow. It's a body of water you just can't predict."