Fin Clips

Aquatic Resources Education-Fisheries Management-WIsconsin Department of Natural Resources
Angler Education Instructor Newsletter
Fall 2012 - Issue 1
A Note From the Director...
Dear Angler Education Instructors,
Fine autumnal greetings to all of you! I continue to be inspired by all you do to introduce people of all ages to Wisconsin's fishing tradition and make it their own. From classroom programs, to after school activities, to women's fly fishing classes, to outings for veterans that help them find solace at the water's edge, you are helping to spark a love affair with our rich and varied fishery. People protect and defend what they love and having more people fall in love with the resources that sustain us all, bodes well for everybody!
As you plan your adventures for the coming year, keep in mind adults who may have missed the boat as youngsters and be sure to include them, when you can, in your programming.
Check out the organizations that you can tap into to reach a wide variety of potential anglers who would appreciate your guidance.
Thanks for stepping up!
Theresa Stabo, Aquatic Resources Education Director
---
Notes from Your Angler Education Assistant Coordinator:
It is always so rewarding for me to meet Angler Education Instructors and put faces with names! I had such an opportunity at the 25th Anniversary Angler Education Picnic held in September at Hartman Creek State Park in central Wisconsin. It was fun to hear your stories and valuable to get your feedback about our programs. Thanks to all those who were able to attend!
Keep those program proposals and reporting forms coming! As one instructor always puts it, "Together we are growing the sport of fishing in Wisconsin!"
---
Angler Education is 25 Years Old!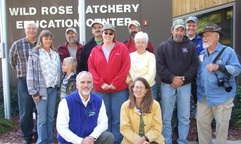 Our picnic included a tour of nearby Wild Rose State Fish Hatchery. Back Row: Don Lutz, Helen Casper, Conor Casper, Harold Casper, Dan Dondlinger, Denise Dondlinger, Frank Pratt, Diane Kiesow, Jeff Butler, Fisheries Services Section Chief Ron Bruch, Jerry Kiesow. Front Row: Fisheries Bureau Director Mike Staggs, Theresa Stabo.
This year the Angler Education Program celebrated its 25th Anniversary! On September 22, 2012 some of us gathered for a picnic at Hartman Creek State Park to look back on our accomplishments and look ahead to the future of fishing. It also gave us a chance to say thank you, in person.
Here's a run-down of 25 years of Angler Education, by the numbers:
Since 1987:
You have helped us reach out to anglers, young and young at heart. Based on our records, we estimate that:
250 Angler Education Training Workshops were held (based on an average of 10 per year)
3125 Angler Education Instructors were trained (based on an average of 125 per year)
Together, we have distributed*
78,192 Junior Angler Booklets to Youth by Instructors
3,780,000 Yellow Rulers
100,000 Watch Me Grow Posters
200,000 Wisconsin Fishing Posters
Millions of Wildcards
*estimates are conservative and based on reports from 2000 to 2012.
In fiscal year 2011-2012:
We trained 139 new instructors at 13 workshops
Instructors (YOU!) delivered 72 programs to 6599 youth
Eleven programs targeted adults and reached 286 people
49 tackle loaner sites served 4447 anglers
Our Urban Fishing program served 5190 youth
Served 3000 Youth at the Wisconsin Outdoor Youth Expo in Dodge County
Established 5 Fishing In the Neighborhood (FIN) sites in low-income neighborhoods
We hope to have a picnic to stay in touch and share ideas every other year.
---
Fishing In the Neighborhood - F.I.N.
This past summer, in partnership with the UW-Madison, Office of Service Learning and Community Based Research, we posted two interns at five different sites to establish summer fishing clubs for youth in communities of color. The 10 interns served at Boys & Girls Club of Dane County, Centro Hispano of Dane County, Greater Madison Urban League, Bad River Indian Reservation, and the Hmong Mutual Assistance Association in LaCrosse. They led youngsters on local fishing trips to help acquaint them with the waters close to home and foster stewardship in the community. Most sessions culminated with a family fishing outing to encourage continuation of the activity, once the interns went back to school.
---
NEW! Winter Free Fishing Weekend
January 19 & 20, 2013
Just like the first weekend in June, all the waters of the state are open for fishing. No license or stamps are required, but you might need an ice auger! The usual species restrictions and bag and size limits apply. Let us know what clinics you have planned for this inaugural event by contactihng us for the Winter Free Fishing Weekend Planning Form!
---
Adult Angler Education Volunteer Opportunities
Casting for Recovery (an organization that provides fishing opportunities for breast cancer survivors)http://www.castingforrecovery.org/volunteer.html
Project Healing Waters (an organization that provides fishing opportunities for war veterans) http://www.projecthealingwaters.org/html/contact.html
Fishing Has No Boundaries (an organization that provides fishing opportunities for disabled anglers) http://www.fhnbinc.org/
---
Get Connected and Stay Current
Subscribe to GovDelivery to learn about updates to our program and events calendar or join Twitter to receive timely fishing information from around the state. Share your fishing program experiences on Facebook!
Visit http://dnr.wi.gov/topic/fishing/ for the icons - click and stay connected!
---
$5.00 First-timer License
Here's another opportunity to coax people of license-buying age out to give it a try, on the cheap. It's a great way to get families out together as well as help friends to reconnect at the water's edge. Keep it in mind when planning your clinics!
Left: Centro Hispano Fishing Buddies get their "First-timer" fishing licenses.
---
Tackle Loaner Program
Several of our 49 loaner sites are still looking for regular assistance with maintaining the gear at their sites. This would be a great service project for high school students, scouts or civic organizations. Please review the list and see if there is a site near you where you could lend a hand -
http://dnr.wi.gov/topic/Fishing/anglereducation/loanerContacts.html
---
Program Reporting Reminder!
In order to justify continued funding of this program, we need to know if - and how - it is being used. Please take the time to complete the program reporting information on your materials order form and indicate how many participants were in attendance. Also list the names of your fellow DNR Certified Instructors so that we can report on how many of the people we train go forth and use the materials. Thank you!
---

Angler Education In Action!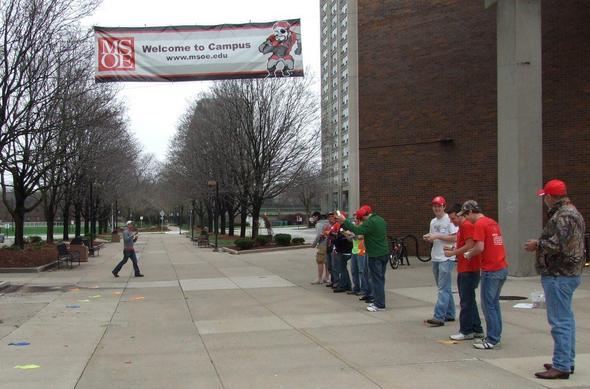 We provided instructor training to the Milwaukee School of Engineering Fishing Team and their coach/advisor, Dr. Naser Al-Hasan. They have since helped out at local fishing clinics.
---
We plan to send periodic issues of this newsletter and look forward to including your news, ideas and stories in future editions of FIN CLIPS!
Please NOTE: We are working with our service provider on improivng format options for this newsletter.