How To Drastically Improve Southwest Wisconsin Trout Fishing
Retired WDNR Fish Manager Roger Kerr of Boscobel
I moved to Boscobel in 1972 to become the fish manager for Grant, Lafayette and Richland counties. Trout fishing was very popular in these counties then (and in all of southwest Wisconsin) but the trout fishery was 98% dependent on stocking and trout were actually scarce in most streams. Also, there were hundreds of streams in this area that were capable of supporting trout but were not being managed for trout. I and other fish managers began stocking these streams. By 1980 or so the number of trout streams in the southwest area was twice what it was in 1972. Only a few had natural reproduction of trout.
In the 1980s, Dave Vetrano of LaCrosse and I began moving truly wild Brown Trout to area streams to see if they could get wild populations going in these streams. We had great success doing this. In just a few years these streams went from having 150 trout per mile to 2,000 and 3,000 per mile. So, clearly, stocking truly wild trout was the key to improving trout fishing in Wisconsin.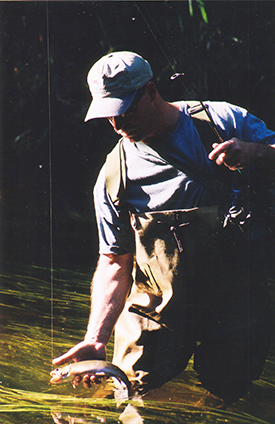 Retired WDNR Fish Manager believes trout fishing in southwest Wisconsin can drastically improve with regulation changes.
Around 2000, the WDNR started a wild trout-rearing program. Hundreds of streams in the southwest area were stocked with wild trout (mostly Brown Trout) and most of these streams developed wild populations. This is how southwest Wisconsin became one of the best trout fishing areas in the world.
In 1972, trout rules were very simple. Six inch size limit and 10-bag limit plus the opening date and closing date. They would fit on a postage stamp. Catch and release was unheard of. Most local anglers used worms for bait and kept any decent trout they caught.
Catch and release proved to be a very good rule for increasing Cutthroat Trout populations in the west, especially increasing the numbers of large trout. It was thought that the same thing would happen if catch and release were applied to Brook Trout and Brown Trout. This resulted in WDNR trout rules in 1990 going from a few words to 32 pages.
Bait fishing "keep and eat" anglers were so turned off by this new program that tens of thousands of them quit trout fishing. I saw this happen here in southwest Wisconsin because I had been here for 17 years trout fishing myself, observing trout fishing activity here and doing management work in "my" 3 counties of Grant, Lafayette and Richland.
I called attention to this decline to my superiors. I have been a severe critic of WDNR management of southwest area streams. They insisted I was mistaken. They would not admit that making trout fishing complicated caused a severe decline in trout fishing activity.
No one talks about it but a study of trout fishing activity by the WDNR in 2008 on Timber Coulee Creek in Vernon County documented the decline. Fishing activity on Timber Coulee was studied in 1984 by the WDNR. The 2008 study showed trout fishing activity was 61% less than it was in 1984. It showed that the harvest of trout declined 98% and that local anglers almost vanished and bait anglers almost vanished.
This study documented everything that I and other critics said happened as a result of trout rules going from a few words prior to 1990 to 32 pages in 1990.
Fish managers found that special rules did not improve trout populations. Around 1,000 special trout rules were created in 1990. Now there are about 400 special rules in the trout regulation booklet. Somewhere around 800 have been terminated by fish managers. Another 200 were added after 1990 and this is why there are about 400 remaining in the regulation booklet.
Southwest Wisconsin had 9-month harvest trout fishing years ago. Because trout fishing was so popular in southwest Wisconsin in the 1960s and 1970s, opening day crowding became a problem. The WDNR decided to make a bold change to solve this problem (nothing bold has happened in trout management in Wisconsin since this change was made).
The WDNR decided to start regular trout fishing in several southwest counties in January in 1975. This new season proved to be very popular. April became the #1 trout-fishing month and March was #3.
I spent several years studying 9-month harvest in the southwest area. It had no impact at all on Class I streams; no stocking was needed. It did have an impact on large hatchery trout in Class II streams; four to eight pound trout were readily caught during cold weather in these streams.
The harvest of these fish appeared to be a problem but it really wasn't because they did not reproduce.
As a result of the harvest of these large trout and the popularity of 9-month trout fishing, area Conservation Congress members wanted more counties added to the 9-month season area. The WDNR refused to do this. This resulted in the Congress members demanding 9-month fishing be stopped. The WDNR complied and stopped early fishing after the 1994 season. (This ending early trout fishing has been one of the biggest mistakes ever made by the WDNR in the trout program.
Small trout seem to be very abundant now in southwest Wisconsin. Why has this happened?
The 32-page rule booklet pushed tens of thousands of "keep and eat" anglers out of trout fishing all over Wisconsin and especially in southwest Wisconsin. Brown Trout are the dominant species in southwest Wisconsin. They absolutely will overpopulate and stunt when there is good natural reproduction and not much harvest. And this is exactly what we have now here in this area. The only feasible solution to this problem is to greatly increase the harvest of trout in the southwest area. This is not happening due to low bag limits and a lack of harvest anglers.
In conclusion, what regulation changes should be made in southwest Wisconsin trout fishing?
Increase the bag limit to 10 for 98% of area streams.
Restore harvest for the January through April period.
Terminate 95% of the special trout rules that apply to area streams.