Everyday Carry
By Robb Manning
Review: Walther PPS, 9mm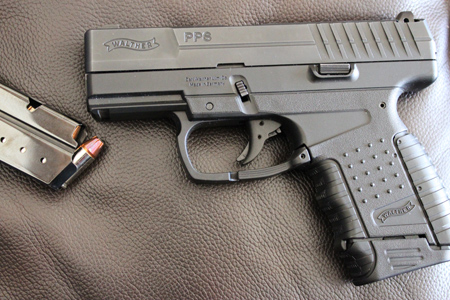 There is no shortage of sub- and micro- compact 9mm pistols on the market today. Some are OK, most are decent, a couple are good, but only one stands out to me as great. I get asked a lot, "What is the best small gun to get for Concealed Carry?" I point out the strengths and weaknesses of all the ones I have tried, then I tell them the one I would get -- the one I found to be the best: the Walther PPS.
Just a scant six or seven years ago the thought of chambering a 9mm in something as small as a micro-compact was unheard of. In fact, very few companies even made guns that small, let alone in 9mm. If they did make them that small, it was most likely in .380 or smaller. Then Ruger changed all that with the LC9. Sure, there were others on the market before Ruger, but it was the marketing arm of Ruger that made the splash, and the LC9 was a huge success. Others soon followed. The PPS was one of the micro-9s to beat Ruger to the market; by about three years.
The Walther PPS is striker fired with a polymer frame and a matte black, Tenifer coated slide and barrel. It is 6.3" long, 4.4" high (including small magazine. It's 4.9" with mid mag, and 5.3" with extended mag), .9" thick, and weighs 1.3 lbs. Barrel length is 3.2" and it has a sight radius of 5.4". It has low profile three dot sights, low profile slide stop, and an interchangeable backstrap in small or large. The mag release is ambidextrous -- more on that later.
The PPS is not the cheapest micro-9 on the market -- it is made in Germany, after all -- but it's not the most expensive either. The MSRP is $735, but I've seen the street price ranging anywhere from $679 down to $599, and even on sale for $500. For this type of high-quality German engineering, it's worth the $735, but you'll find it priced much lower.
The PPS also comes with three different magazine options. A flat baseplate for best concealments (6-rounds), a mid-sized baseplate (7-rounds), and an extended mag (8-rounds).
Size-wise, the PPS is not the smallest micro-9. I would put it towards the upper end of the spectrum, though it's not as large as it looks. It's only slightly larger than the LC9 -- by tenths of an inch -- but the corners are squared off instead of round, so it looks bigger. It's worth the slightly extra size, though, because it's a joy to shoot -- more on that in a bit.
There are a couple of features that will be a hit with some, but turn a few away. I see them as benefits. First, like the Glock, there is no manual thumb safety. After carrying a Glock and a Smith & Wesson M&P, I see this as a benefit. When I draw my gun, I like that it's ready to go. The second feature is the mag release. It's a paddle-style release that is part of the lower trigger guard. If you're used to a thumb release, this can be a little different. A few times at the range, though, and you'll be used to it. Once you've used it for awhile, it will become second nature.
So, what makes this the best micro-9? Four reasons: reliability, trigger, quality, and it shoots great. I've shot many micro-9s, and most have one of those qualities, very few have two of those qualities, none have three, and only the PPS has all four.
Reliablity. The most important thing when dealing with a self-defense firearm. When your life depends on it, it has to go bang when you pull the trigger. I've had other micro-9s that have issues with certain types of ammo, others jam, others have magazine issues. The PPS has eaten everything I've put through it without one single fail, regardless of brand, bullet type, or bullet weight. It has the reliability of a Glock, and that's saying a lot.
Trigger. Most of the micro-9s I've shot have horrendous triggers. I've shot one other that has a decent trigger, but the PPS has an outstanding trigger. It's short, with a clean, crisp break at a light 6.1 lbs. The reset is also short. It feels similar to a full size striker fired trigger, such as a Glock, but perhaps slightly better. Other micro-9s have triggers that are long and heavy, and sometimes mushy. This is by far the best trigger out of all of them.
Quality. Tolerances are tight as you would expect from a German made machine, and it's made with robust parts that are made to last long and not fail. I think there's two very different types of quality -- the fu-fu type, and the type of quality in which something is simply very well designed and made. I've seen botique handgun makers that make a nice looking, shiny, pistol made of high quality parts, but it only functions okay. That's the former type. The PPS is definitely the latter type.
Finally, it just flat-out shoots. First, it's the most accurate of the micro-9s that I've shot. Also, thanks in part to the great ergonomics, and the great design, the PPS is actually pleasant to shoot. If you've shot any of the micro-9s on the market, you know they can be pretty hard to shoot. A full power load in a tiny package, coupled with mediocre design and bad trigger, equates to some rough shooting. The PPS has a really good grip angle, allowing your hand to absorb the recoil. Since it's striker fired and doesn't have a hammer and related parts, the bore height is slightly lower, resulting in less muzzle flip. All of this adds up to the best shooting micro-9.
For safety features, the PPS has internal safeties, as well as a Glock-style trigger safety. As I said before, there is no manual thumb safety, which I like. It does not have a magazine disconnect, which I also like. It has a loaded chamber viewport and a cocking indicator that shows whether the PPS is cocked or not. Another safety feature I think is ingenious, Walther calls the Quicksafe. Some pistols use a key to lock the pistol so it cannot be fired, which I don't really care for. On the PPS, simply removing the backstrap renders the pistol inoperable. This is brilliant. The backstrap is easily removed by locking the slide to the rear and pressing a button behind the mag well (note: you cannot accidentally hit the button and release the backstrap, it has to be deliberate. With a magazine inserted you couldn't reach the button). This is a great feature as extra security for use around children.
The skinny: If you're looking for a reliable concealed carry handgun that is very small but shoots great, the PPS is just what you're looking for. It's reliable, has a great trigger, is high-quality, and it shoots excellent. For a video review, including shooting and disassembly, please visit: http://www.youtube.com/watch?v=hl-251cDukU.