FENCEROWS...Sports Show Plunder
By John Luthens
Like a plundering barbarian digging in his heels for an epic charge, I have stockpiled an arsenal for a year's conquest of Wisconsin. Over the span of nine days I made the rounds to three sporting shows and I am now fully armed.
I limbered up my casting arm at the Northeast Wisconsin Sport Fishing Show in Appleton, made strategic maneuvers through mazes of booths and mounds of literature from across the state at the Milwaukee Journal Sentinel Sports Show, and finished up by assembling an attack armada of canoe and kayak information at Canoecopia in Madison.
In Appleton I circled the Wisconsin-grown rods with the wariness of a shark sizing up prey. The custom built jobs bearing the names St Croix and Elk River are hand-crafted in Park Falls and Phillips respectively. They are both worthy to cast on any waters. It follows that the price reflects the quality, but I believe in the motto that you get what you pay for.
I came at the rod-display racks from different angles, grabbing one quickly and testing the action before dodging back out and coming in from the back side to test another, all the while keeping one hand on my wallet.
It was inevitable in the end, but even a shark, especially a married shark, can bite off more than he can chew. I consider myself to be a lowly sand shark. My wife is a great white. If I came back home bearing too much graphite-composition plunder, everything was going to get snapped in half, including my dorsal fin and my casting arm.
I crossed paths with Don Niedermair of Hickory Glen Creations, showing off his Global Positioning Anchor Stabilizer.
Don hails from the small Wisconsin town of Columbus, where his vocation as a draftsman and his passion for fishing came together in his workshop after a wind-swept fishing outing. The fishing was good but the anchor kept dragging along the bottom as the wind pushed his boat off the hotspot.
He developed an attachable cord and bracket system that attaches along a section of the anchor rope. It is essentially a shock absorber against the force of the waves while also minimizing the environmental impact of dragging through the bottom structure.
Don was typical of the of vendors I ran into at all the shows; more than willing to talk fishing and hunting, all with big smiles and an outdoor passion for their products that went far beyond the bottom line.
On to Milwaukee, where I stretched trade-show plastic bags to the breaking point, collecting enough maps and literature to conquer half the counties in the state:
Judging by the blue, snaky lines of the map on the booth counter, the Driftless Area of southwestern Wisconsin holds enough promise for the early catch-and-release season to tide me over until the first Saturday in May, when trout season opens for keeps.
There are at least 10 waterfalls in the iron ridges of Hurley that need exploring. They look perfect for a cooling plunge from the northern Wisconsin dog days of summer, maybe after a sun-burned assault on one of the panfish and bass lakes that spread through the forests up there like wildfire.
Gazing at the maps and the brochures, I see the lily pads and the submerged logs. I can feel tense blasts on a tight line. I hear line singing off the reel and wallowing splashes.
I wandered into hunting season in the Milwaukee aisles, falling for glossy pictures of turkeys in full strut, following dotted-line trail heads into the Northern Kettle Moraine, where I have an impending and novice first-date to film a spring turkey hunt outside of Kewaskum.
Bob Mercier, author of the "Dominance Is Everything" deer hunting system, pulled me off the trade-show aisles and smack into the thick tangles of the deer woods.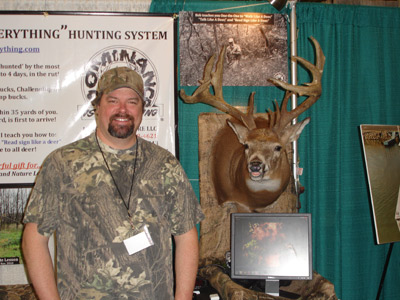 Dominance Is Everything" author, Bob Mercier.
Bob not only believes in teaching you to think like a deer, he believes in actually making other deer think you are a deer. He's a mountain of a man and a teacher rolled into one. He can sketch pictures of deer-bedding areas with one hand while rattling antlers with the other, all the while making grunt calls and lecturing on wind patterns at the same time.
I'm not kidding when I say he nearly had me pawing around and making my own scrape on the expo-room floor.
I left Milwaukee with a head full of ideas, a bag full of maps, and a fistful of tactical plans. The only thing left untouched was the indoor trout pond. It's a fact that kids love the sport shows as much as me. My barbarian ego is far too fragile to withstand being out-smarted, not to mention out-fished by a showroom full of 5th graders.
The last stop was Canoecopia in Madison, an exposition where you can find any variety of personal craft to paddle, anything canoe or kayak, not to mention any type of water you might want to paddle through or anything you might want to bring with you on your floating travels.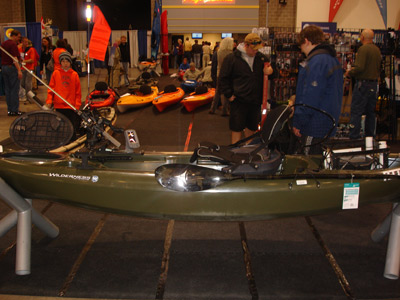 Pride of the Canoecopia Fleet.
I added final touches to my bags of plunder; majestic rivers like the Flambeau, Menominee and Namakagon-kayaking the Apostle Islands in the far reaches of Lake Superior-they all went into the war chest.
I was admiral of my own fleet, a fleet which exists solely in my mind and with the singular goal of back-water conquest. I sat in hand-crafted canoes and whitewater kayaks. I tried on the biggest and best waterproof gear. I waved paddles like a swashbuckling pirate.
Unfortunately, I had to leave the pride of my fleet behind on the showroom floor. It was an 11 ½ ft. fishing kayak, with live-well storage and dual-rod holders, topped off with a fish locater. It came in a majestic sandy-olive color. I thought the price tag was very reasonable.
I was ready to name it after my wife-but we've been down this river of thought already-a great white shark would snap that kayak in two. The only real moment of suspense would be whether it happened before or after the divorce.
Casualties of war; they can happen to the best laid plans. But I won't admit defeat that easily. I still have my sports-show bags and they are chock-full of contingency plans.