Good Books For Winter Reading
Mike Yurk
Tales to warm you
As I write this article, western Wisconsin, where I live, is having the first blizzard of the season. It is early fall and this snow is completely unexpected, but it does tell us that winter is not far behind.
There will be a lot more blizzards and freezing temperatures coming our way that will keep us indoors this winter. Although spring and the warm weather and open water fishing will eventually get here, it can be a long winter. There are some hunting seasons still open during the winter and there is, of course, ice fishing, but the long, freezing nights of winter can seem to last forever.
To get your mind off those cold days and nights and the snow and ice of winter, pick up a good book. With a book you can hunt and fish around the world. You can enjoy your favorite sport or just go on a great adventure without leaving your easy chair while the snow piles up on the driveway and the winds whistle around the corners of your house.
The world of the outdoors has given us great writers and great books. Here is a list of some of my favorite outdoor writers with whom I have spent many a winter's night.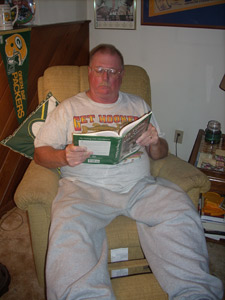 Mike Yurk is enjoying a fishing book in his family room while a winter storm rages outside.
Ernest Hemmingway
Although he is known for the great body of literature he produced and was rewarded with the Nobel Prize for Literature, he also wrote what I think are two of the world's greatest fishing stories. His book The Old Man And The Sea just may be the best fishing tale ever written. His short story The Big Two-Hearted River is another terrific fishing story. I read both of them every couple of years and never tire of them. It is little wonder that Hemmingway was in the first class of inductees into the Freshwater Hall of Fame.
Gordon MacQuarrie
Coming from Wisconsin, Gordon MacQuarrie had provided us a treasure of outdoor yarns from the 1930s through the mid-1950s when he left this world too soon and too young from a heart attack in 1956. He was an outdoor writer for the Milwaukee Journal.
To augment his salary, and as an outlet for his tremendous imagination and creativity, he wrote articles for all of the major outdoor publications of his day. His stories of hunting and fishing with his father-in-law, whom he called the President of the Old Duck Hunters' Association, have long been classics of outdoor writing.
Those stories and more have been collected by Willow Press in five volumes. They are Stories of the Old Duck Hunters & Other Drivel, More Stories Of The Old Duck Hunters, The Last Stories Of The Old Duck Hunters, The Gordon MacQuarrie Sporting Treasury and MacQuerrie Miscellany. Although he wrote a little about everything in the outdoors, you can see from his stories that his passions were trout fishing and duck hunting. Spending a cold winter's evening with a MacQuerrie book will let you escape the bad weather by spending some time with MacQuerrie in his favorite duck blind or trout stream.
Russell Annabel
If you were growing up in the 1950s and 60s like I did, Russell Annabel's stories in the major outdoor magazines took you on hunting and fishing adventures in Alaska and Mexico and fueled many a dream.
He moved to Alaska sometime in the 1920s and lived there until the early 1950s. Although he had spent time in Mexico while he lived in Alaska, he moved permanently to Mexico until he died in 1979.
His adventures and the colorful characters he met as he hunted, fished and guided in Alaska, along with his other adventures in Mexico, come alive in his writings. His stories have been collected in seven volumes by Safari Press. They are Volume I-Alaskan Adventures: The Early Years, Volume II-Adventure Is My Business, Volume III-Adventure Is In My Blood, Volume IV-The High Road To Adventure, Volume V-The Way We Were, Volume VI-Head For The Hills and Volume VII-Trouble Is Where You Find It.
As I read those stories today, I find that those dreams he ignited in me some 40 years ago are still there. The stories and adventures are timeless.
Robert Ruark
Although he was a newspaper columnist and author during the 1950s and first half of the 60s, it is his outdoor writing that he is the best known and remembered for. Most of his fiction books have long been out of print, but his outdoor writing has lived on for another half a century after his death.
His most enduring outdoor writing is found in his book, The Old Man And The Boy. This book contains stories of his growing up in the 1920s in North Carolina, where his grandfather taught him the ways of hunting and fishing and the mysteries of life. They were originally written as a column for Field & Stream magazine. This book is so widely loved that it has never been out of print since it first was published in 1957. There is a follow-up book to this one titled The Old Man's Boy Grows Older. It follows the boy as he leaves home and hunts and fishes around the world.
Ruark was a well-known African big game hunter, and his book Horn Of The Hunter, about his first African safari, is a classic. If you want to go on an African Safari and never leave home, read this book.
The Old Man and The Boy and Horn Of The Hunter are both published by Safari Press. Safari Press has published three other collections of Ruark's hunting stores in Use Enough Gun, The Lost Classics and Robert Ruark's Africa.
His stories are some of the best outdoor writing of the late 20th century and are still fun to read today.
John Gierach
Gierach has ties to the Midwest since he grew up in Minnesota. He left home for Colorado where he took up fly fishing and writing about it. Simon & Schuster has published 16 collections of his writing, and they are a delight to sit down with on a chilly evening.
His writing is insightful and humorous on the world of fishing and the things that all of us fishermen do and go through. Although he talks mainly about fly fishing, his stories have something for every fisherman regardless of how he fishes, what he fishes for or where.
Jay Reed
Reed was a Wisconsin writer and wrote about the outdoors for almost 40 years for the Milwaukee Journal Sentinel. For many of us the first thing we did on Sunday mornings was open the sports section to the outdoor page and read Jay Reed's stories. He hunted and fished all over Wisconsin, and, to our delight, wrote about it. He also fished in other parts of the world and brought those adventures to life in the newspaper. In 1967 and 1968 he went to Vietnam, and 20 years later he returned. His reporting from those two visits made him a two-time finalist for the Pulitzer Prize.
Jay Reed died in 2002 and left behind thousands of stories that he wrote over the years for the Milwaukee Journal Sentinel. Some of those stories are now collected in a book called Thor & More. The book is organized into five sections. The first are the stories he wrote of his beloved hunting dog, Thor, followed by a section on general hunting yarns, fish tales, a chapter titled "Mixed Bag" and ending with stories from his two trips to Vietnam.
The stories are all very conversational and descriptive in quintessential Jay Reed style. As you read them you feel like you are sitting around a campfire or sitting at a table in a hunting camp just talking with him, and, in actuality, you are.
Three More Books
In addition to all the books and writers we have already talked about, I would like to add three more books to the reading list. Two of them are about the same canoeing adventure almost a half century apart.
The first is Canoeing With The Cree by Eric Sevareid. He was primarily known after World War II as a television news correspondent, but in 1930 he was a high school graduate from Minnesota. He and a friend of his canoed over 2,250 miles from Minneapolis to York Factory on the Hudson Bay the summer after they graduated from high school. The book is a compelling account of that adventure. They did it with a canvas-covered canoe and may have been the first people to ever make such a journey.
Although they may have been the first, Eric Sevareid's book has since encouraged countless others to make the same trip. In 1979 four college kids from Ohio, using borrowed aluminum canoes, made the same journey to York Factory on the Hudson Bay. One of them, Dennis Weidemann, wrote a book of their adventure some 30 years later. The book, This Water Goes North, is a great story that will keep you on the edge of your chair while laughing with them over their adventures.
Both books are great reads. I recommend reading Canoeing With The Cree first and then reading This Water Goes North.
And the last book is If You Didn't Bring Jerky, What Did I just Eat? by Bill Heavey. He writes for Field & Stream, and this is a collection of his columns from the last page of the magazine plus some of his feature articles.
He lives on the East Coast and writes mostly about his hunting and fishing adventures in suburbia but does branch out occasionally into wilder environments. He mixes humor and sharp observations of the modern outdoor life to his stories that will have you smiling and even chuckling. He also brings a sense of profound insight tinged with a touch of sadness to other stories that should come with a warning that tissues may be needed.
It can be a long winter, and a stack of good books can make the cold weather go away and help you dream of better days to follow. So when the wind howls and blizzards are dumping inches of snow on the ground, light a fire in the fireplace, get out one of these books and escape to a world of adventure and the outdoors with these great writers.