Douglas County fire survivor thanks her 'Angel' Warden Burns
May 21, 2013
By: Joanne M. Haas/Bureau of Law Enforcement
Life is top priority for warden whose last name is made from fire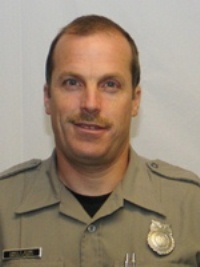 June Thielen knows her angel – and her angel knows her address.
While Thielen proudly labels Conservation Warden Lance Burns as the angel who saved her from the fast-moving Douglas County wildfire a week ago today, the warden with a name made from fire modestly says he was just one of a giant multi-agency team who together worked fast to save lives.
"This was a huge team effort," Warden Burns says of the rapid response put in play after the fire, also known as the Germann Road fire, started mid-afternoon on May 14 in Douglas County. "Because of good working relationships with our local fire departments and police departments, and the State Troopers (Wisconsin State Patrol), we were able to accomplish a huge task without any injuries or loss of life."
One of those uninjured and happy to talk about it was Thielen, who came to a weekend community meeting to discuss the fire and its aftermath at the Barnes Town Hall in Douglas County. She came with her own harrowing tale of out-pacing the racing flames. And the main character in her story was the man who came to her door during an area evacuation as the flames neared her home that frightening Tuesday afternoon. It wasn't long before she was face-to-face, and arm-in-arm, with Warden Burns.
"This is Lance Burns and he is my angel," Thielen said as she hugged the warden and smiled for the television cameras of the Northland News Center.
Warden Burns has been stationed in this Douglas County area for more than 15 years. He doesn't need a map. He is a map. He knows the roads, the dead-ends and most importantly, where people live -- valuable information to know when time is of the essence. And in Thielen's case, Warden Burns knew exactly what end of what road he could find her as the fire played tag with emergency workers and fire crews.
"I know June and that she lives way back at the end of a road," he said of that afternoon as the fire was leaping and changing directions with the winds, keeping emergency crews moving fast to keep ahead of the flames. "I wanted to get back there soon to get her out."
He said evacuations were under way until midnight Tuesday.
Life comes first in wildfires, Warden Burns said. ""We do evacuations immediately and road blocks," he said. "We (wardens) also try to find the cause and responsible party first as fire resources and rangers are tied up with firefighting.
"And, due to the heroic actions of DNR fire fighters and volunteer fire departments, the loss of structures was kept to a minimum and many homes were saved," he said. "I feel very proud to be part of this team of professionals."
The massive wildfire, that burned about 8,000 acres, started May 14 around 2:30 p.m. It burned a swath more than 9 miles long and 1.5-miles wide in the townships of Gordon and Highland before being 100 percent contained as of 9 p.m. May 15. Forty-seven structures were lost, including 17 homes, and 77 structures were saved.
DNR law enforcement announced their investigation of the fire's cause and the logging operation involved demonstrated there was no negligence involved and there was no intentional setting of fire to the land. The department recommended not pursuing criminal charges based on the investigation.
Sheriff deputies and local police departments from Douglas and Bayfield counties also worked with several conservation wardens based in the northern region. "We have good partnerships with these agencies and we worked together seamlessly," he says.
And Thielen's big smile proves it.