Venison Stew Secrets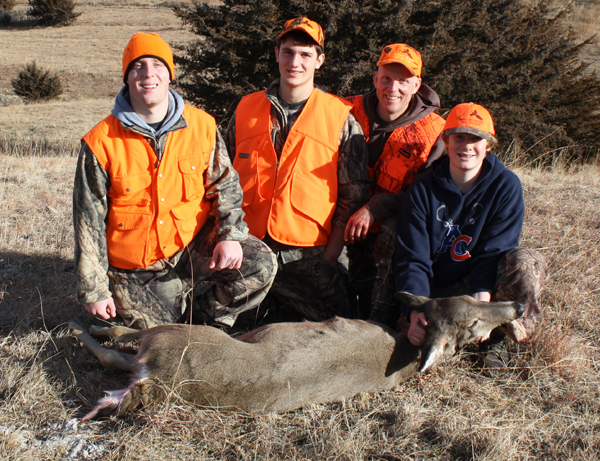 Celebrate a great family hunt with a terrific family meal: venison stew.
Best meal ever
Tom Carpenter
Something about a savory stew warms the heart and soothes the soul. Maybe it's the ingredients: meat tenderized by a few hours of simmering, hearty vegetables and a thick and rich broth. Maybe it's the warmth: a satisfying meal all in one bowl that just makes you feel good all over and warms your insides too. Maybe it's the idea: base your creation on venison and stew becomes a celebration of a successful hunt.
Memorable venison stew is easy to make, but it doesn't just happen. Let's outline key preparation techniques and processes for perfect stew. (Fact: It's hard to ruin stew!)
Preparation Techniques
Making stew is not a complex process, but there is a specific progression of steps to follow.
Prepare meat
Cut up meat into chunks approximately one-inch square. If some are a little bigger or smaller, no big deal.
Coat meat
Roll meat chunks in seasoned flour, coating all sides well. Seasoned flour is easy to make with salt, pepper, garlic powder and other spices you like. One of my favorites is McCormick's Garlic & Herb Seasoning or Montreal Steak Seasoning. Rosemary also makes a great addition to seasoned flour.
Brown meat
Cover the bottom of a pot with vegetable oil, heat it to sizzling, and brown the coated meat chunks. Use this one pot from start to finish to make your stew. All the drippings and other materials from browning should stay with the stew. Don't cook the meat through now, but do sear it well on all sides, getting a good "seal." Brown meat in batches so that the chunks are always in contact with the bottom of the pot.
Add liquid
After dumping all the browned meat back in, add liquid. There are many options here. I like to combine at least a couple of these ideas:
Beef broth. Make a salty broth from beef bouillon or use store-bought beef stock.
Beer. A bottle of beer makes a great liquid starter.
Wine. A merlot or sweet, deep red wine adds zing and flavor.
Diced tomatoes. Along with one of the above liquids, diced tomatoes are essential for adding a tomato-based flavor for stew gravy. Have several cans on hand. Use "straight" diced tomatoes or try flavored versions such as garlic or Italian.
Bottom line? Don't just use water. You're forming the flavor base of the gravy, and that calls for something with character to meld the juices from both meat and vegetables.
Simmer meat
Slowly heat up the liquid/meat mixture and simmer the meat on slow/low heat. This is called braising. Monitor the liquid as you go and add as needed. But if you're cooking "slow and low" enough (approximately ¼ to 1/3 heat) and use a cover, you shouldn't lose much liquid. Remember, gentle cooking is the ticket. You should simmer meat at least a couple of hours but longer is fine.
Add vegetables
Cut up your vegetables as the meat simmers, but don't start adding them until the last hour or so of cooking. Start by adding vegetables that can take longer cooking, like potatoes or parsnips. Wait awhile for carrots. Add green vegetables (beans come to mind) and mushrooms for only the last half hour.
Serve
One of the culinary beauties of stew is its flexibility. A little early or an hour late, all is good! Stew will be ready when you are.
Pairing Up Ingredients
Traditional stew includes potatoes, carrots and green beans. The colors are appetizing and the potatoes add essential starch to thicken the broth. Keep the skin on the potato chunks for their flavor. Pull, mash and return several of the potato chunks if your gravy needs thickening. A root vegetable stew is good too: carrots, parsnips and potatoes.
Onions are another prime ingredient for any stew, adding great flavor and a hint of sweetness. Garlic is a final suggestion. Crush individual cloves and put them in first to simmer, infusing the meat chunks with garlicky goodness.
Conclusion
Stew is easy to make, fun to experiment with and impossible to ruin if you follow the basic cooking outline and techniques offered here.
Making a stew at home on a wintry afternoon is a beautiful extension of any hunt. Relaxing with my family as we watch a ballgame on TV while a venison stew simmers over on the stove with its wonderful aromas wafting through the house reminds me what's great about hunting and life.
Native son Tom Carpenter writes about the outdoor world for a variety of national and regional publications.